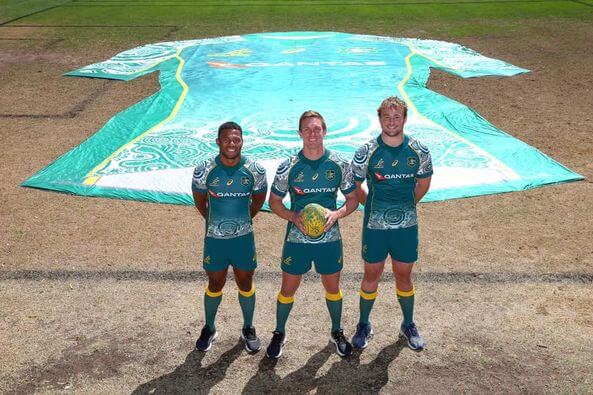 Thursday's Rugby news sees the Wallabies reveal the new First Nations jersey, meanwhile club rugby continues their finals series, with the Hospital Cup and Shute Shield gearing up for semi-finals.
---
Good luck charm
The Wallabies have revealed the new Indigenous jersey for this test season. The Jersey was revealed yesterday at a special ceremony, with indigenous Wallaby Kurtley Beale dropping in to say he "can't wait to see it again on the world stage."
It has been a good luck charm against the All Blacks, as it was famously first worn in 2017 against the All Blacks in Brisbane when the Wallabies won 23-18.
Since then, the Wallabies have worn the jersey against England at Twickenham and during last year's World Cup against Uruguay.
The Wallabies will wear the new jersey twice this season, including against the All Blacks in Bledisloe III in Sydney on 31 October. The Wallabies will also wear the jersey against Argentina during their Tri-Nations clash at Bankwest Stadium on 5 December.
Wallabies head coach Dave Rennie said: "There is no doubt that this jersey holds special meaning for the players, staff and wider Rugby community.
"The jersey is representative of those who have gone before us as much as it represents the new generation of players who will wear it next weekend.
"We've put a lot of work into beginning to build the culture of this team and we've spoken a lot about the First Nations people of our country.
"People have already seen our boomerang formation against the Haka and wearing the First Nations jersey during this will certainly add an additional layer of meaning to the occasion."
The jersey was designed by Kamilaroi/Gamilaraay artist Dennis Golding to represent "Indigenous and non-Indigenous communities coming together".
Dire straits
The fallout from the Springboks withdrawal from The Rugby Championship continues, with RA boss Hamish McLennan admitting the Springboks' no-show will cost the administration millions of dollars.
The SARU only notified SANZAAR last Friday that the World Champions would no be particpating, just two weeks before the tournament kicks off.
This forced SANZAAR to modify the schedule yet again, reverting to a Tri-Nations tournament featuring Australia, New Zealand and Argentina, with the original 12-match competition reduced to six games.
"The financial loss for them will be great," said Rugby Australia chairman Hamish McLennan.
It won't just cost the Saffas money, with RA already staring down a considerable finacial hole before COVID.
"It will cost us quite a lot of money but we'll find a way through it," McLennan said.
"We were surprised because South Africa did agree to the tournament scheduling. So we're disappointed that they pulled out but we'll just have to move on."
South Africa claim that player safety was their cheif concern for not coming to Australia, having just started playing proffesionally recently.
"Our view's different from theirs. We think we've given them ample time to prepare for the Tests. We thought it would be good," McLennan said.
"We've already got the Argentinians out here at the moment, and they're quite satisfied with how their preparation will go.
"But, to be honest, we're very disappointed that they're not turning up. They agreed to the tournament so we expected them to turn up. I think it would have been great for their game.
"We hear on the grapevine their players wanted to play."
Bullsharks are circling
Bond University will be making their first visit to the finals of the AllSports Physiotherapy Hospital Challenge Cup after beating out 2018 premiers GPS in a nail-biting knockout semi-final at Ballymore on Sunday.
The Bullsharks only gained the lead in the last 10 mins of the game after a tenacious fight-back, and survived three scrums and three penalty advantages to book a spot in the finals.
It came down to the final scrum, where the Bond pack, lead up front by "baby Thor" Zane Nonggorr and former Tongan prop Eddie Aholeilei, destoryed the Jeeps scrum and sealed the game for the underdogs.
"We'd made a replacement to bring on Eddie Aholeilei late and that was always the plan," coach Grant Anderson said.
"Zane had had a massive five minutes there and Eddie really led that scrum to get that penalty. We've struggled with our scrum all year but having Zane back from the Reds, we can put things to rest there. We now have a set piece we can rely on and I'm really proud of the boys and the effort they put in there."
The Bullshark's defensive effort will give them great confidence when they go up against minor premiers Easts next week to decide who will meet University of Queensland in the 2020 Hospital Cup final.
"Easts will be hurting after their loss to UQ on Saturday and they'll come out firing," Anderson said. "They're a different team to GPS in that they have a lot more ability to spread the ball. They're led well by former Wallabies captain Ben Mowen. We'll have to play well next week but I'm happy for the boys that they get another week."
Do or die
The semi-finals of the Shute Shield will be held over two massive days this weekend, with blockbuster games that will pit Eastern Suburbs against Gordon on Saturday, and Northern Suburbs against Eastwood on Sunday, both to be held at Rat Park.
Eastwood coach and club legend Ben Batger is looking for his side to find that extra edge when they take on Norths.
"We are looking to get two to five per cent better – that can win a game," Batger told the Daily Telegraph.
"We know we weren't perfect against Easts and we know we can improve. Our defence is something we are happy about. I though we really got up and stopped their ball runners and our forward pack was ferocious."
Batger hinted that it will take not just brawn, but also brains to get the wood over their northern Sydney rivals.
"Defence again will win it but Norths are a totally different game to Easts. They throw the ball a lot more. We have to play smart."
The club is determined to go one better this year, after missing out on last year's grand final.
"It is an exciting week,'' he said. "I want them to be more relaxed. We almost chocked in our semi final last year when we lost to Warringah.''
Meanwhile, Eastern Suburbs will be looking to make their first grand final in over a decade. This season they mounted a remarkable comeback after staring the year with just one win after four games.
"When we were ninth on the ladder we knew we wanted to be top three and knew we had to win six of our last eight and we won eight from eight," said Beasties coach Pauli Taumoepeau. "We can do it. We believed we could win this at one win and three losses. We sure believe it now."