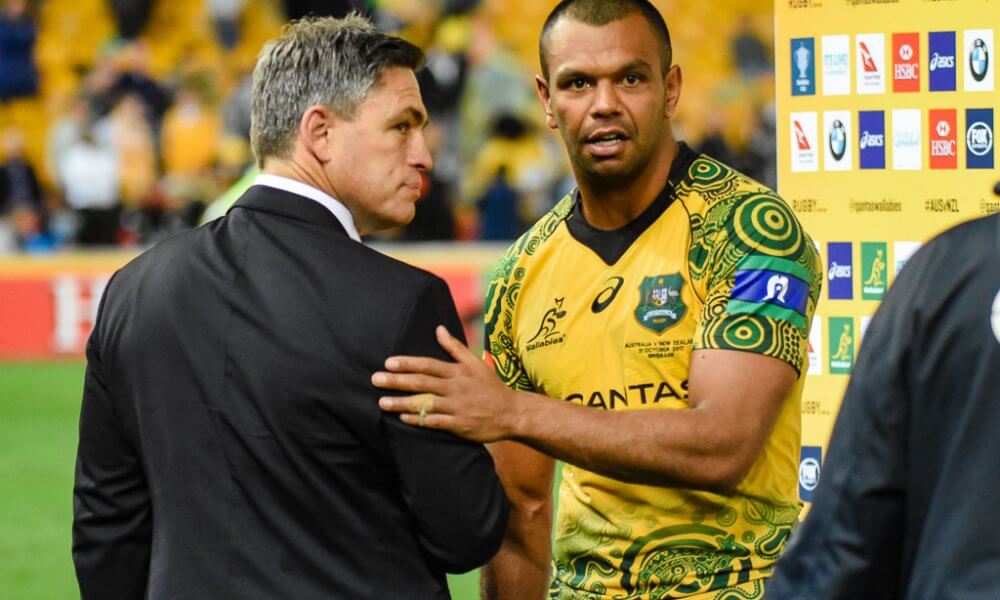 Thursdays Rugby News sees More Israel Folau news, Reds need to defend against Sharks, Wallabies to wear Indigenous jersey at the World Cup, Simmons warns of lethal Cooper Genia Combo.
---
IZZY WANTS A HEARING
Israel Folau waited until the 11th hour to respond to his breach of notice and request a Code of  Conduct hearing.
Rugby Australia will now make arrangements with the Rugby Union Players' Association (RUPA) to bring together the Code of Conduct hearing.
Rugby Australia Chief Executive, Raelene Castle said: "Israel has responded formally today to request a Code of Conduct hearing which, under the circumstances, was not an unexpected outcome. We will now work to confirm a date for the hearing as soon as possible.
"After the date for the hearing is confirmed Rugby Australia and the NSW Rugby Union will make no further comment on the matter until the Code of Conduct process has concluded."
It is unlikely this matter will be resolved soon with Easter and ANZAC Day holidays causing a delay, Former Wallaby Tim Horan believes it could be the week of the 29th of April that the hearing will take place.
The panel will be made up of a representative appointed by Rugby Australia , one appointed by RUPA and a third person, to be appointed by both parties.
Should the hearing rule in Folau's favour then he would be eligible to play for the Waratahs and the Wallabies, though after Micheal Cheika's comments on Monday, this seems highly unlikely. Waratah's coach Daryl Gibson and Captain Michael Hooper appeared to share the same sentiment.
Despite which what the decision goes, it can always be appealed in the Supreme Court.
NSWRU are still standing Folau down until the hearing.
Former Wallaby Drew Mitchell took to social media to share an exert from Folau's Players Voice article last year, in which Izzy said if he was hurting Australian Rugby he would walk away from his contract.
"I told Raelene if she felt the situation had become untenable — that I was hurting Rugby Australia, its sponsors and the Australian rugby community to such a degree that things couldn't be worked through — I would walk away from my contract, immediately."
Mitchell shared this quote along with some of his own thoughts. 
2018 vs 2019
When words & actions aren't aligned….
The fact @RugbyAU intend to terminate @IzzyFolau contract would suggest it's become untenable.
I would hate to think Izzy is a liar because we know what happens to them..
Current Vice Captain of the Wallabies Will Genia thinks that the Wallabies will fine without Folau, though acknowledges his talent will be missed.
"We can definitely win the World Cup without him," Genia told the Fox Rugby Podcast.
"We've certainly got talent within the country to cope without Israel.
"We've got Dane Haylett-Petty who can play fullback, Jack Maddocks who can play fullback and you've got to be able to trust those guys if they're given the opportunity to play.
"I think we'll be fine without him.
"And I'm not trying to be disrespectful by saying that, I just have a lot of confidence in us as a playing group and the players that we have at the moment."
"His playing ability, he's phenomenal, he will score you tries that 90 per cent of the players in the world won't.
"He will always attract two or three defenders, he will always beat two or three defenders and look for the offload, he's a phenomenal, phenomenal, phenomenal player.
"Like I said, I back anyone else to take his position, but at the same time you will always know that if you're going to have a guy like him in the team you're going to be better for it.
"I'm just going to be honest about that because it's easy to kick him while he's down and say 'we don't need you, we'll be better off without you' like other people have said, but I don't think that's true."
REDS TEAM AGAINST THE SHARKS
Reds Assistant coach Peter Ryan has drawn a line in the sand for his players ahead of their clash against  the Sharks in Durban, saying they will be in for a thrashing if they pull the same 'insipid' defensive work from last weekend. 
"If you asked any one of the players we would all say we were pretty disgusted with our performance," Ryan said.
"And there's no excuse for the way that we played."
"If our defence is as it was last week, they'll put 50 points on us clearly and easily," Ryan said.
"(But) with the quality of our group, our attitude towards the defensive side of the game is at a premium.
"Therefore, we can expect a lot better situation with regards to our effort and attitude to our defence, so that's a big plus for me."
The Reds lost 32-17 to the Bulls in Pretoria and despite spending large amounts of the match in defence, the finished up with 35 missed tackles
Despite there being an expectation that Samu Kerevi would be rested as apart of the Wallabies resting policy, he has been named at 12 once again.
Sefa Niavalu comes back after being rested last week, and Harry Hoopert and Angus Scott-Young come in to the starting line up.
JP Smith and Harry Hockings move to the bench and Aidan Toua has been left out of the 23 all together.
Reds coach Brad Thorn believes his forward pack is up for the challenge of taking on the wounded Sharks, who coped a massive lost to the Jaguares last week.
"After last week's result, they'll be hungry and looking to put in a big performance in front of their home fans," Thorn said.
"It's great to have Sefa back. He was missed last week. After sitting out against the Bulls, he's ready to rip in.
"Harry Hoopert gets an opportunity to start for the first time. It's reward for his hard work and as a group we congratulate this achievement.
"Apart from Scott Higginbotham, the starting forward pack all played Queensland U20s with each other.
"They've all worked and grown together since then. It goes to show the strength and importance of the Queensland pathway."
Reds to play Sharks
1. Harry Hoopert 2. Alex Mafi 3. Taniela Tupou 4. Izack Rodda 5. Lukhan Salakaia-Loto – 6. Angus Scott-Young 7. Liam Wright 8. Scott Higginbotham 9. Tate McDermott 10. Bryce Hegarty 11. Jack Hardy 12. Samu Kerevi (c) 13. Chris Feauai-Sautia 14. Sefa Naivalu 15. Hamish Stewart 
Reserves
16. Brandon Paenga-Amosa 17. JP Smith 18. Ruan Smith 19. Harry Hockings 20. Adam Korczyk 21. Moses Sorovi 22. Duncan Paia'aua 23. Jock Campbell
MORE INDIGENOUS JERSEY
Rugby Australia has lodged an application for the Wallabies to wear their Indigenous jersey in two the World Cup matches in September and potentially October.
Michael Cheika the Lloyd McDermott Rugby Development Team fundraising dinner in Sydney that the request is for the Uruguay match and in a potential semi-final match, if the Wallabies make it that far.
The jersey has been worn twice, once against New Zealand in 2017 and once against England in 2018. Its popularity among the playing group had Will Genia suggest it should become the Wallabies main strip for all test matches.
The only current Indigenous Australian Wallaby, Kurtley Beale, told the media last year he hoped one day the jersey could be worn at the World Cup.
"It would be nice to wear it at the World Cup one day. Maybe that's something we could talk about in the future. You have two playing strips in the World Cup. To be able to have the jersey in the back pocket just for a big game … I know that it can galvanise the group," Beale said.
"I certainly felt that last year but I think it's a special jersey to be able to wear and I know a lot of the playing group are fully behind it and support it and would love to continue such a special thing."
The jersey was designed by Dennis Golding and is a tribute to all past and present Indigenous players, baring the Indigenous flag and a Wallaby surrounded by 14 symbols to honour the 14 Indigenous and Torres Strait Islanders who have represented the country. 
SIMMONS WARY OF LETHAL GENIA AND COOPER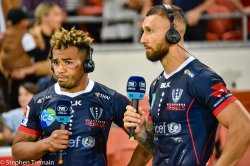 The reunion of Will Genia and Quade Cooper at the Melbourne Rebels has been one of the most talked about story of 2019, and they face a familiar opponent the same questions get asked.
This time it is of former Reds player turned Waratah, Rob Simmons who played along side Genia and Cooper in 2011 when the Reds won the Super Rugby title.
He knows just how lethal that pairing can be.
"I know them very well and how lethal they can be," he said.
"It looks like they're back on the page that they know so well.
"They're playing together very well, they've got a good combination, it's quite clear their communication between each other is very clear or black and white, there's no confusion between them, which rubs off on the rest of the team.
"The rest of the team know what their role is and I suppose that's why they're playing so well."
Genia and Cooper have played a massive role in the Rebels flat attack style that has put opposition defenders under immense pressure.
"It puts the defensive team under pressure to make the right decisions," he said.
"Those two guys you're speaking about, Will and Quade, can pick and misread something like that and if you crumble under pressure then they can put someone away and you're behind your goal posts."
It is something that has worked most matches until last weekend against the Stormers.
"I think the Stormers did it well on the weekend," he said.
"They shut down their front foot ball, they probably got a little bit outworked there and then they lost their way after that.
"So, I suppose if we can know what they're planning to do and shut that down then they have to go to something else."
The Waratahs forward pack has come under plenty of criticism this year, and with the loss of Ned Hannigan this week, Simmons acknowledges the threat of the Rebels. Simmons is looking forward to matching up against Adam Coleman, with both men fighting for a spot on the plane to Japan.
"I think he's (Coleman) been playing very well but as a group we've got to all stand up," Simmons said.
"Their pack has been going quite well and it's a challenge for our pack to go out there and do a job."