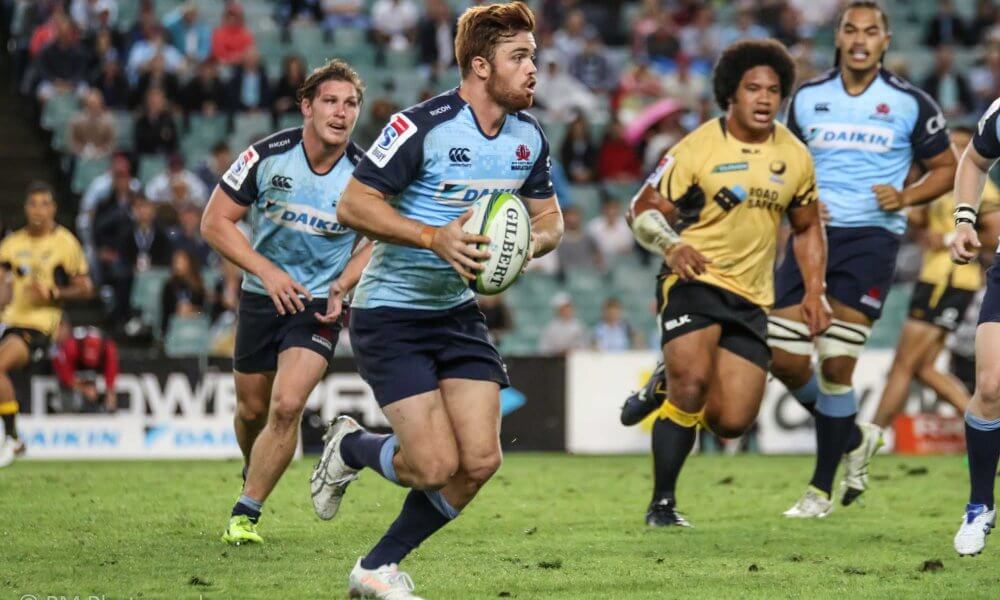 Thursday's Rugby News has Kellaway heading overseas, Latu speaks on the help he received, Andy Farrell puts the challenge out for Ireland and Folau recalls his AFL training in Melbourne.
---
KELLAWAY ON HIS WAY ABROAD
It appears another Australian player is heading overseas at the end of the season with Waratahs outside back Andrew Kellaway signing with the Northampton Saints for the 2018/19 season.

Kellaway, who has played 22 matches for the Waratahs, was an Australian U20s star. In 2014 he set a try scoring record in the U20s Championship, where he scored 10 tries in 5 matches. Julian Savea and former Waratah Zac Guilford had previously held the record.

Kellaway debuted for the Waratahs in 2016, having a break out season that saw him join the Wallabies on their end of season tour, but has struggled to maintain consistency throughout the past two seasons. The Waratahs back three is a tough spot to break into this season, with the likes of Cam Clark and Alex Newsome keeping Kellaway out of the match day squads.

After the Saints announced the signing this is what Kellaway had to say. (via northamptonsaints.co.uk)

"Getting the chance to join Northampton Saints was a really exciting opportunity for me and one I jumped at," said Kellaway.

"The Club has a great history of success and their ambition is clear to see with Chris Boyd and the new coaching set-up coming in this summer, as well as the number of top-quality players also joining the Club next year.

"I'm excited to get going and to pull on the Black, Green and Gold jersey for the first time."

Kellaway isn't the only Tahs player heading to Northampton, Taqele Naiyaravoro signed a contract with the Saints early this year.

It is a shame to lose a player of Kellaway's potential but unfortunately for him, the Waratahs and Australian Rugby have a plethora of outside backs, meaning you have to be really special to stand out in the crowd.
TOUGH TALK FOR LATU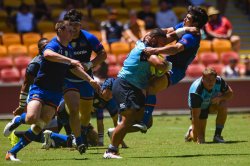 Tolu Latu had to face some harsh realities this season. He had lost his starting spot in the Waratahs and was overlooked for the Wallabies Spring Tour in 2017. It was the sort of thing that can leave a player down and out, had it not been for a tough talk with Waratahs coach Daryl Gibson and the extra push from skipper Michael Hooper.
"Sitting down with 'Gibbo', getting told I'm being out worked (by other players) really lit the fire, and made me put in the hard work and do the little things like more throwing and the extra stuff," Latu said. (Via Fox Sports)
Though there was a perception that Latu had become complacent and lazy, he acknowledged that not picking up the intensity and doing the extras definitely didn't help him.
That's where Michael Hooper came to the rescue.
"He (Hooper) knew that I needed to get my reps up," Latu said to Fox Sports
"He's like, 'mate, just grab me whenever you want. I'm here to help you out.'
"So every morning Hoops comes in at the Tahs and I'm throwing to him.
"He's standing on a ladder and I'm just throwing to him.
"Probably 100 throws every morning.
"By the end of the day I've probably thrown 200 balls."
Latu continued to praise Hooper, saying he is the first bloke to training and always willing to help others do extras.
Despite only playing 4 previous test for Australia, this is almost a second chance for Latu, given how much time he spent out of the Waratahs match day 23.
Latu edged out Folau Fainga'a for a spot on the bench in Brisbane, but did he do enough to keep his spot or take the No. 2 from Brendan Paenga-Amosa? We will find out when Cheika names his squad this afternoon.
It is great to see the commitment from players willing to help their team mates improve on their skills, it is that style of culture that can keep players in Australia and turn down the lure of European or Japanese money.
FARRELL WANTS IRELAND TO SHOW SOME FIGHT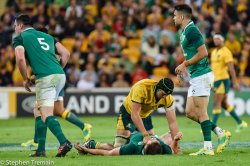 Irish Assistant Coach Andy Farrell has put forth the challenge for the Irish team to show the Rugby world what they are made of a head of their do or die clash with the Wallabies.
The Six Nations and Grand Slam champions will be looking to make up for their efforts in Brisbane when they take on the Wallabies in Melbourne on Saturday night.
Speaking with The Irish Independent Farrell had this to say.
"We'll see what we're made of, I mean, this is what top-level rugby's all about. We'll see what the good old-fashioned Irish ticker's about, won't we? Because it's the game that matters for us to stay alive. There's a few lads that are a bit down on themselves, a bit frustrated.
The Wallabies victory over Ireland on Saturday was the first loss for the Irish since March of 2017. A statistic that has stung many of the Irish players.
"There's a realisation that they (The Wallabies) deserved to win and that hurts within itself and I do get the sense that, after a couple of meetings and understanding how we need to move forward for the rest of the week, the key is to hold them back, especially after watching training this morning." Farrell continued.
"Sometimes it isn't complicated, it's a little bit of attitude and a bit of fight."
A little bit of attitude and a bit of fight was what got the Wallabies over the line in Brisbane and will need to carry over on Saturday nightthey want to close out this series in two games. The Men in Gold have shown that they can be good enough to win; they just need to carry the belief and the intelligence over with them.
AFL TRAINING HELP FOLAU'S ARIAL GAME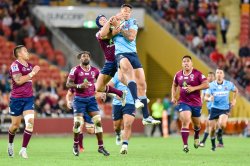 There is no denying that Izzy Folau is one of, if not the best player in World Rugby under the high ball. It is a skill the Waratahs seem to have finally worked out how to properly utilise this year, with Bernard Foley and Kurtley Beale kicking either high balls or cross kicks to the big man. Most defenders will have a crack, and most come off second best.
Back in Melbourne in preparation for the second test against the Irish, Izzy has been reflecting on the early part of his career, not the part where he played AFL, but the part where he trained at the same facility as an AFL club.
This week the Wallabies have been training at the Holden Centre in Melbourne, home of the Collingwood Football Club, but it was with Collingwood's rival club Carlton that Folau honed his craft. (Via ESPN)
Folau didn't play for Carlton (he played for GWS) but during his time with the Melbourne Storm, the NRL and AFL club shared a training facility, and according to Folau, cross code skills practice happened a bit.
"We used to do a lot of kick-catch work with Carlton, and it really taught us some great skills catching above our heads, off our chest."
Izzy already has the advantage of height, standing at 6ft 4in, add on his ability to mark the ball with his hands above his head and hit the ground-running make him a defences' nightmare.
Izzy also credits doing extras with Melbourne Storm Fullback Billy Slater for helping to master the technique of the high ball.
"Billy Slater was one I used to see do extras after training and his catching technique was unreal, so I really looked up to him and followed.
"I wanted to learn that skill because of guys like him."
Billy Slater would be a very handy player to do extras with, but again it shows just how much effort and hard work needs to go into being the best.