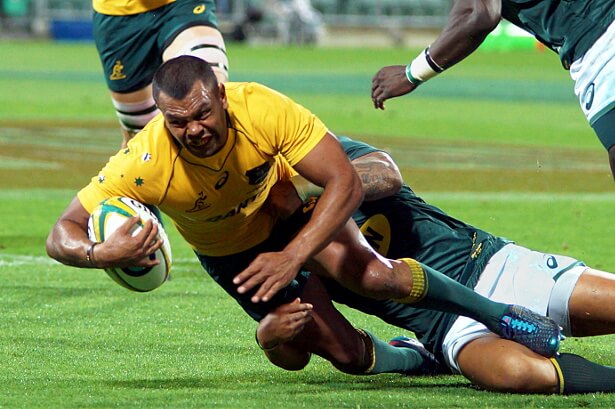 Thursday's Rugby News sees the ARU chasing money, Ioane calling time, the latest on the IPRC/NRC and a examination of the Wallabies jersey.
---
FFS
So I was really hoping this piece of news isn't true when I came across it on Wednesday night, as there's a lot of hearsay that rattles around the internet these days. Because if it is true, it would be a case of really rubbing WA rugby fans faces in it. For all Force fans, this is not for pretty reading. And yes, that includes the context of all the crap you guys have dealt with this year…
Based on reports out of WA, RugbyWA could be hit with a ARU legal bill for their repeated legal challenges to keep the Western Force in the Super Rugby competition. Apparently, it will cost RugbyWA up to $1 million, effectively bankrupting the state governing body. And it's not like rugby in the state has already had a shocker of a year.
But, despite well knowing that bankrupting RugbyWA will heavily damage the game in WA, the ARU, through an apparent letter to RugbyWA chairman Tony Howarth, are determined to get the money.
 "I want to make it clear at the outset that ARU intends to pursue RugbyWA for its costs entitlements in both the arbitration and NSW Supreme Court" wrote ARU CEO Bill Pulver.
"No doubt you are aware from RugbyWA's lawyers that ARU's costs in defending the proceedings commenced by RugbyWA, not once but twice, are significant.
"ARU is entitled to, and will do what is necessary, to recover these costs."
Apparently, this is the list the ARU provided to RugbyWA in full as to why they are entitled to claim the money:
That the ARU definitively won both the arbitration and the appeal proceedings.
RugbyWA pursued both proceedings aggressively in correspondence through its lawyers and the media and a large proportion of the costs were incurred preparing for claims in the arbitration which were eventually abandoned by RugbyWA.
The ARU's costs were driven up by letters sometimes sent three or four times a day by RugbyWA lawyers.
RugbyWA unreasonably rejected reasonable offers of compromise to narrow the issues in dispute and contribute towards the development of grassroots rugby in WA if the appeal was abandoned.
The legal processes prolonged the uncertainty suffered by players and staff of both teams (Force and Melbourne Rebels) and subjected the ARU to intense public and media criticism.
RugbyWA (and its prominent supporters) was highly critical of ARU, management and board and questioned the integrity of ARU's management processes, values and honesty.
RugbyWA publicly sought to put a "retrospective lens" on the circumstances leading up to the entry into the Alliance Agreement in 2016, including allegations of misleading and deceptive conduct by ARU which contributed to further reputational damage suffered by ARU.
RugbyWA declined to comment, as did the ARU after releasing this statement.
Regardless of what happens in regards to this in the coming days, this complete shitshow of a move is the icing on the cake of a rubbish year for all concerned who love rugby. If the ARU honestly believe that RugbyWA are completely responsible for damaging their reputation, then that would only confirm what many in Aussie rugby heartlands (and especially in WA) think of them as being totally out of touch, even before the whole Super Rugby fiasco of the past few years.
Surely, next year can't get any worse… can it?
Ioane ends his Crusade
After only three games (and yet, ironically, another Super Rugby title) under his belt, former Wallaby Digby Ioane will bid farewell to the Crusaders to return to Japan to play for the Panasonic Wild Knights.
Ioane credited his single season at the Crusaders for restoring his love of rugby, but confessed that his body was no longer suited to the fast pace of Super Rugby.
"I'll miss my teammates and all of the other people I met while I was there — there's some awesome young talent in the Crusaders' squad," Ioane said to Fox Sports.
"For me, at this stage of my playing career, I'm aware I'm much more likely to end up dealing with injuries at that Super Rugby level.
"It feels great to be injury-free and getting regular game time at the moment, so I know that this is the right thing for me."
It's not to say that Ioane hasn't had a fair crack at his rugby career, having put on the boots for the Western Force, the Queensland Reds, Stade Francis and, of course, the Crusaders. He's also got 35 Wallaby caps to his name.
Crusaders boss Scott Robertson was quick to praise Ioane for all his contributions to the club.
"We loved having Digby in our environment this year and he brought all of the energy and charisma that we knew he would," Robertson said.
IPRC/NRC chat
While the Super Rugby side of things have been an absolute disaster on the west side, according to Bill Pulver, the progression of talks on the IPRC are, ironically, going extremely well. So well in fact, that conversations and rumblings are already happening at World Rugby.
"There's deep engagement," he said to rugby.com.au.
"We have a working party chaired by our deputy chair and a variety of ARU executive involved.
"There's discussion at a world rugby level, so there's a very deep discussion going but frankly a lot of work to be done."
It seems that, despite all the shenangians at the senate inquiry, it seems the IPRC is all that Twiggy and the ARU can agree on.
"Frankly we're looking forward to the [senate inquiry] process coming to an end. It's been an extremely difficult process for all involved," Pulver admitted.
"Eliminating a team from a Super Rugby competition was never going to be fun and never going to be consequence free.
"So, we are looking forward to the process being behind us and getting on with Super Rugby next year."
Meanwhile, we head over to the NRC goss. The all-Australian round saw Queensland Country and the Canberra Vikings emerge as the teams to beat this year, but also saw an upset by NSW Country, who are starting to rediscover the form that nearly won them the Toast Rack last year. However, the most notable surprise was the leap-frogging of Brisbane City into fourth place, only just behind the Fijian Drua.
What was even more impressive was that Brisbane City's 51-24 win over the Rising took place in an actual pond, according to Quade Cooper.
"I was proud of the effort in terms of the boys coming out there and just backing our skills," Cooper said.
"From the first moment when we stepped out onto the paddock for the warmup, we looked around and the field was like a pond.
"We just said let's have some fun, it's just like when we were kids so we wanted to go out there, have fun and enjoy it."
With a home match against the Rams at Ballymore this weekend, Brisbane City could use the opportunity to go even further up the rankings.
"The turning point was when we went over to Perth and had that pretty bad loss," Cooper said.
"We had gone win-loss-win-loss and it kind of clicked in the boys' heads that we can't be a team that's inconsistent like that.
"If we want to be a team that can win this competition and we want to be serious about winning we need to learn to win back-to-back.
"Finals are coming up soon and to be there at the end you have to win a semi and then win a final the week after."
In other games, the Fijian Drua will face their biggest challenge when they take on Queensland Country in Fiji, while the Spirit will look to get back into the top four with a big win over the Sydney Rays. Finally, finishing off the round with be the Rising hosting a dangerous Country Eagles side down in Melbourne. Canberra will have the bye.
McDermott's Pride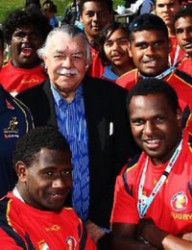 To finish off today's news, we thought we'd touch on a particularly special Wallaby. Lloyd McDermott was the first indigenous man to represent the Wallabies in 1962, as well as becoming the first indigenous lawyer in his post rugby career.
The Wallabies will play at Suncorp on Saturday, becoming the first Australian national team to wear an Indigenous-inspired jersey. The Denis Goulding designed jersey depicts fourteen Wallabies of varied shapes and sizes, representing the fourteen indigenous players who've pulled on the green and gold jersey.
McDermott got his chance to talk about the jersey to the ABC, and it was something that he is incredibly proud of.
"This has really done Aboriginal Australia proud. I think there is a bigger picture apart from honouring the Indigenous Wallabies," he said.
"It is a signal that Aboriginal people have really earnt their place on the sporting field, and are an equal part in sporting competitions.
"It inspired me and I know it inspires a lot of other young players to achieve at a higher level."
While McDermott lamented that he felt the number should be larger if it wasn't for the influence of rugby league, he was also extremely confident that there would be many more indigenous players who will play for Australia.
The only current indigenous Wallaby, Kurtley Beale, also got the chance to express his feelings on the jersey. For him, the chance to literally wear his culture on his sleeve is something that is extremely important to him.
"It's something that I hold close to my heart. To be able represent a lot of Indigenous communities out there, hopefully I can do them proud," Beale said.
"[With] the ARU having a relationship with a lot of the communities, I think it's going to definitely be having an impact on a lot of the young boys and girls out there to hopefully one day be a Wallaby."