Thank you to Rhys Bosley for submitting a conveniently timed guest article in Happyman's absence this morning! Some news will be below for discussion as well. Happy Thursday! Chuck.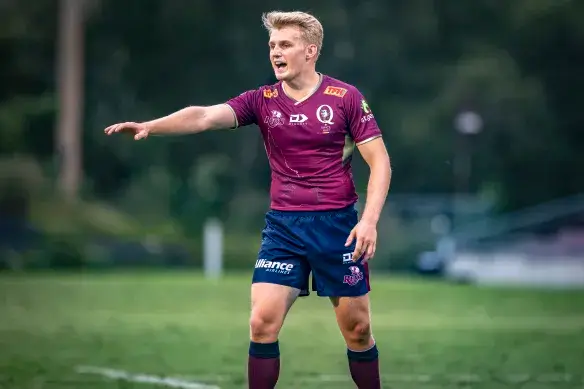 "God help him, he was only 19"
by Rhys Bosley
Tommy "Turbo" Lynagh could well have been the subject of that famous Red(s)gum song on Saturday night, when he made his debut against that source of even faster moving air particles, the Hurricanes from New Zealand. The young flyhalf did OK in his first Super Rugby start for Queensland, except when it came to tackling flying Kiwi outside backs with their legs like the mighty Kauri trees that grace the windy city in the shaky, very good at rugby, isles. His 83kg just wasn't enough to hold the big fellas back and a couple of tries found their way through him. But that's OK, because as the song says he's only 19, and a bloody good prospect in a position where Australia is short of them, so we'll let him off the hook for a couple of years while he makes the gym his second home and enjoys his diet of raw eggs and spinach. Reds fans would be a good deal less forgiving with the performance of his teammates, because crikey some of them did some dumb things in this game. Seru Uru giving away a penalty try and copping a yellow card, right at the wrong time as Ryan Smith was coming on after a more forgiveable ten minute layoff for cynically, err, "strategically", obstructing Jordie Barrett who was about to make a break, was especially unimpressive. After three seasons Uru is now a reasonably senior player with the Reds and should exercise the leadership skills to know when to hold 'em and know when to fold 'em. When you're down a forward and have basically no chance of stopping the pushover try it's time to fold 'em Seru; trying to collapse that maul and getting sent off is just stupid. Nobody should have to tell an experienced professional player that he needs to start engaging the top three inches, Seru's indiscretion resulted in the extra 10 minutes with 14 men that really tuckered the Reds out in the second part of the game.
There was plenty not to like from the Reds as the Hurricanes stretched the Reds out on the rack and the lead out to 47-13, but Hunter Paisami marking a player that Josh Flook already had covered and letting the man who he was actually supposed to tackle get by, found its way particularly deep into my nasal passage. Paisami is the sort of physically gifted player, who now has 17 Wallabies tests under his belt, that we all want to do well. I've been part of the cheer squad for a couple of years now, but he makes it hard to stay enthusiastic about him when he makes so many really dumb decisions that should be basic to get right for a professional player. One of the other habits he has that is really annoying are thinking that he is Samu Kerevi and charging headlong into phalanxes of big opposing players when he is too small to do so, instead of looking for opportunities to run a good line, which better suits his smaller frame and explosive speed. He also has a horrible habit of jogging when he should be chasing hard in defence and sometimes when he should be running in support, a trait that won't endear him to Eddie Jones who recently said he is looking for what players do off the ball in his selections. I hate to say it but right now I can't see Paisami getting selected for the Wallabies under Jones, when players like Len Ikitau, Isaiah Perese and Lalalai Foketi are available to back up Kerevi. That Foketi, who came across as a Waratahs journeyman until the beginning of last year, has really blossomed and is now better than Paisami, is a sad indictment that Paisami is at risk of wasting his talent and opportunity. He needs to focus hard on getting his onfield decision making right every time this season, or he'll be watching the World Cup on TV like the rest of us schmucks. At only 19 there may be time for Tommy Turbo, he's unlikely to go to the World Cup this year but there'll be several opportunities after that; Paisami is further down the track and needs to make the most of every chance at a ticket to the big show. I'm sure that every Reds fan is hoping that he succeeds.
IAN FOSTER WON'T REAPPLY FOR RAZOR'S JOB ABs COACH ROLE
On Wednesday, New Zealand Rugby announced that the process to select the All Blacks head coach from 2024 had commenced. The announcement was swiftly followed by a statement from current coach Ian Foster that he won't be among the candidates for the job.
Planet Rugby has listed the potential candidates here. Lol Brad Thorn as a smokey bet, there's more chance of Eddie Jones getting the gig!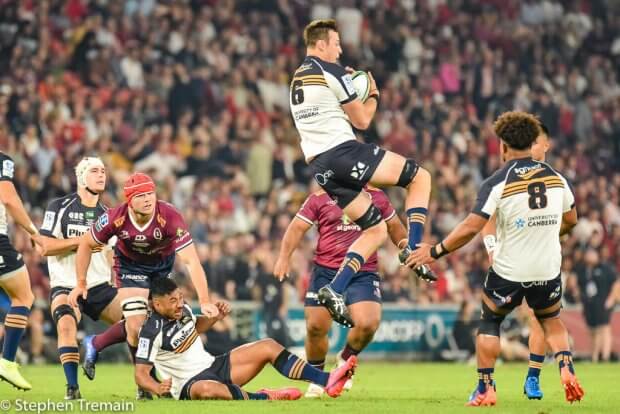 NICK FROST WINS 2022 ROOKIE OF THE YEAR
Wallabies lock Nick Frost has been rewarded for his breakthrough international season, named Rugby Australia's Rookie of the Year for 2022.
It caps an eventful 12 months for the lock, who was widely rumoured to be heading to Japan at the end of last year. However, Frost opted to sign a long-term deal and was rewarded with a debut Wallabies cap, slotting in for the second test against England in Brisbane after Darcy Swain's suspension.
From here, Nick has established himself as a mainstay of the side, going on to play nine out of the 14 Test matches in 2022, including playing the full 80 minutes in each of his four appearances during the spring tour. "2022 was a special year for me, and definitely one I'll look back on at the end of my career," said Frost in a statement.
Fair play to Dingo Deans who saw the kid's potential and all but lured him to Japan. Shame on RA, etc. for almost letting this bloke get away, seriously!
Speaking of blokes who should be let go, Sam Cordingley and the Reds recruitment folk. Lookin' at youse!
SUPER ROUND AND TIPPING
Enjoy the Super Round, G&GRs. I'll be enjoying the action from the Northern Stand at AAMI Park all weekend. Don't forget your tips!
Have a corker.
Chuck.