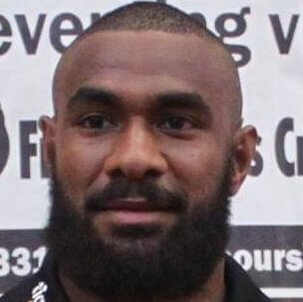 Thursday's Rugby News features Cheika talking about that Koroibete jersey, new development players for the WBs, a potential return of Kurtley Beale and $100 million in Chinese rugby.
---
Cheika Chats Koroibete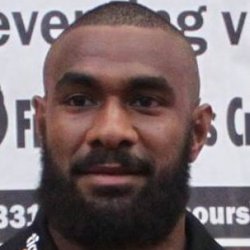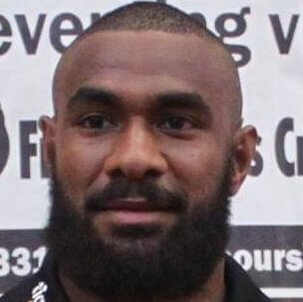 Michael Cheika has responsed to criticism that he's devaluing the Wallabies jersey by picking Marika Koroibete, the shiny new NRL convert who despite playing rugby all his life except for a couple of years at the Melbourne Storm, has never played rugby in Australia.
Selecting Koroibete in front of say, Western Force winger and livelongrugger Luke Morahan, has caused quite a stir in Australian rugby circles.
Fox Sports says that Cheika told reporters: "Any suggestions of cheapening the jersey are well off the mark," Cheika said. "He'll play if he's earnt it."
"There'll always be that (criticism) but no-one's getting a jersey for free and no-one ever will. He's a talent who can contribute for us and make an impact further down the road, definitely."
"It'll give me an opportunity to coach him a little bit first so I can have a look at him before he goes back and plays Super Rugby. That's a perfectly logical thing to do."
Cheika also batted away criticism of double standards, after he claimed the clown cartoon devalued the jersey and that he's now been said to have done the same thing.
"I think that's a pretty ridiculous parallel to try and draw," Cheika said. "I don't think there's any link at all. I can understand if you want to be critical about the selection. The fact of the matter is I'm not cheapening the jersey because he hasn't got one yet."
Development Players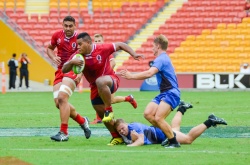 As reported earlier this week, four up-and-coming, uncapped players will join the Wallabies squad in a development initiative, sort of like how Obi-Wan and Han took Luke along the ride to show them space and that.
Anyway, these players were named yesterday. Taniela Tupou, or the Tongan Thor (Brisbane City/Reds), Izaia Perese (Queensland Country/Reds), Jack Dempsey (Sydney Rays/Waratahs) and Andrew Kellaway (NSW Country/Waratahs) have been chosen to follow the Wallabies around on their spring tour.
As rugby.com.au reports, unless there's a huge injury list amongst the Wallabies squad, none of these four will play a proper game. However, they are all in line to play for Australia A against the French Barbarians – where presumably Koroibete will also play, so gets capped.
Except, of course, for the Tongan Thor, who is still ineligible for Australia for another year. The Tongan-born, Kiwi-schooled Reds dynamo will qualify for Australia on residency grounds in November 2017.
It is interesting to note that of this quartet, Perese is the only one who hasn't received a Super Rugby cap.
Beale Back Already?
\
Cheika is already looking to repatriate Kurtley Beale after the mercurial inside centre has spent all of five minutes overseas, SBS reports. Beale is currently earning megabucks – $3 million over two years – playing/being treated for his knee injury at Wasps.
Apparently, Beale has a get-out clause after one season and that has seem to have lit up Cheika.  "We've had some discussions over the phone and he came to the match against Argentina in London,"the Wallabies coach said.
"He's back on deck around December for Wasps, so we'll see what form he gets back into and what decisions are regarding next year or the year after and his contract status, and go from there."
Inside centre has been a massive problem for the Wallabies this year, with five players having started there in the ten tests so far.
And the prospects of getting Matt Toomua back in a Wallabies shirt are looking slimmer by the minute. The BBC reports that Leicester Tigers' new centre will be out for six months, after damaging his posterior cruciate ligament in his knee. The poor chap's gonna need surgery on that one.
China Rising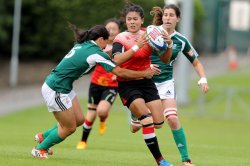 Alisports, the sporting division of Chinese super mega business Alibaba, will invest $100 million into Chinese rugby over the next ten years, reports the South China Morning Post (via World Rugby).
The cashola will be used to set up pro leagues for men and women, as well as a nationwide sevens program. It will also be injected into creating a participation program in universities and schools, with the goal of attracting one million new players over five years.
There will also be a development program that will aim to train 30,000 coaches and 15,000 match officials by 2020, as well a China-wide marketing and advertising campaign.
A huge plank of this deal is the drive by the Chinese government to get more of its citizens involved in sports. This drive is also no doubt helped by the fact rugby's an Olympic sport now.
"Rugby is a great Olympic team sport with strong values, which is why we are so excited about its undoubted potential in China," said Zhang Dazhong, CEO of Alisports in a statement issued by World Rugby.
"We have a great partner in World Rugby and together we will work tirelessly to promote the development of rugby in China with a goal of inspiring one million new players in five years.
"With the support of World Rugby and a strong strategic plan, we believe that rugby in China will take off as an attractive, inclusive mass-participation sport of sportsmanship and character."
This isn't the first time China's become really excited about sport – they're currently investing massively into soccer. However, those fruits don't really seem to be ripening, with the upwardly mobile nation of 1 billion +'s national side losing 1-0 to Syria in a recent World Cup qualifier.