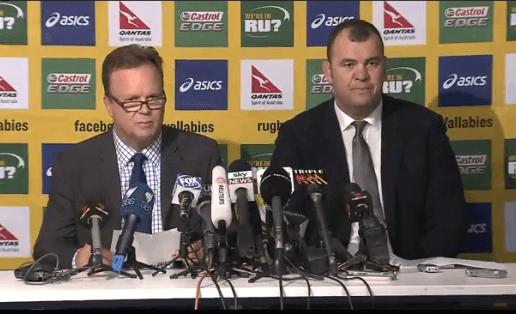 Thursday's Rugby News has a thumbs up for Michael Cheika sent with regards by Bill Pulver, worrying stuff about Adam Ashley-Cooper's contractual obligations with his French club, talks stalling over a global season, and Shipperley signing for the Rebels.
---
Vote of Confidence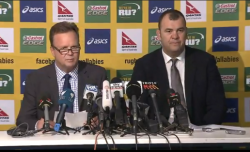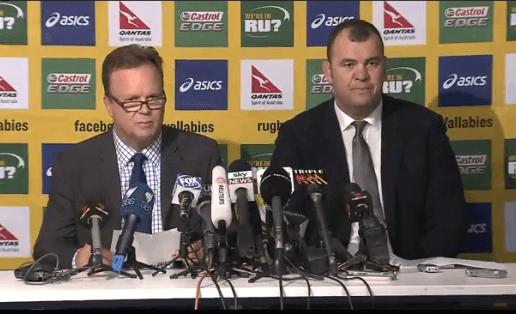 ARU CEO Bill Pulver has come out in support of Michael Cheika, telling the press (via the Guardian) that the latter's position as head coach of the Wallabies isn't under threat.
This is despite Australia not winning a game since the World Cup semi-final against Argentina, 5 tests ago.
"Our national coach is hurting and really the entire team is hurting," Pulver said, "That's why I'm really confident you're going to see a team that does play with a lot of pride on the line this weekend and I think you'll see a far superior performance."
Pulver continued: "Michael Cheika is our coach right through the World Cup and he's a world class coach. At the elite level of rugby things ebb and flow and that's what we're seeing here. Our boys will fight back."
While he was there, Pulver also talked up the Giteau Law: "I think it is a very good policy and I have complete sympathy for Michael Cheika's approach. When you've got young developing players like a Reece Hodge in the centres coming through as part of the Wallaby program, for him to train and be mentored by the likes of Matt Giteau is priceless," added Pulver.
Two Dads Might Go
Adam Ashley-Cooper may not be available for the entire Rugby Championship, with Bordeaux, his club, eager to have him back for the start of the French season, the SMH reports.
Despite the fact there's a World Rugby regulation (regulation nine, for all you legal nerdlingers) that clubs release players for matches within designated international windows – which the Rugby Championship snugly falls into – Ashley-Cooper still says he's been having trouble negotiating with his boss at his day job.
"With the European-based players like myself, that's an ongoing conversation that I'm having with my club president back in France and Cheika here so we'll review that after this weekend," Ashley-Cooper said. "From the start the initial discussions was with Cheik that I was coming back for the first two Tests and then it was going to be an ongoing conversation, so it was pretty open at the start but that's how it commenced.
"(Regulation nine) was brought in last year. I agreed to terms with my club in Bordeaux prior to those rules coming in. I've always wanted to put my hand up to play for my country so at this stage it's tough to put it all into detail, it's about having those open conversations moving forward."
Global Season Talks Stalled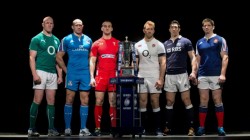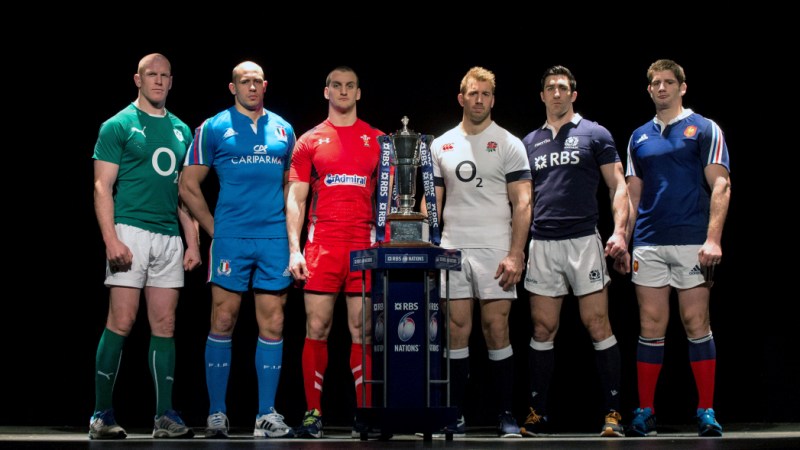 Meanwhile, the Guardian is reporting that ongoing talks about introducing a global season have stalled. While the major southern hemisphere unions are all for it, the Home Nations are currently split over it, with Scotland and Wales being the cool dudes and Ireland and England being lameos.
A global season is an initiative that would see the leagues and international windows align around the world, meaning that the November tests, for instance, would take place at the end of the season for all competing nations. This would differ from the current set up, where the European nations are mid-season when they welcome the Rugby Championship teams into their warm bosom.
Another part of the global season talks is the inequity of income streams from the unions: when the November tests are on, visiting nations don't receive any sort of cut from the income generated. The Guardian says that the NZRU will make about the same amount of money from the Wales tour in June, that Wales will make for playing the All Blacks once in Cardiff.
Talking about the NZRU, if global season talks fail, they have threatened to negotiate international tests independently. Steve Hansen has previously called the current situation "bordering on the ludicrous" and detrimental to player welfare. It would also mean that the 2017 Lions tour would have to be re-negotiated.
Shipperly Signs
Dom Shipperley has scrawled his name on a bit of paper that will make him a Rebels player until 2017, says Planet Rugby.
The contract means that 25-year-old winger. who hasn't played for the Wallabies since getting three caps in 2012, will spend at least three seasons in Melbourne.
"It's exciting, especially with a couple key playmakers here next year and a couple good friends as well, so it's good to keep the group together," said the man in question. "I am really keen to get back on the field, enjoy my rugby and help drive the club," added Shipperley, who wasn't seen since Round 8 of this Super season after doing his knee in.
Melbourne Rebels General Manager Rugby Operations Baden Stephenson also chipped in, saying: "Dom is very highly regarded in our organisation. A smart person and player who brings consistency, balance and professionalism every day,"
Meanwhile, in other Australian-signs-for-team news, Kurtley Beale has revealed he's raring to go at his new club Wasps (according to Sport24), which of course you would have to be when you're getting paid a million bucks a year. The injury he sustained playing for the Waratahs earlier this year means he'll be out of selection contention for another two months.
---
 Gagr craft beer discount
Enjoy smashing a tasty craft beer from time to time? What am I saying, of course you do!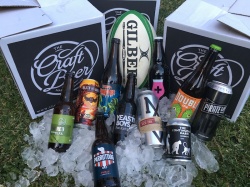 Well GAGR has organised for you to get a $20 discount when you order any of the 'Tight Five', 'The Forwards' or 'The Backline' Bledisloe special mixed cases from The Craft Beer Market. Each case has competing line ups of fine Aussie and Kiwi craft beers.
Make up for our super rugby showing – YOU decide who wins in this battle!
Just enter GAGR20 as a code on checkout to get a sweet lobster off as many of these three mixed cases as you order. Delivery is free anywhere in Straya!