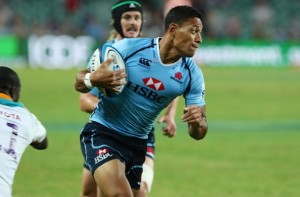 The Waratahs came up short again this week against the Cheetahs.
There were encouraging signs of form from Israel Folau, Paddy Ryan and Peter Betham.
Folau started to show off his aerial skills and I wonder why the Waratahs haven't sought to exploit those skills more in attacking plays.
Ryan was very good and his fitness has obviously improved significantly, which allows him to get into position quickly enough to become a genuine ball running prop.
Betham showed some of the form we saw in his ITM Cup stint last year and I expect we'll see him locking down one of the Waratahs wing spots as the season goes on.
Sekope Kepu and Drew Mitchell's task of winning back a starting position just got a lot harder.
The biggest area that let the Waratahs down was wasted possession. Of the 46 times the Waratahs had possession they turned it over 19 times (41%) – of those turnovers, nine (47%) came from handling errors and nine happened at the breakdown.
After four competition matches players must be starting to understand the new style of play and you'd expect that the execution of basic skills would have improved. So, is that the case with the Waratahs? In the previous three matches the Waratahs have conceded turnovers on 40% of their possessions with 53% through handling errors and 23% at the breakdown. Overall the Waratahs turned over more possession in this match than in their previous three. Their level of handling errors was better while their breakdown performance was worse, not an improvement as some would have you believe.
No team can win matches without being able to control the ball, as the Reds showed against the Force last week when they turned over 34% of their possessions, with 50% of those losses coming from handling errors and 44% at the breakdown.
So, why are the Waratahs failing to control their possession?
At the breakdown the problems remain the same as in previous weeks:  support players not getting to the breakdown fast enough and when they arrive, poor accuracy in cleaning out players and protecting the ball to deny the opposition a chance to make a turnover.
The level of handling errors is perplexing and must be causing Michael Cheika sleepless nights. Handling is a basic skill and should not regularly be such an issue for a professional team. I've never forgotten the advice I once received regarding error counts: a team that doesn't try things in attack will have a very low handling error count. But the game plan the Waratahs are using is not that difficult or new. It's not a high risk game plan in which the ball is being shifted around too such an extent that errors are to be expected.
What do you make of these handling issues?