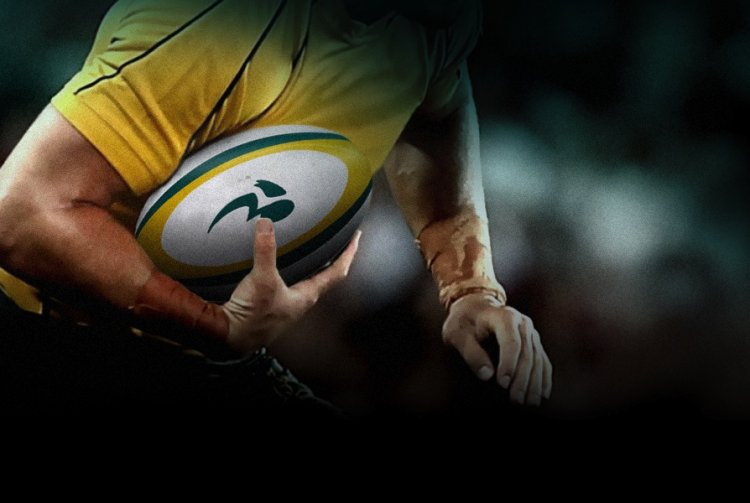 The much vaunted 25th anniversary of the Grand Slam tour gets under way with a 'meaningless' fourth test against the All Blacks in Tokyo. Add to this a couple of scrounged together midweek games for the dirt trackers and the tour gives us seven games, five of which are test matches.
Does this justify a 35 member playing squad? I dread to think how many support personnel are traveling as well. The original grand slam squad of 1984 numbered 32 with a few injury additions, but they had to play 18 games, including the tour ending Barbarians encounter.
With the addition of the two mid-week games, against Gloucester and another to be confirmed you can be assured that every player (injury permitting) will get a run. So let's take a look at the seven uncapped players in the squad and do some guess work on what their immediate and short term Wallaby prospects hold.
Kurtley Beale
Who is he? The much heralded schoolboy superstar flyhalf from the Waratahs. No schoolboy player gained the acclaim that Kurtley did and he was always going to struggle to live up to the hype once he hit the big time. His skills are sublime, with a wonderful wide pass, astute kicking game (when in check) and an understanding of angles of both pass and run. His work in contact is probably his biggest down fall at the moment.
Who's he like? Of the current squad it's probably Quade Cooper. Which is ironic. Both were schoolboy prodigy fly halves of the same era, playing junior representative games against and with each other. At the professional level both have shown they can pull off the big plays whilst also being prone to real brain explosions.
2009 form? Beale spent the early stages struggling to overcome injury concerns. His form was patching and he looked, frankly, unfit. However the Waratah backline never looked better than we he was back in the side, one position wider at inside centre, as he was able to give more scope to his outside men.
Tour Prospects? His battle with Cooper will be quite fascinating. Cooper has done all that can be asked of him in his short test career some far, surprising many critics. It will be wonderful for Australian rugby, and his own confidence, if Beale gets his own chance. I expect it to happen as Deans will want to test out his playmakers, especially with the speculation surrounding incumbent flyhalf Matt Giteau. Who knows, he may even get a run with 15 on his back given the lack of fullbacks in the squad.
RWC2011 Prospects? The chance is there for Beale to really stake his claim. If not on this tour then in next year's Super season. There is plenty of competition for the spot; however his versatility certainly plays in his favour.
Mitchell Chapman:
Who is he? The rangy Chapman is a forceful back rower with some handy ball skills and an aggressive defensive game. He tours as back up to Rocky Elsom, back can cover lock and even Number 8 at a pinch. He can pull off the big hit whilst also pull out a deft off load.
Who's he like?
Mitch actually has fair bit of Rocky Elsom in him. Which makes him a handy back up. Both are built fairly similarly, depending on which web site you use, Mitch may have a centimeter or two in height over Rocky. Interestingly with Rocky making the move to the Brumbies, Mitch will now be battling to hold onto his Brumby 6 jersey and may end up in the tight five.
2009 form? Like Beale, Chapman started the Super 14 slow, inhibited by injury, however began to find some real form towards season's end before injury struck yet again. He brought a bit of real presence and purpose to the Brumby pack as they began their ill-fated charge for the finals.
Tour Prospects? His versatility makes him a definite bench candidate for the test matches and his temperament seems to suit this environment. I believe he's a very good chance of grabbing a Wallaby starting debut, either if Rocky needs resting for a match or perhaps as a lock option towards tour's end.
RWC11 Prospects? The aggressiveness of the Wallaby pack is vital to our future success particularly at the next World Cup. Chapman marries this with some excellent skills and because of this he, injury free, seems an ideal back up to captain Rocky come 2011.
Dave Dennis:
Who is he? That's a bloody good question. Who the hell IS he? Another player who has had an injury riddled year. In fact he's had an injury-ridded career. He's been on the Waratah books for a couple of years, yet barely been sited. In fact Dennis has effectively been cut by the Tahs as he has been released from the Super 14 squad and will train with the Academy side. Part lock (too short) part blindside flanker (mobile enough?) he's received a massive leg up through injuries to Nathan Sharpe, Peter Kimlin, Tom Hockings, Will Caldwell and Sam Wykes, you would think.
Who's he like? Well, this is one I really can't answer. His middling between lock and flanker points to another Chapman type player. At 192cm, he can't really be considered a test lock. 2009 form? He finished the season strongly for his club side Sydney University. But what does that really mean?
Tour Prospects? Limited to the midweek games I would expect. He may snaffle a bench spot towards the end of the series as injuries start to come into play.
RWC2011 Prospects? I'd be surprised if the name is in contention for the World Cup squad come 2011. Invest your money on a big screen TV Dave, and watch it on Fox Sports!
Matt Hodgson:

Who is he? The Force back rower who debuted for the Wallabies in the un-capped match against the Barbarians in Sydney earlier this year. He only survived the half before injury struck and he was never considered again all year. Originally an open side, he played a bit at number 8 before finding his place on the blind side of the Force scrum. A former 7s player, he has the mobility and skills to make his presence felt on the game.
Who's he like? Probably Richard Brown, probably unfortunately. A bitsa player. The Force have really rotated their back row (other than Dave Pocock) to try to find the right combination. Hodgson and Brown are bother former club open sides converted to other back row position. They both have high work rates, yet probably lack the physical game for test match footy.
2009 form? His Super 14 form was really outstanding. He definitely deserved his Wallaby squad selection at the start of the season. We haven't seen much of him since, but it's a deserved selection.
Tour Prospects? Not bad. Although it's never a good sign when the captain plays the same position as you. He could still get a game or two at No 8, a position the Wallabies still seem far from certain with. May well leap frog Richard Brown by tour's end. Brown's failings may infact work against him however as the selectors must decide whether they continue with converted 8s, or a specialist.
RWC2011 Prospects? Unlikely to be honest. A solid player, but will really have to pull one out of the bag to prove he is world class.
Rob Horne:

Who is he? Just another schoolboy superstar. Came through the ranks like Kurtley Beale, without the same level of hype. His debut Super 14 season in 2008 was real class and if he can rediscover that form, he could be anything. Some would suggest he as Tim Horan like qualities that suit him playing 12. Others like his defense and angle running which suit him a spot further out. At a pinch he could cover wing and fullback, in all reality.
Who's he like? I see a bit of Adam Ashley-Cooper in him, without the overt versatility at this stage. With a bit of age and size, he could develop into a Stirling Mortlock type of dominant outside centre.
2009 form? Unfortunately, 2nd year syndrome hit big time with Robbie. He scored a brilliant try in the first game of the season, but form slowly slid since. Yet again, injury restricted his field time to the point that he played colts rugby at season's end to get more match fitness.
Tour Prospects? Big, I would suggest. The best of all the rookies in my mind. Much of this is due to the remaining uncertainty in the backline. Specifically in the jerseys 13-15. Horne could help solve these problems and I expect a Wallaby debut early on tour with a starting jersey towards the end.
RWC2011 Prospects? Very high. Horne is a definite talent. Some time under Deans should serve him well, as it has Quade Cooper. A full season with the Waratahs could see him a regular Wallaby squad member next year and an important component come the World Cup.
Richard Kingi:

Who is he? Another Academy player. The sprightly Kingi has played club football at inside-centre, flyhalf and scrumhalf. It was at the scrum base that the Reds needed him this year, as injury hit hard. Following an excellent 7s season, which drew praises from dual-international Michael O'Connor, Kingi's selection for the tour is a massive shock. Nonetheless because just a week or two early he announced he had signed with the Reds, in their Academy program.
Who's he like? Kingi is actually most like Matt Giteau in my eyes. Giteau's perpetual motion, always a threat play, was an aspect I liked during his short career in the 9 jersey. It's a similar high energy game that Kingi plays. Being a converted scrumhalf, his instincts are to run when he can, and his footwork and speed are definite assets in this area.
2009 form? We didn't get to see too much of it as he only played a few games off the bench for the Reds. It was enough to see that he is an exciting talent. A test quality one? Who knows. He was excellent at club level and for the Australian U20 team. The IRB recognised this form by shortlisting him as a nominee for their Junior Player of the Year award.
Tour Prospects? Surely he's there just for development opportunities. Perhaps to serve as a wake-up call to Luke Burgess? However, there are some who would suggest that Burgess's Wallaby days are numbered (a harsh call in my eyes), so is Kingi the man most likely to replace him?
RWC2011 Prospects? Much depends on how Luke Burgess responds. Personally I think he is a fantastic player who, if he can work on the technical aspects of his pass, could be a dangerous component of our RWC campaign. Kingi? Let's wait and see. Game time behind the test scrumhalf, Will Genia, and possibly Ben Lucas at the Reds may stymie his development.
Salesi Ma'afu:

Who is he? A massive prop from the Brumbies. It seems that he will be another groomed as the possible test Tight Head Prop. Ma'afu is a powerful player, mobile and skilled. And aggressive. Sometimes to a fault. But perhaps that's not such a bad thing for a test prop? He actually played prop for the Barbarians in their win over the World Cup winning Springboks back in 2007 which would have been an amazing experience.
Who's he like? Ma'afu is a little like Ben Alexander and Sekope Kepu. All are highly mobile and skilled players who the Wallabies hope can step up and be taught to play the very difficult position of Tight Head Prop.
2009 form? Solid enough. He missed a few games here and there as the Brumbies tinkered with their pack. He really hasn't stood up and claimed a starting jersey. Which shows the lack of depth in Australia for this position.
Tour Prospects? Ma'afu is one of six props touring so his chances of getting capped appear slim. But with the number 3 jersey and the bench propping spot still a long way from being certain, he may end up getting his chance.
RWC2011 Prospects? Personally? I think he's an excellent prospect, who needs a lot of work. The Brumbies will have to work out who plays 3 for them next year. Guy Shepherdson, Ben Alexander or Salesi? The decision will have a big impact on the Wallaby team. Meanwhile young Waratah Dan Palmer is quietly working his way into contention…