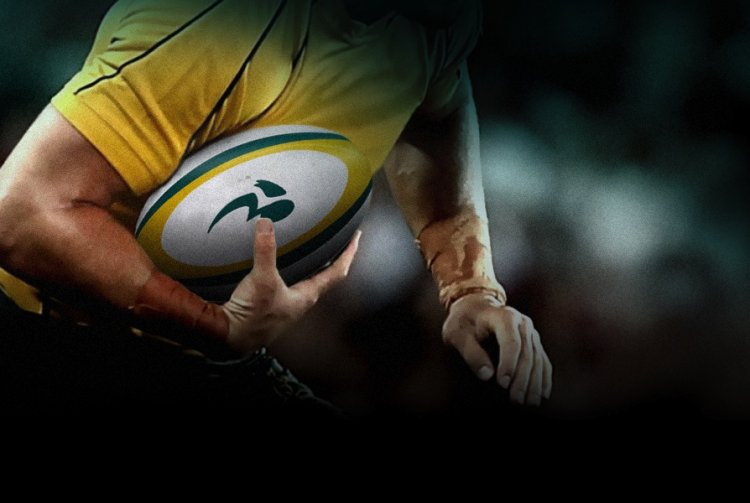 The Australian Schoolboys team were given a lesson in composure by NZ Secondary Schools at Ballymore tonight after a disappointing loss, despite leading 12-6 at halftime.
bro'Town decided to 'tap yo' Australian Schoolboy's ass' in the second half scoring three consecutive tries including one with only 14 men on the park, as a result of a yellow card.
The final scoreline was a close 28-24, but it was in fact a resounding defeat. It was only a couple of late tries by the Schoolboys that put some respectability on the board. That's not to say that at times Australia looked more than competitive.  
The Schoolboys completely dominated the first half in terms of both possession and territory but couldn't put any substantial points on the board. The whole of this half was played in New Zealand territory. The Aussies dominated the breakdown, pushed the Kiwis back in the scrum and spoiled their lineout ball. If there had been stats provided you wouldn't have believed it?
It was awe-inspiring stuff but alas, no tries. The Kiwi defensive effort was outstanding. It was as if Sir Howard Morrison and his Quartet were fighting the British at the Battle of the Waikato. Or it could have been Muhammad Ali v George Foreman's rope-a-dope. Let the Aussies punch themselves out first. Jeff the Maori, Pepelo Pepelo and Sione tackled their hearts out.
One of the highlights of the first half was the Kiwi fullback Albert Nikoro siddling up to take a penalty kick at goal around about his own 10m line. It was more or less 58m. The crowd chuckled and Francois Steyn was mentioned a few times. FFS – Frans Bro', just turned 17, actually kicked the mother! Unf*ckin believeable! Now there's a talent.
I'm not sure what the Kiwis injected into their kina at halftime, but it sure was choice stuff, hey cuzz? The game completely changed. Maybe bro'Town had taken Australia a bit lightly due to their 47-7 smashing of Australia A last Monday. Or perhaps it was just the Schoolboys playing out of their skin? However, like Whacko Jacko and the Black and White Minstrels it just didn't last.
The Kiwis played themselves back into the game. It was like someone flicked on a switch. 'Brains to Virgil, Thunderbirds are go!' The scrums steadied, lineout ball was now won and crikey, they even won some of the opposition ball! The breakdowns reverted to type….you know….NZ committing more men and with more physicality…..Aussies smashed off the ball. Was it only testosterone these guys were on? Too many pimply faces.
Then it happened – wham, bam, thank you ma'am. Jonah Lomu (Francis Saili) at inside centre second five eighths was deftly positioned into a gap whilst hot on attack. This came to pass because the Kiwis had put pressure on an Aussie defensive kick in goal and it went out in touch, in goal. The five metre attacking scrum resulted in Jonah gliding through untouched to score under the posts.
Not only was Jonah playing well but their No 10 Lima Sopoaga was inspirational. He could step like Paul Mecurio. I actually met his Mum before the game and had a bit of a chat. She was quite hot actually for a Kiwi yummy mummy, apart from that appalling accent. Well, when you're my age….
Lima had on these bright blue boots. I thought for a moment that it was Carson Kressley but I was mistaken. Lima and his blue suede shoes mesmerised and entranced the Aussie defensive effort: "Well, you can knock me down" – no they didn't. "You can step on my face" – no they didn't. "Slander my name all over the place" – they may have tried. "But don't you step on my blue suede shoes" – no they couldn't catch him to do that?
Next up, Lima Kressly puts in a perfectly weighted chip kick over the defensive line and the No 13 Chauncy Edwardson, in the form of Cory Jane (Chauncy's mum must have been a Peter Sellers fan), plucks the ball out of the ether in front of the Schoolboys fullback  and sprints over the line.
Lastly, in the 62nd minute (of a 70 min game) Lima conjures up the Dan and Richie show with his No 8 Antonio Kiri Kiri. When the Aussie defensive line is stretched in their 22m, he kicks to his unmarked winger – actually No 8 Kiri Kiri seagulling, who accepts the kick without opposition and falls over the line.  That takes it to 28-12. Game fairly well in the bag.
A short time later it was Australia's turn. After a series of phases, the replacement five eighth Kyle Godwin threw a beautiful overhead pass to winger Chris Feauai ('the artist formerly known as Chris Sautia') who scored in the corner.
In the last minute of play, the replacement Schoolboys fullback Mitch Felsman (proudly from super coach Graeme Silvester's U17 team at my club Brothers in BrisVegas), used his exceptional speed to get around his opposite number and score in a frantic finish. In an attempt to be able to receive another kick-off before the fulltime whistle was blown, Mitch nonchalantly dropkicked the conversion from the sideline. Gee this boy has some skill. His old man was a good footy player in his time as well.
Unfortunately, it was all too late. For the pimply faced Wallabies Liam Gill (Gregory Terrace Brisbane) at No 7 was terrific. He is a class player and will inevitably be snapped up by the Melbourne Rebels or whoever. I was impressed by No 10 Rohan Saifoloi (Brisbane State High) before he went off injured.
Winger Kimami Sitauti (the man responsible for Chris Sautia's name change) was a handful every time he got the ball and is another who's going places. He actually played in the Brisbane Premier Grade Grand Final the other day for Souths at 18 yrs of age and as a current student at Nudgee College. Funnily enough, he was also eligible for NZ and had played U17 representative rugby for them last year.
The No 4 Luke Jones (St Pius X College) was another standout. This guy is tough and mobile – I liked what I saw. Tyson Frizell (Illawarra Sports High) showed some go-forward at inside centre and Paul Alo-Emile (Brisbane State High) muscled up at the breakdowns. Like David Feao before him, he'll be a Premier Grade player in a year or so.
The halfback Nick Stirzaker has a bullet pass although on occasions it didn't land in front of Saifoloi as required. Very crisp service mind.
For the Kiwis their 10, 12 and 13 were magnificent in defence in the first half, and attack in the second. Impressive forward pack in the second half, buggered if I know what their coach said at halftime but it worked?
My Man of the Match was Lima Sopoaga from NZ and his mum.