Really; who didn't see that coming? So is it hyperbole or denial? "Wallabies are too unfit for my style of play"; "There's a few key issues we really need to get our head around and improve before we play New Zealand"; "The defence can easily be fixed"; "We need to be honest"; "I believe we can beat these guys any week".
Groundhog Day!
Back in July at the conclusion of Super Rugby round 16, I pulled you to one side and we had a brutal but honest talk about your … ahem … "performance".
Remember this:
It seemed like a good thing beforehand. You brought your "A" game, you were excitedly looking forward to it but it started badly and just kept going downhill from there and ended badly.
Well you seem to not want to listen and I did try to warn you that EVERYBODY could see that you were about to make yourself look ……..foolish!
Being a well credentialed critic having coached the year 5 /6 girls to the ACT Primary Schools Championship about 10 years ago I wrote this in the game preview:
Scrum: The All Blacks are without Moody and are not starting with Coles, but will it make a difference? Can the Wallabies dominate in the scrum? Even if they do will it really prove to be an advantage if the All Blacks forwards again out work and outperform the Wallabies pack? 
Line out: It has been a real issue at times so have we sorted it out or will Retallick and Whitlock be dining out on freebies most of the night? 
The Pooper: What impact will it have on the game? 
Backline: Will the combination of Foley and Giteau be the ever reliable attacking weapon we saw at the RWC, or the old dog that can't learn new tricks, or simply past their "best before date"? Will the All Blacks centre pairing work? Will it provide some attack, and will it hold or be a turnstile in defence? 
Beauden Barrett: It's a great show if you haven't seen it, and we just hope that this episode is one of the more mundane and lacklustre for the Wallabies sake!
The gamble: Playing players out of position. The keyboard critics are at the ready if this one blows up in Cheika's face.
Almost sounded like I knew what I was talking about! (credit to the GAGR forum for the assist!)
So here we are again.
So let's be honest and straight up and talk about our game again. We can only talk about it so many times before we are all sick of it!
We spout the same rhetoric and even say were committed to it, but you can't walk the talk or learn the lessons.
Do you recall these ugly stats from round 16?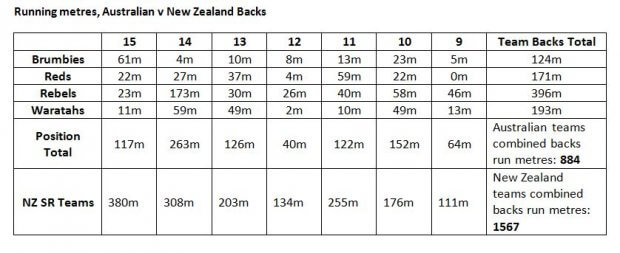 So after the weekend:

Now, before you start we are talking about the backs, so let's end the forwards arguments right here right now:
Forwards total for Wallabies (including bench) – 74m
Forwards total for All Blacks (including bench) – 232m
Forwards total for Springboks (including bench) – 83m
Forwards total for Pumas (including bench) – 58m
It appears the fitness talk was all it was – talk! Maybe another 4 weeks in camp doing conditioning work we can catch up the 9 metres to the Bok's!
But it's how you use it, right?
It's deja vu! The running stats are tough to face and are embarrassing. The truth hurts. Remember we talked about the running's not the be all and end all right? So let's look if you learnt anything since we last talked?
I will l also include the Super Rugby stats so you can see if Super Rugby form translates to the Rugby Championship and if we are learning the lessons or this is a systemic issue.
So first up how much opportunity did we have?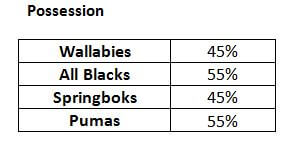 Really we had enough possession to do far more than we did. So essentially we wasted what opportunities we had.
Did we kick away our opportunities?

So what do we do when we have the ball?

It's on par with the Super Rugby stats but with only a 10% possession difference (45 /55) I am wondering why the difference between the Wallabies and All blacks is so vast. Are we time wasting and playing slow because we are disorganised?

Could you possibly be any more risk adverse?

We are playing full contact not touch right?

I love a stats guy with a sense of humour! I am pretty sure that the Wallabies clean breaks are really halftime and the end of the game!
So there it is, the stats from your performances. It tells a sad story.
Simply put, you were outplayed…EVERYWHERE. I am not going to mention what you describe as defence.
Enough of the sugar coating.
Lest face it, since Robbie Deans we were aware that this current core group of players were not good enough. But we have continued to flog the dead donkey, even trying to dress it up with 60 caps and adding more and more coaches and support staff.
Its arguable the 60 cappers are just keeping a generation of players away from the Wallabies because by the time they get near the Wallabies (if you can get them back from their well-paid contracts with teams O/S) they won't be able to be recalled as they won't have the requisite caps or be past their prime.
History can be a cruel mistress and will always allow the story of Joubet's whistle at the RWC to be told how we want. But it's worth considering that what appeared at the time to be a blessing may have actually been a curse. Since that whistle have we been mining fool's gold?
It is clear that it is a utter waste of money allocating funds for more Wallabies coaches when it is crystal clear that the next generation is what needs to be the focused on. Right now I would argue that the Wallabies assistants would reap better results for the game if they were working with the NRC teams developing the future.
I have said it before and I will say it again, we tend to be Wallaby centric, and right now I would even go as far to say the ARU are blindingly obsessed with the concept. I understand that the Wallabies are the ARU's cash cow but at some point they need to remember the past financial woes and start investing strategically in the future, as let's face it, the Wallabies are not providing any return on investment.
If we are going to market off the Wallabies can we at least make it logical? Nothing is better for the game when aside from the constant underperformance of the Wallabies and desperate need to invigorate domestic involvement we are playing players who we don't see play domestically so are unidentifiable to our kids. When asked, should we be honest with little Jonny and explain that while trying to ditch the privileged tag rugby has, we should confess that it's because they are special, so they get the privilege of being selected on reputation and the history not form, and they don't play here as they are too good and we can't afford to pay them; we only have the cheap left overs that the rich clubs don't want playing here in Australia. Why does Israel Folau play here then? Well he is also special…..privilege…..money……
Next week our hand been forced with selections and it's a gamble. A loss and the Bledisloe is gone and the Championships is only a faint hope.
It's time to change it up, time to get in some new faces. Can someone tell me what do we lose by having a Wallabies front row of Sio, Ready, Alaalatoa, R. Smith, Scoble, Robertson etc?
We have issues in the backs so what about giving the guys like Hodge, English, Inman, Taefu. Chris Kuridrani, Morahan, Reece Robinson, Powell, Taefu. Paia'aua etc the opportunity?
One thing I absolutely know – we need change now!
What's next in the Rugby Championship?
After 1 round here's the Rugby Championship table as it stands.

So looking ahead to the coming weekend we see the same 2 match ups, but with the home grounds reversed will we see some different results?
On Saturday the Wallabies travel to Wellington to take on the All Blacks again. Will it be a repeat of last weekend or have the Wallabies learnt from their many mistakes? The All Blacks have their share of problems, with injuries to Waisake Naholo (hamstring), centre Ryan Crotty (concussion) and hooker Codie Taylor (concussion). It looks like Damien McKenzie and Rieko Ioane will be called into the squad. Lucky for us they don't seem to have much depth at the moment. ????
New Zealand v Australia 27 August, 17:35pm (AEST), Westpac Stadium, Wellington (Ten, Fox Sports 2 – Live)
In the other match the Boks travel to Argentina to face the Pumas, who pushed them a lot harder than many expected. Will the Pumas continue to throw the ball around and play a more running style of rugby? Was the last match a wakeup call for the Springboks who clearly didn't play to their best?
Argentina v Springboks 28 August 2016, 5:30am (AEST), Estadio Padre Ernesto Martearena, Salta (Fox Sports 3 – Live)
NRC (AKA: Not the Rugby Championship)
This weekend gives Australian rugby supporters something to look forward to, the opening round of the NRC. Traditionally fast paced, high scoring games, the NRC looks set to provide us with the entertainment we have been desperately lacking in recent months of Australian rugby.
It gives us the chance to see a mixture of Super Rugby and club players doing what they do best. Perhaps we will see the next batch of Wallabies running around. You never know, maybe even Cheika will be watching and see some talent worth drafting in to the current Wallaby squad!
Round 1
| | | | |
| --- | --- | --- | --- |
| Date | Time (AEST) | Home | Away |
| 27 Aug | 1:00 PM | Perth Spirit | Melbourne Rising |
| 27 Aug | 3:00 PM | NSW Country Eagles | Brisbane City |
| 28 Aug | 1:00 PM | Sydney Rays | Western Sydney Rams |
| 28 Aug | 3:00 PM | Queensland Country | UC Vikings |
Fox Sports are showing selected matches live and repeated at various times throughout the week:
* NSW Country Eagles v Brisbane City Live on Fox Sports 2
* Queensland Country v UC Vikings Live on Fox Sports 4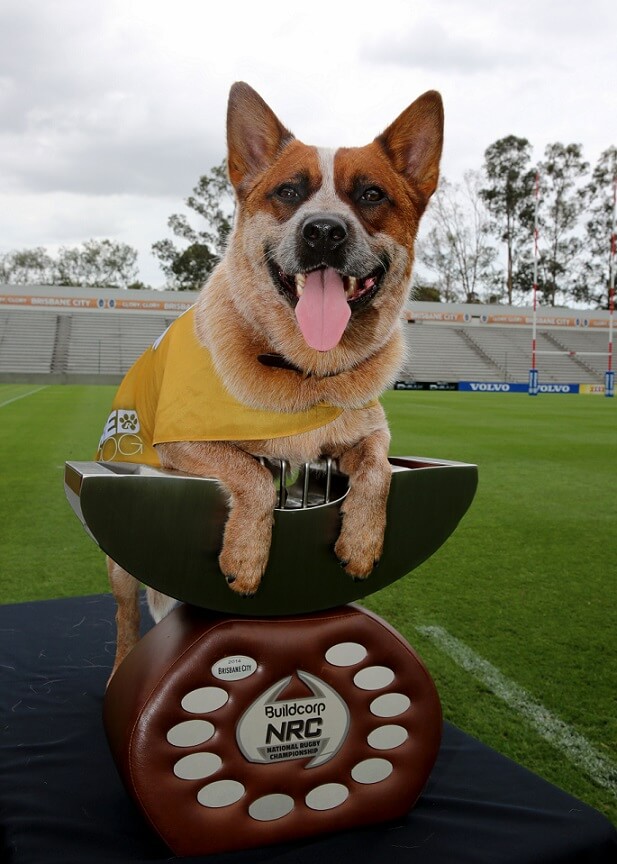 And just as a bonus …
For all of those out there who are feeling disheartened with rugby in Australia right now, this is for you.
Just wanted to end on a positive note!