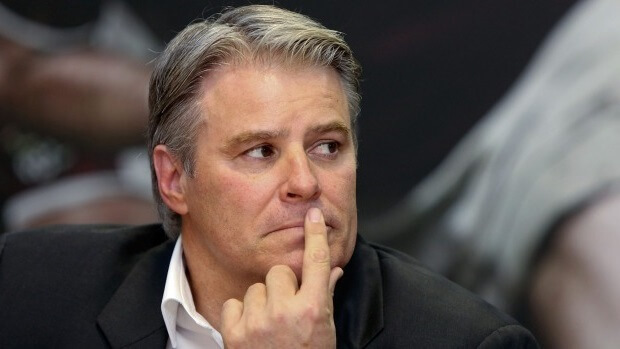 Hello again. Gee a week goes quickly, doesn't it? Tuesday has rolled around again already, which means it's Top 5 time! And what a week it has been! We had the good, bad and ugly of Super and Super W, three out of 4 Aussie teams played so we have given our opinion on how they went, we check in on our Wallabies and dive into the hotbed of discussion that is the World League.
The Good, The Bad and The Ugly
Good – The Rebels win on the weekend makes them one of the two team who are so far unbeaten in 2019. Having a game in hand after an early bye, the match up against the Brumbies on the weekend is a must win to maintain their place at the top and finally keep an Aussie team on par with the Crusaders.
Bad – Jordan Petaia's injury. Not only will it hurt the Reds as he has been a standout performer and will be sorely missed, but has implications on the Wallabies. Most likely to miss the rest of the Super Rugby season, it really has stifled any Wallabies aspirations.
Ugly – The biting allegation from the Super W game on the weekend. Wallaroos skipper Liz Patu will face the prospect of at least 12 weeks if found guilty. Not only is it not a good look for the game, especially the women's game, but also the fact that it's the Australian Women's captain.
.@WallaroosRugby captain Liz Patu is in a spot of bother over this incident: https://t.co/SDsZmmh6Pa pic.twitter.com/LXTaQd2oWJ

— ABC Grandstand (@abcgrandstand) March 4, 2019
Report Card
Rebels B-: This may be an unpopular opinion, but I wasn't that impressed with the Rebels even though they won over the Highlanders. They were at near full strength, with Coleman and Hodge coming off the bench, while the Highlanders were missing some pretty big names including two Smiths and a Whitelock. Add to that the Highlanders had 3 debutants coming off the bench, one of them a 19 year old scrum half, and the Rebels should definitely have had the advantage over them. In the end, it was a ball left to bounce by Gatland that proved to be the difference. Don't get me wrong. The Rebels deserved to win, but with all the advantages they had (home ground, full Wallaby contingent, weather – the heat definitely played to their advantage) they should have won much more convincingly.
Brumbies D-: What the hell happened to the team we saw last week against the Chiefs? They looked to have forgotten how to pass, catch and – well – play. Christian showed little of the skills we saw the previous week and 38 missed tackles??? Terrible! Looking for positives, Samu was huge at the breakdown and McCaffrey was again really strong. But the backs just weren't firing the way they did the previous week. There were passes over heads or at feet, poor kicks and a look of confusion about the players, as if they really didn't know what else to try,
Reds C: It wasn't a bad performance, they actually got pretty close to beating a strong Crusaders side, but it wasn't a great performance either. There was too much pointless kicking – where there no serious chase, something which is always risky against the Crusaders, and once Petaia went off they struggled a bit in attack. Again their lineout was poor, winning only 75% of their throws and they had a few problems at scrum time, losing 2 of their own. It will definitely be interesting to see how they go up against they Waratahs who are also having some scrum problems.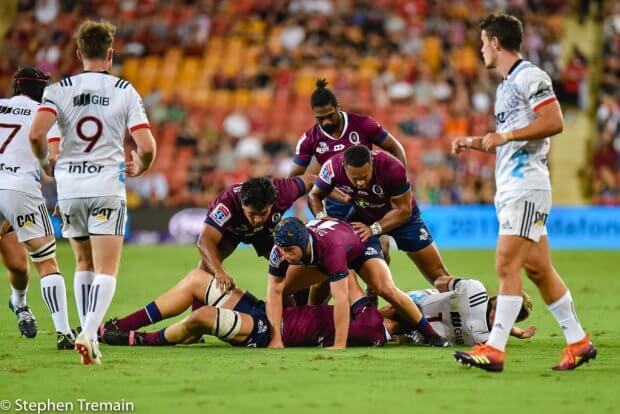 WALLABY RDO'S
Who stood out: Genia again put in a solid performance. It might not have been so pronounced this week but he still controlled the game pretty well.  Maddox is also showing some good form and seems to be reading the game well which is creating opportunities.   
Raised questions: Tevita Kuridrani. Just when we all hoped he had turned the corner he falls back I to old habit of not passing then passing when he needs to be holding the ball. He fell back in to the bad old habits of the past.
Blotted his copy book: Koroibete. On paper he looked good, 89 metres, 10 carries, 2 clean breaks and 3 defenders beaten. But then you get to this bit – 6 tackles, 1 missed tackle, 1 penalty conceded and 5 turnovers conceded. That last one is the reason he is in this section. Imagine handing the All Blacks 5 extra chances with the ball. Or Fiji at the World Cup knowing how well they counter attack.
General observations:
Kerevi – made some good, strong runs in attack and is showing how much of an attacking threat he can be given the opportunity.
Samu – again looked very strong and made an impact at the breakdown
Taniela Tupou battled it out against the experienced Owen Franks and his scrummaging is continuing to improve and hold up against world class opposition.   
Izack Rodda – another good performance. One indicator I like to see is consistency week to week and so far he is showing that.
Now let's return to the broader "informal" conversation.
This week Quade showed some glimpses of what he could do, and gave us some examples of the reason many people didn't want him in the Wallabies when he was there. Wayward passes putting his team under pressure thrown in with some decent, hard work. He still fared better than the other contender, Christian did little to help his cause on the weekend either.
Lachlan McCaffrey was once again strong and showed he is a real workhorse.
James Slipper. Another player making the most of his opportunity. His destiny lays in his ability to keep fit and allow him to perform week in week out. If he can he will certainly be hard to overlook after working with all the front rowers mentioned above and he brings experience, especially in the scrum.
Feao Fotuaika again put in good shift and is certainly worth keeping an eye on.
World League – What World League?
If you haven't been living in a cave the past few days, I'm sure you have heard the kerfuffle over the World League that possibly is or isn't being proposed. There were reports it had been decided, there were reports that nothing has been signed off on, there are rumours within rumours about rumours. I don't know what the full story is, but here is the gist of what is being shared around.
So there would apparently be a World League (also referred to in places as a League of Nations). It would include 12 teams. The teams competing in the 6 nations, the Rugby Championship plus japan and the USA. There would be no relegation/promotion system and it would be locked in for around 10 years. It would be held annually, with every team playing each other. Basically it would be like a mini World Cup every year, but not as international.
In other words, teams such as Fiji, Samoa, Georgia, Uruguay (who incidentally just defeated the USA over the weekend) would have no place in this competition. They would have no chance to play tier one teams and would also be missing out to teams ranked below them (ie the USA).
As you can probably guess, all of this went down like a lead balloon. Fans are somewhat disappointed (ie really pissed off) in this concept. Brett Gosper tried to smooth things over by claiming that this is what the fans want, but that just made more people confused.
We have carried out fan research via independent company in major broadcast markets. Fans were resoundingly positive about concept. https://t.co/vhVbaUxba9 — Brett Gosper (@brettgosper) February 28, 2019
As yet we are unable to find any fan who had any input! And even players and coaches have come out against the idea. So much so that there are meetings going on to discuss a boycott of the World Cup by some of the Pacific Nations. Here is a sample of what some players, ex-players and coaches have said.
First you tell t2 nations that they can't access their PAST t1 stars for 3 years (if they jump through a few hoops). Now they can't even have a beer with CURRENT t1 stars after a game for the next 12 yrs?? The FUTURE of Tier 2 doesn't matter, might as well admit it @WorldRugby. — Victor Vito (@VictorVito1103) March 1, 2019
If what im hearing is true then R.I.P Pacific Island Rugby… money is the winner at the end of the day I guess. pic.twitter.com/oL5BrJ6wGm — nemzy (@nemani_nadolo) February 28, 2019
Hear hear https://t.co/tcXttrgTa1 — Lote Tuqiri (@LoteTuqiri) March 2, 2019
How many of the 'major broadcast markets' are actually rugby playing nations Brett? do the opinions of us fans outside those markets not count? Perhaps a better approach to 'growing the game' would be to look after the smaller nations who already play? https://t.co/k6o2M9Av8q — Daniel Leo (@danleo82) February 28, 2019
No promotion form a new "World League" #worldleague in #rugby I wonder what then a World Cup means if the best teams play each other every year in a league and omit the developing countries. Sounds a bit like preserving the richest. — John Beattie (@BBCJohnBeattie) February 28, 2019
And of course the unions themselves are't happy either!
Sorry Bill, but there is much more rugby than that. The point is not only who plays, is about pushing for an open mind and join the concept of Global Rugby.
Regions represents Tier 2/3 and Development Unions.
Why they are not on the table? @sudamericarugby

— U.R.U. (@RugbyUruguay) March 3, 2019
The Brazilian Rugby Union follows with concern the news regarding the development of the new League of Nations and its repercussions. More info: https://t.co/PDnslyFDLW — Brasil Rugby (@brasilrugby) March 1, 2019
Aside from the anger about the Pacific Islands being left out in the cold, there is also the issue of player welfare that some big names are bringing up.
Johnny Sexton – "While players gave this idea a cautious welcome when we met at the end of last year, it now seems like a commercial deal on the future of the game is being negotiated at a rapid pace with little consideration given to the important points we raised with World Rugby in November. The issue of player load has never been so topical. However, it needs to be properly understood. To suggest that players can play five incredibly high-level Test matches in consecutive weeks in November is out of touch and shows little understanding of the physical strain this brings."
Owen Farrell – "This proposal shows no signs of improving an already difficult situation. Players are definitely open to discussing a new global season but what we develop has to work with the club game in order to reduce conflict, deal with player release issues and make sure their welfare is looked after. The proposal presented to us at the moment doesn't seem to have considered this properly."
Keiran Reid – "Fans want to see meaningful games; they don't want to see fatigued players playing a reduced quality of rugby as part of a money-driven, weakened competition that doesn't work for the players and clubs. With new technologies, new broadcast deals and new money coming into the sport, this is a crucial moment for rugby. However, we have to make sure the integrity of the game and welfare of the players is protected."
The latest news we have been fed is that we are all wrong, it's all based in rumours and nothing has been decided yet. World Rugby Chairman, Bill Beaumont himself set us straight, while also announcing a special meeting to actually sit down with people and discuss the whole thing. I guess we will hear more about this in coming weeks. Hopefully this time with a little more transparency as to the process!
So Where would it leave us?
With all of the rhetoric and debate about the World League it's interesting to ask the question what would it mean to Australian Rugby if it it's implemented? It has been well reported that it would reap a good financial reward for RA of about $10-$14 Million a year in extra money. In this tough financial climate, I can understand why RA is interested as it's money that they could certainly use.
But would extra games mean extra wages and costs? Would we need a larger Wallabies squad?
What about the effects more broadly? I can only speculate as we don't have all the details, but I can't help but wonder if there would be implications to Super Rugby (or replacement competition)? Would resting internationals be a key feature in such a competition/what about duration and a willingness to travel so much?
Think back to RA's past directions of wanting more private investment and other revenue streams. If RA were to go down this path involving themselves in more player management and a more Wallabies based focus does it diminish the opportunity of private investments?
But what about us as fans? Would we get sick of so many Wallabies games? We all know that one of the key issues with Super Rugby is that we only get to see them live at home about 6 or 7 times a year and then we have the battle of time zones. Based on that and knowing that the Wallabies games are far less accessible for many (price and location), will the supporters drift away as well? Will the Wallabies interest be sustainable? I can only use my personal experience as a guide but Mr Seven loves getting to the Brumbies because he gets to interact with the players and occasionally get on the ground. It's the same with the NRC. But without that level of accessibility he won't have much more than a passing interest in the Wallabies. It's hard enough with AFL and BBL to keep him interested in Rugby.
It will be interesting to see what comes of the meetings but I don't envy RA in this one. The money has to be tempting, but I really believe that there needs to be far more consideration. My initial assessment is this is a really good model if you are a northern hemisphere team. For Australia, I am not so sure and I really worry this is another move, albeit giant one in this case, away from the grass roots and the dwindling supporters we have for the game.
One of the key issues rugby faces in Australia is the local competion with ALF, NRL and Soccer. For me the more our game is played at a distance the more it becomes isolated as a TV game. I also wonder is there a point where we hit Wallaby game saturation and people start to tune out?
With this being a hot topic for debate, Super Rugby's future up in the air, and many of us wanting more of a domestic focus there is a lot at stake and a lot to consider. One left field element to consider is are the Aussie Rugby public change fatigued? Would this be one too many changes, and such a big one that many will just walk away from supporting professional Rugby in Australia?