Eligible Bachelors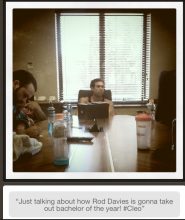 There was a tremendous excitement in the Social Pages camp when Cleo magazine released its annual list of Australia's 50 Most Eligible Bachelors. Representing rugby union in Australia's only male beauty pageant are James "Rabbit" O'Connor and Rod "Rocket" Davies. Although both men share nicknames with, ahem, "adult toys", the Social Pages has been reliably informed that this played only a small role in landing the nomination.
Rocket, like Barack Obama, has been chairing closed-door strategy meetings and directing his minions to do his bidding.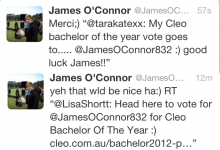 Rabs is going for a more aggressive two-pronged approach:
a) thank people for voting for you by quoting their tweet…..and the link to where others can vote for you.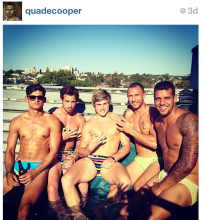 b) prepare for the swimsuit round by calling in experts. Much like Miss Congeniality, actually.
We are absolutely gutted for Digby this week: it just makes you wonder what the panel were looking at when they were making their decision. I mean, his was by far the most comprehensive photographic portfolio of any of the nominees, and that he didn't make the Top 50 Most Eligible Bachelors in Australia is the definition of insanity. Which brings us to the question for the week: who do YOU think should have been nominated and why? Answer in the comments section.
Quade's Qualities

So we already know he's a sensitive intellect with a passion for redressing gender inequity. Well ladies and gentlemen, you can add cunning linguist and aspiring artist to the list of attributes to make you positively weak at the knees.
And don't forget practical joker.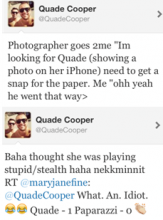 I mean, I couldn't stop laughing – can you believe a photographer in AFL-dominated Melbourne, on the weekend of the F1 GP with all the A- through to D-list celebrities in town, going off just a single photo on her iPhone, didn't recognise a guy who plays a game that she probably doesn't even watch because it's not shown live into Melbourne unless you pay for Foxtel, and who hasn't actually played that game since October last year, didn't recognise WHO SHE WAS TALKING TO? That is unbelievable!
The Beale Tweet 
This highly sought after accolade goes to the person who we believe best embodies all that is inappropriate and awkward.
Every so often the twitter world is blessed with a new voice. A voice capable of cutting through the self-obsessed noise, a voice unconcerned with appearing witty or pensive. That new voice belongs to @michael_lipman of the Melbourne Rebels. When people are asked which was Bradman's greatest century, or who is Australia's Greatest Athlete, passionate debate can rage for days. Well, my fellow Pagers, so too will people ponder, analyse and argue their favourite Lipman tweets.

His incisive insight into the complex world of international relations, specifically in the Asian-Pacific region, was my own personal highlight among a week where any ten of his tweets could have featured in these pages. Bravo Mr Lipman!
Pulitzer nominations
Like a woman after a difficult break-up, some of the boys went for the dramatic chop during the week. Thankfully smartphones were there to capture the magic.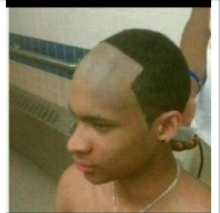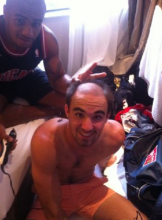 In more hair news…. Thanks to the Western Force boys for their involvement in some quality stitch-ups.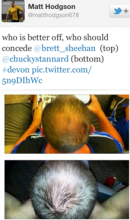 The Reds are still in South Africa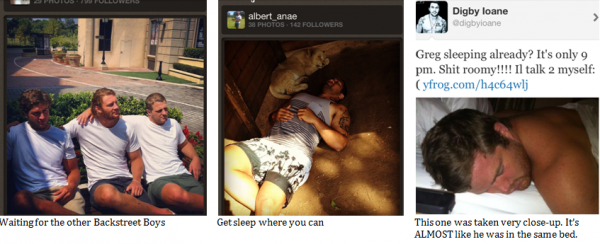 I would LOVE to post more content from the Waratahs – PLEASE if anyone sees anything interesting, tweet it to @gagr and #socialpages
Interview Bingo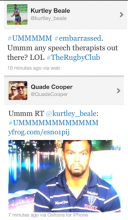 I think we can all agree that Kurtley's valiant attempt at Interview Bingo was among the best we've seen. Sure, he forgot the PowerPhrase when it counted and he engaged in his usual self-flagellation. But Kurtley's so hard on himself. I'm so glad he had his good friend Quade to pick him up when he was feeling down.
Don't get down on yourself Kurtley – with 11 you hit more than any other player we've had on the show. Congrats mate – you're at the top of the leaderboard. At least for now.
This week's Bingo player is Fat Cat himself, Benn Robinson. He's at home on either side of the desk, and his extras work on the now-defunct Piggies vs Princesses was awesome! So we're setting him the challenge this week, to be the first player to hit 16 from 16. At stake is a Green and Gold Rugby commemorative certificate. These bad boys are hard to come by – previous recipients of the certificate include luminaries such as James Horwill (unlaminated – for week 1 Interview Bingo), and David Pocock (laminated – for GAGR player of the year 2010).
Benn – as they say in the US of A- We're all rooting for you!