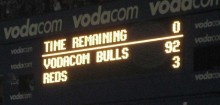 While you can't really seeing it being 92-3 with these teams, if the Reds win it, it will be very much against the grain.
It has been well documented that the Defending champions roll into Pretoria slightly under-strength due to injury and suspension issues. Pre-Season everyone was talking about who was going to replace Quade Cooper at 10, Mike Harris or Ben Lucas. No one, however, was talking about who was going to replace them. Though replace them we have to with Mike and Ben both arriving back in Australia a couple of weeks early with hamstring issues.
On top of that Reds winger and general purveyor of go forward ball Digby Ioane is also at home after copping a 5 week suspension for a lifting tackle against the Shorks. All this came after a start that looked plenty like the Reds had clicked, they were playing at the right end of the field, with width and with a precision that had been lacking in the first few games. And they were 17 points up.
On the other side of the field, the Bulls have had an up and down start to the season. They beat the Sharks at home, travelled to towel up the Cheetahs then went home to be the victim of the Blues only decent game this season. While the Reds have been beaten and bruised on the weekend, the Bulls took advantage of the bye and will be well rested and looking to make amends for the Blues anomaly.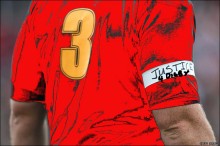 During their week off they have welcomed back midfielder Johann Sadie and lock Flip van der Merwe from injury, as well as Francois Hougaard from a one week suspension for a lifting tackle… What? one week? Yes, he… Wait,  didn't Digby get FIVE weeks for the same offence? Well, yes, but he really got 6 weeks + 1 week for priors + 1 week for "deterrence" – 3 weeks for being sorry and admitting he did it = 5 weeks. I understand that that differs from the Hougaard suspension (and the handling of the Kade Poki (nothing), Rory Sidey (warning) and Andries Straus (2 weeks) tackles), but this is the SANZAR "judiciary". After all I think most pundits have more of a problem with the consistency than the actual sentence.
Anyway, back to the game…
The Bulls will be well rested and arguably at full strength and up against a shuffled Reds outfit keen for the win, but equally keen to get home in one piece. Just how shuffled it it? Obviously Mike and Ben are replaced, and this sees Jono Lance and Ben Tapuai together again in the midfield, being fed by a fly half making his SupeRugby debut at 10 (previously with a 2 minute appearance at fullback), Dallan Murphy. To complete the back line shuffle, Luke Morahan come back into the starting side from the bench to into Digby's 11 jersey. Replacing Morahan on the bench is rookie Nathan Eyres-Brown, who has just arrived in the republic from the Gold Coast. Little is known about him at this level, but given he is one of Tatsy's former TSS team members, he should fit in well. Oh, and make sure no one touches his protein.
Not content with enforced changes, Link has also opted to mix up the forwards, with Ben Daley starting in the place of James Slipper (obviously loose head Daley will start there and Holmes will switch to tight head, it is Link not Dingo coaching…) the main thing punters will notice. Clearly this is a nod to the type of game the Reds will play, as it is no secret that what Dales lacks in scrummaging he more than makes up for around the park and in tackling.
If tackling and field position is the crux of the Reds game plan, they are going to have to do it ALL right, any poor kicks will be countered admirably by the Bulls back three, they have a strong centre pairing and we all know the threats that Steyn and Hougaard pose. I have it on good authority that Morne is not happy at losing his kicking record to Mike Harris and is targeting this match to start his climb, and potentially reclaim the record back.
Given the strength of the Bulls, you would be a brave man person to tip against them this week, but it has been said in the forum by some of the more staunch reds supporters that this team does best when they aren't expected to. Can't really see a repeat of the 92-3 blow out, but I do think the Bulls will win by 12.
That being said, I never like to bet against a McKenzie game plan.
Bulls Team: 15 Zane Kirchner, 14 Akona Ndungane, 13 Johann Sadie, 12 Wynand Olivier, 11 Bjorn Basson, 10 Morne Steyn, 9 Francois Hougaard, 8 Pierre Spies (captain), 7 Jacques Potgieter, 6 CJ Stander, 5 Juandre Kruger, 4 Flip van der Merwe, 3 Werner Kruger, 2 Chiliboy Ralepelle, 1 Dean Greyling Reserves: 16 Willie Wepener, 17 Frik Kirsten, 18 Wilhelm Steenkamp, 19 Arno Botha, 20 Jano Vermaak, 21 Louis Fouche, 22 JJ Engelbrecht
Reds Team: 15. Rod Davies, 14. Dom Shipperley, 13. Jono Lance, 12. Ben Tapuai, 11. Luke Morahan, 10. Dallan Murphy, 9. Will Genia, 8. Jake Shatz, 7. Beau Robinson, 6. Scott Higginbotham, 5. James Horwill, 4. Rob Simmons, 3. Greg Holmes, 2. Saia Fiangaa, 1. Ben Daley Reserves: 16. James Hanson, 17. James Slipper, 18. Van Humphries, 19. Radike Samo, 20. Liam Gill, 21. Nick Frisby, 22. Nathan Eyres-Brown
Officials: Referee: Jonathan Kaplan, Assistant Referees: Quinton Immelman & Stefan Breytenbach, TMO: Shaun Veldsman
Logistics: Loftus Versfeld, Pretoria. Kick off is at 5:05pm Saturday 24th March local time (1:05am AEST Sunday 25th March)
Television: LIVE on FOX Sports 3HD & 3 from 01:00 AEST