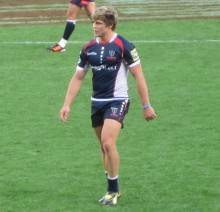 All week, I'm been trying to imagine how the Western Force, who line up against their former colleague in James O'Connor for the first time on Friday, would be handling the situation. Would they be inspired? Insipid? Indifferent? What effect would this eagerly-awaited reunion have on the visitors to AAMI Park?
Eventually, I settled on the image of the Force crossing the Nullabor singing 'Kill the wabbit!' to the tune of La Traviata, Elmer Fudd-style.
[youtube]http://www.youtube.com/watch?v=Yxiv3CBMS4M[/youtube]
In truth, though, there's very little to trouble the Sandgropers as they head to Melbourne, having upset the Waratahs (and, as a consequence,  sent just about everyone else into raptures) at the SFS last round. They played good, simple, structured rugby, and were able to build and maintain pressure in the last 30 minutes, when they needed it. To put the win down to a fluke is doing the Westerners a massive disservice, and they will be buzzing at the thought of an 8-point roadtrip – something that will surely put the sniff of finals football down the sinuses of the nib Stadium faithful.
For the Victorians, it's been an odd start to the year. Fans and observers alike can clearly see massive improvements in the side from their debut season, which makes the muted reaction to their two-point haul over three games almost a compliment, an acknowledgement that the bar is being raised. When the Rebels click, they are capable of playing great football, but all too often, those times are followed by periods of sloppy defending, poor decision-making, and just rotten luck. Combined with the injuries to newbies Kurtley Beale and Mitch Inman, and Damien Hill must be retracing his steps, making sure he hasn't walked under any ladders at the permanent construction site that is VISY Park.
It's not all bad, however, for the Rebs. Their forward pack, written off time and time again, have been a revelation, with Laurie Weeks living up to his massive potential. Gareth Delve has been a general as always, shining in the captaincy and proving what a big gap he will leave as he jets off home. James O'Connor looks to be great value, and Cooper Vuna is quietly pushing for green and gold. All facts which are, unfortunately, academic without the points to back it up.
They need this win, they crave this win, but will they get it?
TEAMS
MELBOURNE REBELS
1. Nic Henderson 2. Adam Freier 3. Laurie Weeks 4. Luke Jones 5. Hugh Pyle 6. Jarrod Saffy 7. Tom Chamberlain 8. Gareth Delve (c) 9. Nick Phipps 10. Danny Cipriani 11. Cooper Vuna 12. James O'Connor 13. Lachlan Mitchell14. Mark Gerrard 15. Richard Kingi
REPLACEMENTS 16. Ged Robinson 17. Rodney Blake 18. Alister Campbell 19. Tim Davidson 20. Michael Lipman 21. Lloyd Johansson 22. Julian Huxley
Kurtley Beale and Mitch Inman are still not in the selection frame through injury. Michael Lipman makes a surprise return, having only started full training at the start of the week. Jarrod Saffy completes his return from injury, reclaiming his spot from Tim Davidson who moves to the bench. Nick Phipps regains his number at scrum half, with Danny Cipriani starting after missing half of the Cheetahs game through illness. James O'Connor returns to 12, partnered by Lachlan Mitchell, who is rewarded for his brilliant recent form with a shot at outside centre. Mark Gerrard takes a few steps to the right to land on the wing, and the mercurial one, King Richard, adds the 15 bow to his growing quiver.
WESTERN FORCE
1. Kieran Longbottom 2. Nathan Charles 3. Salesi Ma'afu 4. Sam Wykes 5. Nathan Sharpe 6. Angus Cottrell 7. David Pocock (c) 8. Matt Hodgson 9. Brett Sheehan 10. James Stannard 11. Alfie Mafi 12. Rory Sidey 13. Will Tupou 14. Nick Cummins 15. David Harvey
REPLACEMENTS 16. Ben Whittaker 17. Pek Cowan 18. Toby Lynn 19. Richard Brown 20. Justin Turner 21. Winston Stanley 22. Samu Wara
The Force are only opting to tinker with their winning formula, bringing in experience in the form of Nick Cummins, who heads to the wing, and Toby Lynn, who returns via the bench. Kieran Longbottom is rotated into the front row, with Pek Cowan on the pine. Ben Seymour and Phoenix Battye are omitted, but will play in the reserves match against the Rebel Rising before kick-off.
DETAILS
Melbourne returns to their same bat time, same bat channel, kicking off at AAMI Park on Friday night at 7.40pm. The curtain raiser sees the Rebels Rising take on the Force A, which kicks off at 5.10pm.
This is the third meeting between these sides, both teams claiming a win against the other in 2011. The last time they met saw the Force overcome the Rebels 27-24 in the final round of 2011, at AAMI Park.
The game is live on FOX SPORTS 3 and FOX SPORTS 3HD.
GAME BREAKER
The Rebels and Force share quite a lot: both expansion teams, both coming from the 'non-traditional' rugby states, both usually written off as also-rans. Their most consistent feature, though, is their inconsistency. TheForce side that beat the Waratahs is the same side that thoroughly stunk it up against the Hurricanes a week earlier. The Rebels beat a point out of the Reds and then emulated traffic cones in the first 20 minutes of the Cheetahs game. It's extremely hard to use recent form as an indicator for who will take this game.
That being said, the Rebels will need their back line to fire in order to win the match. James O'Connor was excellent when he got a chance against the Cheetahs, but he too often worked in bursts, going missing from time to time. The team will benefit from the changes to the backs, with Richard Kingi able to play a running game from full-back, similar to the absent Beale. The only question mark would be around the newly-installed full back's kicking game, which was disappointing in 2011.
For the Force, their forward line will have to dominate like they did against the Waratahs for the full 80 minutes. One huge positive for the Force pack was the patience they showed against the Waratahs, creating pressure in defence. They will need to continue this trend in order to gain the advantage against a plucky Rebels scrum. David Pocock's impact on the game, as always, will be crucial – I would not be surprised to see Jarrod Saffy marking him all night.
MATCH UP
No-brainer here – James O'Connor vs The Western Force. Quite simply, the Force will be looking to make a statement that they're on the up and up, and what other way to do it than to show the former child star he made the wrong call? In truth, this probably won't have as much of an impact on the match as one might hope, but if it adds a bit more spice to an already growing rivalry, that can only be good for the conference.
FEARLESS PREDICTION
I'll be honest – I have no idea what's going to happen in this match. A lot of it will depend on how Melbourne backs up after the devastating loss to the Cheetahs. Games like that can motivate a team, or discourage them to the extent that losing is seen as inevitable. In a way, this is a watershed game for the southerners – win and they're back on track, lose and they're resigned to a 2011 deja vu. A win for the Force, on the other hand, puts them in the hunt for finals. Lose, and they'll be right on the way to being the good old unreliable side we know and ignore.
These two teams were separated by just four points in their two games last year, so it's bound to be close. I'm hoping, at least, for a lot of tries.
Force by 5.
Who do you think will win the Battle of The Other States?