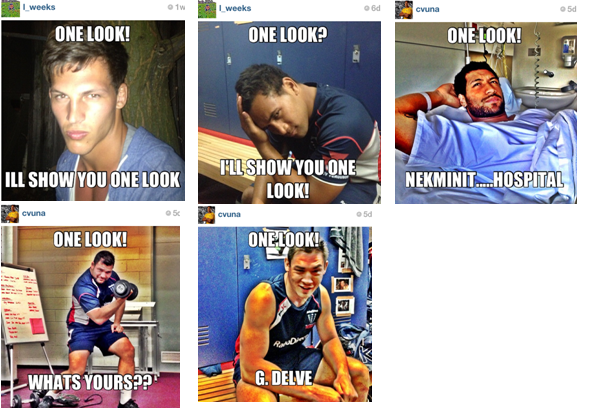 After a much-needed hiatus I've resumed my Campo-approved role as purveyor of Australian rugby's social media gossip. Some of the commenters on my previous post will be reassured that there will be no match analysis or critical thought about "real" rugby issues in this column. I'll stick to "girl" talk!
This year I'll be doing the Social Pages a little differently. In the past I have tried to post something from each franchise and the Wallabies in each post. This has meant that I've had to leave out a LOT of great stuff from some players and franchises while including some mundane stuff from others (see Tahs' Season 2012 tweets). This year's Social Pages will be done by team as warranted, including occasional international editions.
If you like the Social Pages, I encourage you to get behind them: share the post on Facebook, tweet the post on Twitter, follow our players on Twitter, send me Tweet tip-offs… anything to contribute to this site which gives everyday fans (both women and men) a voice in rugby. And now to the fun stuff…
---
When I think of Melbourne I think: class. Sophistication. Style. Culture.  And I think one man epitomises all of those things: Lachlan Mitchell (@FakeLachlanMitc).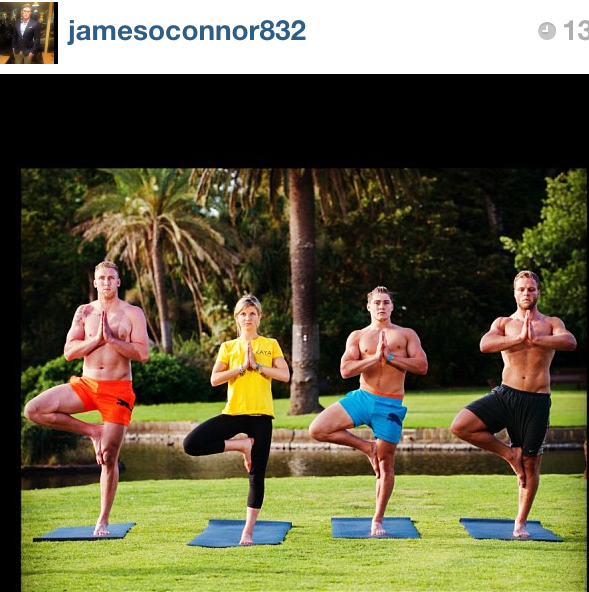 Now I know what your head is at. You're imagining those muscular arms wrapping around you as you do the dishes. You're thinking "wow, check out those abs". And "look at that proportion. Those delts are magnificent". You're wondering what it would feel like to lay your head on theirpecs and fall asleep while they stroke your hair. Hey – it's ok – we're all thinking it.
But GAGR's own Lachlan Mitchell is proof that players can be MORE than just a collection of body parts to do stuff with. He's more than simply your stereotypical hunk with a chiselled jaw and surprisingly good balance. Dammit he has a brain!
You may recall that our "Real Lachlan Mitc" has agreed to help us become more stylish and cultured. Of course, that was before the above paragraphs , so… ummm…fingers crossed….?
Cultural Rugby… For Yoga by @FakeLachlanMitc
Wear a loose fitting t-shirt, preferably black or grey, washed-out navy is also acceptable. This way you can appear modest about your body, and later when you start sweating up you can unveil yourself like you had no choice.
As far as pants go, black is best. It accentuates your tan and has a slimming effect which is important for bulky rugby body types. If however, you are a vampire or a pastey kiwi wear construction orange because no one is looking at you and it might help you get noticed.
Yoga is all about being spiritual, or cultural or whatever so naturally I'm all for it. Just don't wear the same pyjama pants as your boyfriend and then get photographed in a public park.
Namaste
  #Onelook
The One Look hashtag has taken on a life of its own with photographic entries growing more elaborate. The earliest entry I can find is from Laurie Weeks about the facially-fortunate Luke Jones (@Luke_Jones91) Here is a small selection.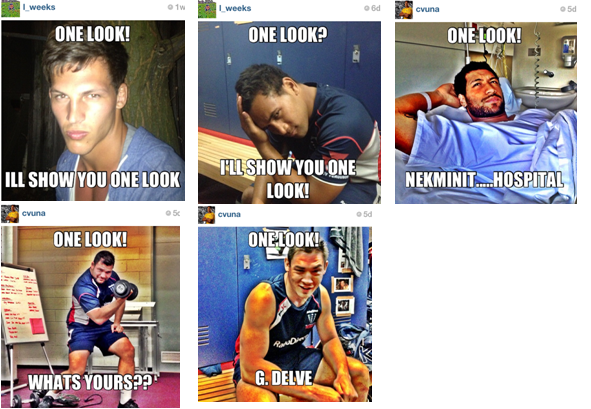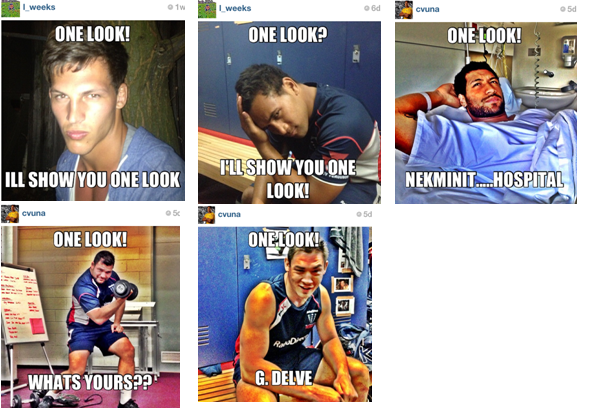 Things that make you go: Aawwww….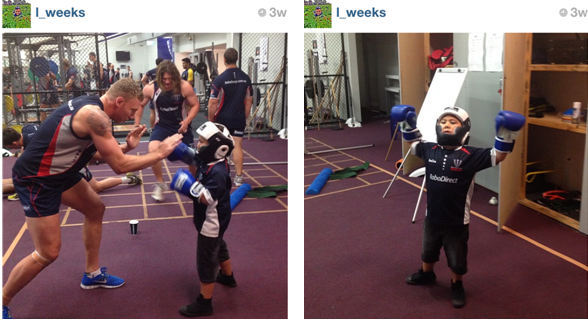 In a nomination for the cutest photo of the year, Laurie Weeks posted these gorgeous pics of Lincoln Vuna.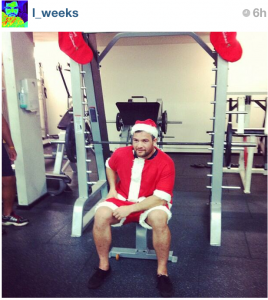 And speaking of Laurie (@L_Weeks on twitter & instagram) here's something for the ladies (and gents) to leave you feeling frisky and festive and ready to   f   trim your tree.
Mum – I've got the Christmas Card sorted!
 Famous Fans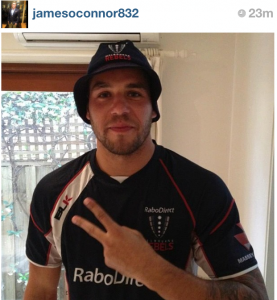 If this picture appears in the Herald Sun on 1 April 2013, you know where it came from.
Yes, it's Matt Giteau's brother-in-law!
Thanks to James O'Connor for the pic.