Hello Cobbers,
The long weekend in NSW allowed me the luxury to gorge on the quarter finals, rewatch everything in triple slow motion, etcetera. And I have to say I was well sated. I think that, if asked honestly, we all knew the Tarts were a lost cause, some of us held some hope for the Pink Koalas to maybe pull a rabbit from a hat (and by jeez, by jingo & by crikey they almost did) but deep down we all knew if we had any hope, it lay with the Donkeys. And thus it proved to be.
The weekend also unveiled some candid words from Lukan Salakaia Loto in an interview with Christy Doran discussing how he felt he had plateaud in his rugby and hadn't felt pushed to extend himself after the 2019 RWC. Such a poor attitude saw him cut adrift by Reds and Wobblies. And so it wasn't until he had to go overseas and swim as a smaller fish in a bigger pond that he re/discovered the level of application required to attempt to reach the heights that he feels he could, would or should.
Such is not an uncommon story in Australia both in rugby and in life in general. It almost seems an Australian right of passage (well until Covid punched a hole in it) to achieve some goals, hit your early-mid twenties and then pick up a swag and go travelling 'for a bit'. Some call it 'self discovery'. Others call it 'sowing wild oats' or other such palaver. I call it 'growing up'.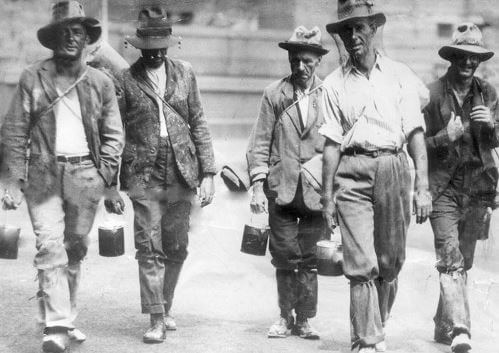 But whatever you call it, the point seems to be oft-repeated and generally well-learned. We go travel, see some things, live by the seat of our pants, have a few near-death experiences, get arrested or punched in the face or robbed somewhere truly frightening, then at some point we finally realise it's time to recognise 'what I have' and to 'get on with it'. For some people, 'what I have' may be a career, for others it's a relationship, for others it's a family situation. But I don't think it's unfair to say it's a quintessentially antipodean scenario to accomplish some stuff, get complacent, go travelling, realise how good things are at home, and finally start to get a bit of a handle on what's important in your life.
We've seen lots of Australian rugby players do it, although not all for the same reasons: Lukan most recently, but also the likes of James O'Conner, Nic White and Quade Cooper. And plenty more. Sometimes they don't come home and are lost to us for good; I think of Liam Gill most clearly here. But generally they come back. And they generally come back much better than when they left.
For mine, I have to acknowledge the resurrection of James O'Conner in this manner. And I probably need to eat a generous slice of humble pie in doing so. After the fiascoes of the Three Amigos, the 2013 Lions series, the contract negotiation shenanigans, the missed planes, drug arrests, missed busses, airport expulsions, missed photoshoots, the false-starts etc etc, I for one was quite vitriolic in my attitude towards him. I was quite vocal in my insistence the guy never wear gold again. And I remain unapologetic for my position in their isolated instances at the time.
But, where I was wrong was that I discounted the ability of a person to change. And clearly that young man did. He travelled, he got in more trouble travelling, and he certainly became a journeyman. But one day he finally grew up. In his own way he got himself sorted, and then he decided to come home and push for redemption – push not to capture what he had lost, for that was already gone – but to not waste any more opportunity. And full balls to the guy for doing so.
Watching JOC's performance on Saturday night typified that maturity. His play was mature and judicious. But more than that, the look on his face at the end of the match, with the wry smile of acknowledging a defeat that couldn't be avoided by that stage, was that of a guy who has journeyed and who has grown up. Sure it hurt, you could see that. But what was done was done. That's not weak, or soft, or uncommitted. It's mature to recognise our effort here today, now, was not good enough. It's proper stoicism. And it was good to see.
I hope LSL gets to travel the same path and find the same redemption. Good luck to him.
Nutta's Aussie Super Team of the Week:
1. James Slipper – Like a glass or three of Riddoch Coonawarra 'The Pastoralist' Cabernet Sauvignon 2021, the guy is spot on. And plying his trade in Oz, he's a proper $40 Dan Murphy Special.
2. Nos Lonergan – Fantastic meat & potatoes with some great around the ground gravy.
3. Sefo Kautai – Played easily his best game for the Donkeys.
4. Nick Frost – Each time I watch him play I am still amazed by his athleticism.
5. Angus Blyth – He's listed at 120kg. I don't see it. But he's got massive heart and he played himself to a standstill.
6. Bobby Valetini – Winning collisions is what the guy does. And he does it well.
7. Luke Reimer – 'No Pie' Reimer gets a jersey, and a beer from me if I ever get the chance.
8. Harry Wilson – Yes he's predictable and yes he got owned in a tackle. But his workrate and aggression is spot on and his willingness to carry into the teeth of any defence is just magnificent.
9. Nic White – Had a masterful game in his last run about the Ponderosa.
10. Jack Debreczeni – Another journeyman, on Saturday night he delivered in spades. Although I thought Lolly should've come on 10min earlier.
11. Andy Muirhead – He has a huge appetite for work, especially off the ball. But he needs a haircut.
12. James O'Conner – Like a bottle of Brokenwood Wines 2017 ILR Reserve Semillon, he's getting a bit long in the tooth for what he is, but with the right cellaring and conditioning, he's turned into a proper banger.
13. Sticky Ikitau – His work especially down the Canes left side was stellar.
14. Mark Nawaqanitawase – Back where he belonged, and it showed.
15. Tom Wright – Good late try. Good all round skills and positioning. But please put aside the Dane Coles bovinial excrementus. It will cost a game one day.
16. Connal McInerney – The Donkey reserve front-row were picked as a unit. Dead set gold effort.
17. Blake Schoupp – Against none other than a 108 test legend in Owen Franks, the lad did outstandingly well in his cameo off the bench. Seems to have a crowd-connection as well.
18. Rhys van Nek – I know we like to joke about fronties. But playing tighthead against opponents of that calibre in that last 10min is truly spiritual. Be mindful he'd be lucky to've walked straight on Sunday and will likely urinate blood until today (Tuesday). So big nod.
19. Ned Hanigan – Since his return from injury, I have been sincerely impressed by his workrate, accuracy and physicality. Likewise I've been disappointed to see Jed Holloway seemingly drop off.
20. Michael Hooper – He had to get a jersey this week. Even as a non-Tarts guy, you have to acknowledge his service to the Tarts.
21. Tate McDermott – Wasn't as incisive as previous weeks, but he worked so damned hard he gets a nod on sheer effort alone.
22. Josh Flook – Next to Carter Gordon, I would say he is the 'find' of the 2023 Aussie Super Backs.
23. Suelasi Vunivalu – He has his haters, but he scored 2 tries when others couldn't. Facta non verba.
Player of the Week
I'm just going to cut to the chase. Luke Reimer is the player of the week. His jamming of his hand under the ball and stopping Ardie 'The Slasher' Savea's try in the dying moments of that epic Brumbies v Hurricanes final in Canberra was rugby poetry and it saw his team live to fight another day.
It reminds me of that dressing-shed chat given in the movie 'Any Given Sunday' wherein Al Pacino took his underperforming, dysfunctional team into a play-off game and he implores his lads to fight for that last inch – the difference between 'living and dying'. And fight they go and do.
Ok, it's just a movie. And it's oh so very American. But it's beautiful.
It must also be said that in the script, the side went out the next weekend and got pasted. And herein the truth may mirror the fable yet again. But that's for next week.
For this week, Luke Reimer was the difference between winning and losing. That's football folks.