Hey Cobbers All,
I trust this finds you all in good spirits and enjoying our national farewell to summer we seem to have between Easter and ANZAC Day. I'm fighting the flu today so forgive me if I'm a bit more direct than usual.
Watching Eddie Jones and his Wallaby training squad permutations is as interesting as ever. Matty Faessler, Izaia Perese, Rhys van Nek, Rory Scott, Harry Wilson and Ryan Smith have all rolled in while Ned Hanigan, David Porecki, Len Ikitau, Blake Schoupp and Darcy Swain are all on the bus out with tickets booked via the concussion protocols. Pete Samu (ankle) and Langi Gleeson (calf) are also excluded while they genuflect at the altar of the injury gods.
In all those machinations, three things continue to stand out to me:
no clear leading hooker
continuing uncertainty in the locks
absolutely zero idea about who is our no2 10.
I should rephrase that: we're being sent clear signals about the 10 jumper by the continued inclusion of Quade Cooper and Bernard Foley, even if only on Zoom. But it's an approach that leaves me somewhat baffled, especially in light of the exclusion of Lolesio for the inclusion of Foley. Exactly what role does Foley fill where he's a superior option to Lolly? Surely Foley boasts experience, but it's hardly a winning experience and on no other metric would I consider Foley a better option over Lolly. All that said, Carter Gordon deserves his inclusion in light of his recent performances. But does his recent rise to prominence earn him the No10 understudy gig in front of Foley? Is Carter Gordon the new Phil Kearns?
One name I am stoked to see in the squad is Rhys van Nek. The 176cm and 110kg, 23yr old former Bremer State High School student was a teacher's aide in civilian life. He played Australian U20s in 2019 but first came to my attention playing for Brisbane City in the 2019 NRC. He continued to develop and was awarded the Tony Shaw Medal for a man of the match performance after winning the grand final with Easts against Qld Uni in 2020. He subsequently secured a spot with the Rebels in 2021 and 2022 before moving to the Donkeys this year. Known for being a fairly level headed bloke (demonstrated through a couple of serious injury spells), he strikes me as a bit of an old school frontie with really sound meat and potatoes set-piece approach and a tendency to not overplay his hand in general play. As such his involvements are generally low risk and first rate, exactly what you want from your No3.
Nutta's Super XXIII
Here we are again and the rules to selection remain nice and simple:
Selection is for one week only and based on last game only. There are no cumulative results. Reputation means nothing. Each week is a clean slate.
If you played for an Aussie Super team last week, then you can be selected. You can be Wobbly eligible or not, as that isn't really relevant.
As ever, I'm open to healthy discourse on who made the cut (or didn't) and where I differ from EJ.
Nutta's Aussie Super XXIII from Round 5 2023:
James Slipper – No one is seriously challenged him this week.
Matt Faessler – Played a solid meat & potatoes game and seems to be developing well.
Allan Alaalatoa – Just continues to dominate stuff around the ground.
Nick Frost – A relatively quiet game but his athleticism is just next level.
Jed Holloway – Continues to impress.
Rob Valetini – Owns collisions. In the modern pattern of play, that's enough said.
Tim Anstee – Always gives 100%.
Harry Wilson – Finally gets the Wobbs call up, but I fear as a bag-holder until Gleeson recovers.
Tate McDermott – Certainly poses some tough questions for EJ and defences alike.
Noah Lolesio – Steered the good ship Brumby around the park well.
Ben O'Donnell – Had a ripper of a debut with a hat-trick of pies to share with his cheer-squad.
Izaia Perese – 2 pies deserves a jersey somewhere and 12 suits him well.
Len Ikitau – Sticky remains the pick of Aussie 13s for mine.
Mark Nawaqanitawase – Worked really hard, especially off the ball.
Jordan Petaia – Had a solid game and continues to reminded a few of his talent.
Lachlan Lonergan – Plays with heart and accuracy. I just wish he was 10kg bigger.
Tom Lambert – Played quite well against very physical opponents.
Harry Johnson-Holmes – Didn't shirk the work in the dark places all night.
Ned Hanigan – Ned 2.0 continues to quietly impress.
Rory Scott – The more I see the more I like. A real toiler.
Ryan Lonergan – Continues to impress.
Jack Debreczeni – Has some really nice touches and seems to do well in the finisher role.
James O'Conner – Played a really solid match with some deft touches. Surprised me against such physical opponents.
Player of the Round
For me, there were a few applicants around the traps for this week:
The Papakura Rugby Football Club women's team featured a special line up on Saturday a week ago, with the Auckland club fielding 5 sisters who all managed to take to the field at the same time (your folks would be so proud of that photo, ladies).
Tom Stewart of Ulster Rugby in the United Rugby Championship smashed the competition try scoring record for a single season with his 16th five pointer. Surpassing the previous mark of 14 set by wingers, Tim Visser in 2010/11 and Rabz Maxwane, in 2018/19 the irrepressible hooker also became the first player ever to score back-to-back hat tricks in the Championship after pinching 3 pies in Ulster's 40-19 win over the Welsh Dragons at Kingspan Stadium on the weekend.
And a fair nod goes to Chris Ashton who scored his 101st Premiership try and then celebrated the moment with this young fan in the stands.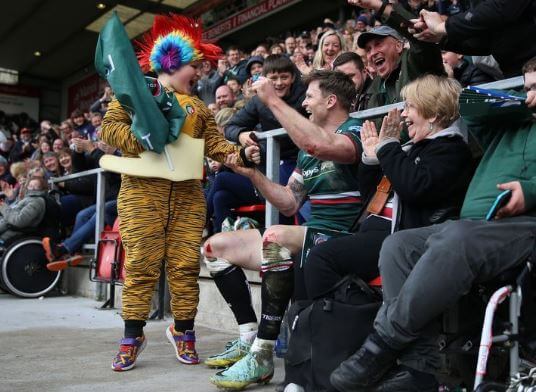 And thumbs up must go to Welsh referee Ben Whitehouse who penalised a 'milker' during the Sharks v Benetton URC match. After hearing the ref chatting to the TMO about a possible high tackle (on him) Sharks prop Ox Nche then attempted a blatant feigned injury to 'milk' action from the TMO. Once Whitehouse realised what Ox's game was, he wasted no time in penalising and warning the miscreant. Take some time and listen to the commentary in the clip below. Bloody well fair enough, I reckon.
But call me biased because ultimately, this week I gave the nod to Drummoyne Rugby 3rd grade who put together a great example of 'total rugby'. A well executed, efficient, middle lineout ball gave front-foot service to the no9. And the resulting sharp clearance from the half gave a split second for the no10 to fix three defenders and then release centre Corey Johnstone who threaded the opponents for a cracking +60 metre try. Everybody just did their job.
So there you have it, cobbers. Get out there a support your code. And chat away in the comments below.