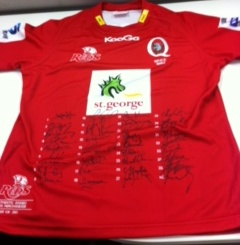 If we come, they will build it.
After the great feedback from our Sanga, Drink and Rugby Competition a few weeks back we have decided to run another. This time, in the spirit of the If we come, they will build it motto, a couple of great companies have joined us to make it more worth your while.
Firstly, thanks to St.George for showing their ongoing support of grassroots rugby by providing an official 2012 Reds jersey signed by the whole team. They obviously throw a bit of dough at the Reds themselves but they also have a great focus on the community game, at least in Queensland.
They've set up a deal whereby Queensland rugby clubs that refer a business or home loan to St.George will get a commission on it when it settles. Not a bad way to raise cash for the club! It beats cooking sausages, although we at G&GR love our sausage burgers! For more information on the Reds Rugby Referral program, see the website here. So anyway, great work St.George on supporting rugby at all levels in Queensland and thanks for your support of the 3rd Tier.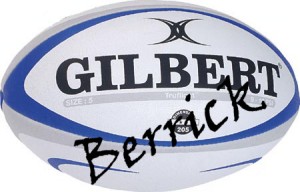 In case the winner isn't a Reds fan, Gilbert has come to the party. Thanks to Gilbert we have a Berrick Barnes signed Wallabies Replica Match Ball.
The competition is a pretty easy one and there are three ways to enter. All we need is a photo of someone having serious fun at a 3rd tier match. You can be doing anything you want as long as it is fun. Get it to us by:
tweeting the photo along with the #3rdtier hashtag, or
posting it on the #3rdTier Facebook page wall, or
emailing it to 3rdtier@greenandgoldrugby.com
The winner, as judged by the G&GR staff, will get first choice of the prizes. The runner-up will score the other prize.
We will be running this comp for the next four weeks (entries close on Monday, 16 July), so get to a game, have some fun, take a photo and send it to us to get one of these great prizes.