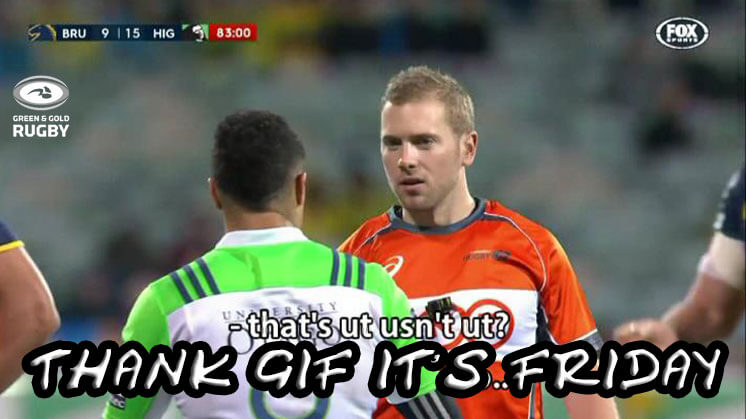 Who would want to be a ref? Even if you have a good game, your history will forever be stained by one little gaffe. Well in that sense I guess, at least Our Angus isn't a politician. Or a morning tv show host. Or a basketballer. Actually, you know what, being a ref sounds alright.
It's a bit hard getting some sweet gifs together when two of the four games this weekend were blowouts, so there's a bit of a mish-mash for this rugby gifs Friday. Someone (I wonder who?) has made a brilliant, subtitled gif of the Angus Gardner Gate incident, so that's been thrown in.
On top of that, there's gifs of the time a Springboks fan tackled a ref, the uncontroversial no try from the Brumbies game that still garnered controversy, Damian McKenzie again proving that he's the Master Chef, Dan Carter doing what Dan Carter does, a kick to the arse, the Beast in beast mode and Digby Ioane doing a jig. Enjoy!
Oh, Angus
Sending A Message
Boooooo
One Man Team
Curve It Like Carter
Kicking Arse
Big Fella
Digby Dance