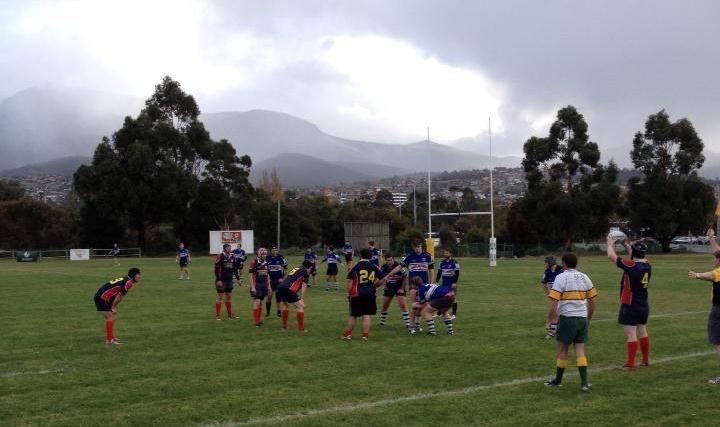 Snow on the mountain, heat on the pitch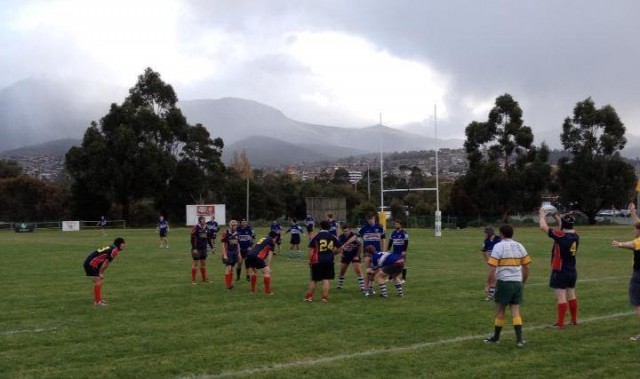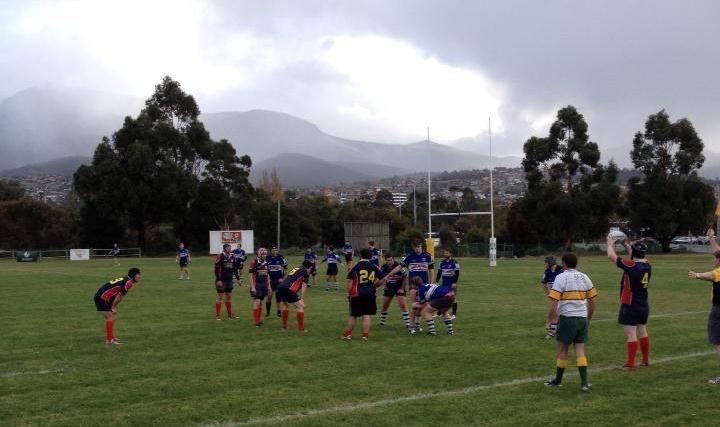 While there was snow down to 900m in Hobart, and a background of snow dipped Mount Wellington, Rugby Park came alight with two cracking games in round three of the Tasmanian Club Rugby competition.
Taroona Penguins continued table-topping form, winning 43-5 over Burnie Emus. New Taroona winger Joe Dinsmoor showed out with three tries and his skills will complement other Penguin backs as the season develops. Penguins flanker Anthony Lean continued his good form and flyhalf Mikey Whyte brought the team back onto task after Taroona tried too much variation in the first half.
Burnie never relented despite having the bare numbers, Emus captain-coach Brett Bentley praised the support he received from fly-half Michael Grace and scrum-half Dean Apiti. Burnie halted three seemingly certain scoring drives in the last 10 minutes to deny further breadth of the margin, escaping upfield to force Taroona into long-range attacks.
Also at Rugby Park AMC Vikings rolled an inconsistent Hobart Lions 10-8, recording a second successive victory in a match of penalties and several yellow cards after the Lions led 3-0 at the break. AMC dominated the third quarter securing two tries from Lions mistakes and held off a recovery despite a clean break from Lions Ikhwan Sallih reducing the margin. For the victors scrum-half Maniu Dawanincura pestered Hobart continually and centre Michael Fox and wing James Hokin had their moments.
Vikings coach Danny James hoped for a better performance despite being short some better squad members. 'We weren't able to play at our preferred speed', he said, accepting an away win was still a good result. Hobart's Sallih was consistent beyond his experience with wing Dave Morley and flanker Doug McBirnie showing positives in a team whose attack is not building pressure often or long enough.
Harlequins managed a narrow 8-5 win at University, neither side troubling the scorers until the second half. 'It was a real arm-wrestle and we failed to stick to the game plan', said Uni coach Niel van der Linde. Quins captain Sunia Ma'afu agreed, conceding Quins' early momentum was interrupted by penalties for not releasing the tackled player. For Harlequins back-rowers Pat Schramm, Don Leota and Beau Scott stood up. Uni's Nick Schmidt, Charlie Blount and Shaun Deigan kept the contest interesting.
Glenorchy Stags registered their first win, beating Eastern Suburbs 24-6 at Eady Street. Easts started slowly and could not bridge the gap, despite mounting pressuring for most of the second half. Chase Scott scored twice for the Stags and Aiden Stalker and Evan Campbell also shone, but the defensive effort got Glenorchy home. Phil Barry and Jake Hyland stood for the Roosters, coach Brett Bourke felt the Roosters executed too many phases before chancing their backs.
Devonport Bulls took possession wide to account for hosts Launceston 36-16, scoring 6 tries to two. Hayden Mulder, Mark Meo and Luke Johnson were clearly the Bulls best, with Perry Chancellor, Colin Montgomery and Harley Lyons to the fore for Launceston.
Scores round 3
Taroona 43 def Burnie 5
AMC Vikings 10 def Hobart Lions 8
Harlequins 8 def University 5
Glenorchy 24 def Eastern Suburbs 6
Devonport 36 def Launceston 16
Ladd after round 3
Taroona 14
Devonport 11
Harlequins 11
AMC Vikings 10
University 7
Glenorchy 6
Launceston 5
Eastern Suburbs 5
Burnie 5
Hobart 4