LIONS CLAW LAUNCESTON FROM FOURTH
Hobart Lions upset Launceston Bees 22-13 at the Hutchins School in Hobart on Saturday. The win edged Launceston from fourth place and was built on a strong forward display in front of a jubilant home crowd, capping a feast of rugby with over 100 junior players from around the state showcasing their talent in perfect conditions.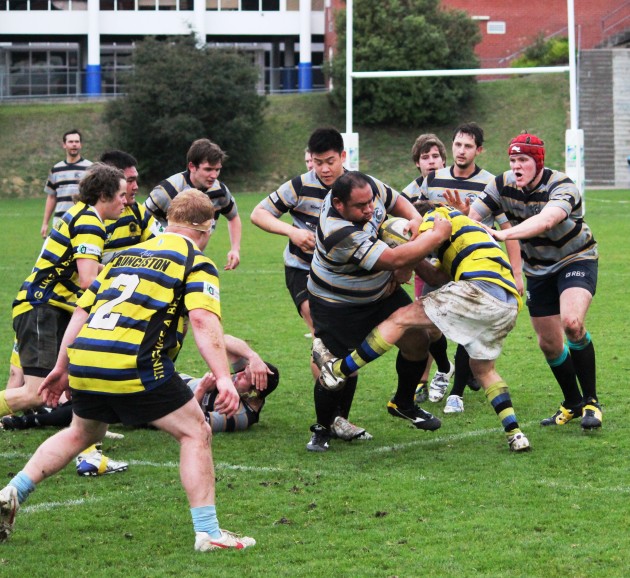 Hobart's prop Paulo Saissoa and fellow veteran Terry Richardson showed from the outset that the Lions didn't concede Launceston favouritism as they blitzed the edge of the ruck and pressured the Bees scrum. Lions halves Jon Clack and Ryan Fenning tightened Hobart's grip from a 9-6 half-time by converting phase and turnover possession to field position.
Ikwhan Sallih scored under the posts for Hobart to lead to 19-6 midway through the second period but Launceston turned the tide with pressure penalties. A converted Bees try 10 minutes from time forced the Lions to tighten the ruck defence to hold on. 'Our forwards stepped up at home and killed their pick and drive', said satisfied Lions mentor Adam Johnston. Colin Montgomery, Harley Lyons and Jake Shayer gave everything for the Bees.
Glenorchy Stags took Launceston's place in fourth with an upset 48-19 win over Hobart Harlequins at Eady Street. Quins cause was hampered by losing Paulo Pua to a red card for foul play and other enforced changes, but was compounded by poor ruck defence. Dan Aualiitia, Wally Dare and Josh Dorahy roamed space created by the home pack as Glenorchy scored five tries up the slope to nullify a three try burst by Quins. The efforts of Sunia Ma'afu, Sid Fielea and Jeff Altmann and good set play execution provided positives for Harlequins to use to re-group.
Taroona Penguins executed their best 80 minutes of the season to defeat Devonport Bulls 33-12 at Rugby Park, with urgency and accuracy at the breakdown and great defence boosted by clinical decision making in the backs. James Wicks, Charlie Holmes and Sam Lowe stood out for the Penguins. Devonport conceded lineouts on their own throw and wasted possession, particularly as Taroona held out in the closing stages. Skipper Matt Young, Luke Bryan and Mark Meo tried throughout for Devonport.
Eastern Suburbs Roosters capped a complete performance to win 54-12 over spirited AMC Vikings at Warrane. Whilst Easts scored their tries in the backs, including a hat-trick to Cyron Prouse, defensive pressure turned the screws. Daniel Reid and Chris Munns also used space well for Easts. Fabrice Dochez and Tom Scarfe toiled hard in the Viking's cause.
University overcame Burnie Emus 22-7 with Niel van der Linde, Augustin Deplante and Matt Te Hau to the fore retaining possession as the Red Men found outside space against a tiring defence. Burnie toiled valiantly when reduced to 14 men through injury with fine efforts from Adam Pandelis, Tom Zaslona and Michael Grace.
Round 13 scores:
Hobart Lions 22 def Launceston 13
Glenorchy 48 def Harlequins 19
Taroona 33 def Devonport 12
Eastern Suburbs 54 def AMC Vikings 12
University 22 def 7
Ladder after round 13:
| | | | | | | | | |
| --- | --- | --- | --- | --- | --- | --- | --- | --- |
| Team | W | D | L | F | A | BP | % | PTS |
| Harlequins | 11 | 1 | 1 | 393 | 216 | 9 | 181.94% | 55 |
| Taroona | 11 | 0 | 2 | 365 | 140 | 9 | 260.71% | 53 |
| Devonport | 8 | 0 | 5 | 499 | 217 | 11 | 229.95% | 43 |
| Glenorchy | 8 | 0 | 5 | 336 | 241 | 9 | 139.42% | 41 |
| Launceston | 7 | 0 | 6 | 283 | 229 | 8 | 123.58% | 36 |
| Eastern Suburbs | 5 | 0 | 8 | 271 | 334 | 5 | 81.14% | 25 |
| Hobart Lions | 4 | 1 | 8 | 203 | 320 | 5 | 63.44% | 23 |
| University | 4 | 0 | 9 | 259 | 383 | 6 | 67.62% | 22 |
| Burnie | 3 | 0 | 10 | 208 | 518 | 4 | 40.15% | 16 |
| AMC Vikings | 3 | 0 | 10 | 159 | 379 | 2 | 41.95% | 13 |