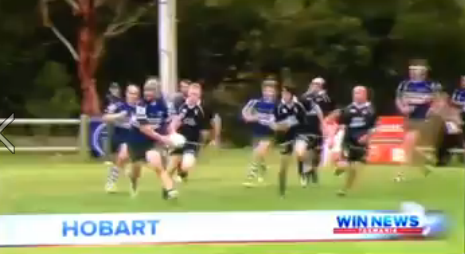 Taroona hold off Stags' charge
Round one of the Tasmanian Rugby Union statewide competition provided entertainment at every match, showing just how close the ten team competition has become. In a display of indifferent quality but plenty of character, Tasmanian Rugby Union defending premiers Taroona Penguins held on to prevail 14-12 over a gutsy Glenorchy Stags at Rugby Park.
Taroona looked to have slipped the leash with a fourth minute try to Christo Le Grange who converted his own try and added a penalty shortly after. But Glenorchy flanker Doug Smith stuck back crossing the chalk to bring the score to 11-5 with the Penguins leading at half-time. Taroona threatened out wide, but Glenorchy's scrambling defence and sniping close attacks from halves Dan Aualiitia and Wally Dare prevented the sustained phase play Taroona were clearly seeking. The Penguins edged to 14-5 with another penalty but the Stags dominated possession and territory for the last quarter, being rewarded with a try to willing wing Evan Campbell on full-time. The successful conversion from the touchline by Jason Duffy left the Stags tantalisingly short.
Taroona coach David Whyte was pleased with the result. 'We struggled with ball security and our passing, but it was good to pick up a win. The Penguins acknowledged the active leadership of James Wicks, some promising work from replacement centre Ollie Bird and an all-round effort from breakaway/lock Anthony Lean. Stags mentor Shannan Banks felt his side were best served by Aualiitia, Josh Dorahy and Chris Harwood.
On field two, 2012 runners up Hobart Harlequins provided their own undoing, blowing several try-scoring chances to be held to 22-22 by Hobart Lions. The Lions edged the honours with a four-try bonus point. The Lions led 10-3 but Quins replied through a brace of tries to wing Viliami Vea. Hobart scored two tries from skipper Adam Johnston, with singles from standout flanker Dave Craig and fullback Mark Playle with Quins' Ivan Meacham stepping around Playle to provide the equaliser. Johnston praised his team 'We could have easily rolled over at stages – it was an excellent effort.' The best for Harlequins were Pat Schramm, Jeff Altmann and Dave Woulleman but poor discipline undermined their focus and momentum.
Over the Derwent River in Hobart, at Warrane Oval, Eastern Suburbs Roosters were rewarded for off-season preparation, defeating Launceston Bees 27-22. 'They played well and didn't give us a chance to settle' said Bees mentor Ray Burgess. New Roosters coach Brett Bouke said his forwards created space and backs Judd Sherratt and Jake Hyland capitalised with three of the Roosters tries, prop Phil Barry completing the major scorers. Flankers Jock Hamilton and Perry Chancellor were the Bees' best.
University continued the upsets, accounting for visitors and 2012 top three finishers Devonport Bulls 23-17 in a physical encounter at University in Hobart. The Uni Red Men spread the ball wide for tries to Charlie Blount, Saul Lopa, Duncan Watson and Luke Ravouvou. Mark Meo scored twice in the Bulls' reply and skipper Matt Young and Alistair Nesham were prominent all day.
In the earlier match a youthful University reserve grade welcomed Taroona reserves who took an early lead of 14-5. In what was a hard fought and even match Taroona came out winners with control of the scrum allowing the Penguins' backline to run in three tries to one in the second half, final score 28-12.
In the northern derby, the Burnie Emus hosted the Launceston-based Australian Maritime College Vikings at Burnie. In 2012 the Vikings were unable to get a win on the board, and demonstrated early in this match that 2013 was a new year taking a 17-7 lead. But the hosts dug deep to win 31-27 with Dylan Lowrie, Michael Grace and Dayne Apiti amongst the Burnie scorers. The Vikings scored 5 tries to advance from the bottom of the table, with first-game AFL convert Michael Fox showing great application.
Scores Round 1
Taroona 14 def Glenorchy 12
Harlequins 22 drew with Hobart Lions 22
Eastern Suburbs 27 def Launceston 22
University 23 def Devonport 17
Burnie 31 def AMC Vikings 27
Ladder after round 1
University 5 (+6)
Eastern Suburbs 5 (+5)
Burnie 5 (+4)
Taroona 4 (+2)
Hobart 3 (0)
Harlequins 2 (0)
AMC Vikings 2 (-4)
Glenorchy 1 (-2)
Launceston 1 (-5)
Devonport 1 (-6)