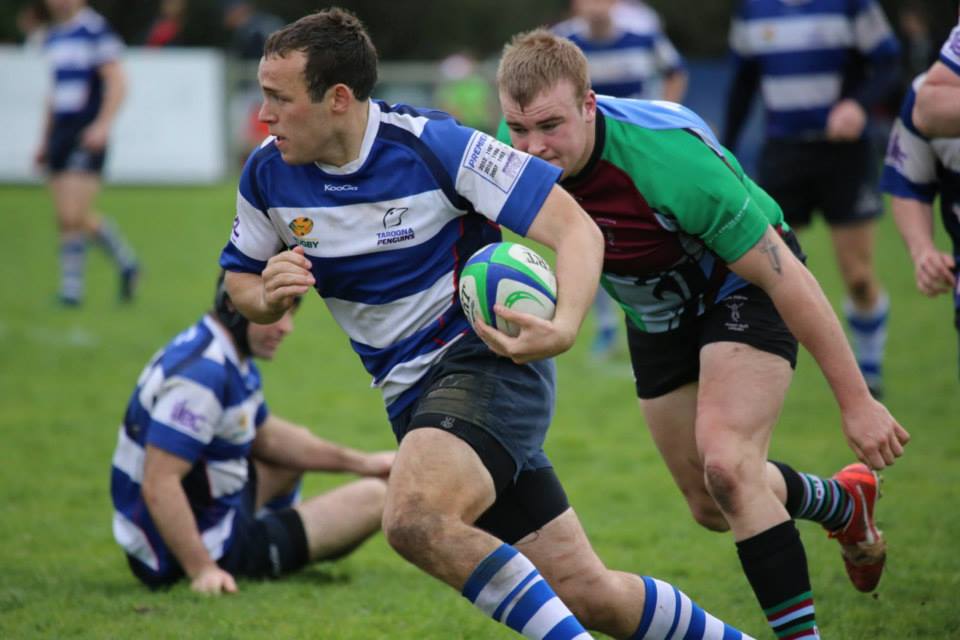 GRAND FINAL DRAW SEES REPLAY
Hobart Harlequins showed their extra-time expertise to hold Taroona Penguins to a 10-10 draw in Saturday's Tasmanian Rugby grand final at Hobart's Rugby Park, resulting in a replay next weekend to decide the premiership.
With 10 minutes remaining the Penguins defied an adverse penalty count and tremendous defence from Quins when Mikey Whyte scored an overlap try, converted for a 10-5 lead, following several phases close to the Quins line. However, Harlequins remained calm and forced a turnover to set Sunia Ma'afu crashing through a tiring defence, working the ball across their line for Pat Schramm to drive over and level with four minutes remaining but Dave Woulleman's conversion attempt hit the post.
Taroona's luck looked to have turned with a penalty within kicking range in the last minute of normal time. They elected for a scrum to drive home their advantage mere metres from Quins line but failed to convert. Both teams had chances in time-on, none better than another break by Whyte with two minutes to run that was halted by a desperate Matt Mitchell tackle.
Overall, the contest was tightened by numerous infringements detected by referee Sean Kelly and accompanying cards that saw both sides losing players binned during the closing stages. Taroona conceded isolation penalties in early phases, frustrating their attacking build-up as the Quins defence hit hard in the inside channels. Penguins skipper Rhys Watts and back-row partner James Wicks ran and tackled well to redress the balance and Taroona's scrum threatened to rob Quins of a stable platform, although their use of a breeze was restricted to a Christo Le Grange penalty to lead 3-0 at half-time.
Harlequins' clever support play sent Ma'afu over the gain line on short passes from Woulleman and they gained a 5-3 lead after half-time by sending Colin Fielea over in the left corner after taking a quick tap. Average Quins kicking execution then allowed Taroona's Charlie Holmes to spark several counter-attacks, but the defence held out wide, until pierced by Whyte.
'We just focused on smart rugby in extra time – staying on our feet and avoiding penalties, but they could have won with Christo's last goal attempt', said Quins' Colin Fielea, saying patience had earned the draw, with both sides ignoring space out wide at vital times. He acknowledged special efforts from Ma'afu, Woulleman and prop Michael Dodd.
Taroona's Dave Whyte rued his team's lack of accuracy at the breakdown and the three yellow cards while supporting the calls made by his on-field leaders, being pleased with the positive returns from Rhys Watts, Jeremy Climie and Tom Marlow.
Negotiations after the final whistle concluded the replay would occur at 2.30 pm next Saturday.
University posted a 36-20 win over Taroona in division 2, Launceston defeated Hutchins 34-10 in Under 18s with a hat-trick to Kieren van Brecht and Devonport prevailed 10-3 over Hutchins in Under 16s through a try to Tom Curtis on full-time.
Scores:
Mens Div 1
Taroona 10 (M.Whyte try; C.Le Grange penalty, conversion) drew with Harlequins 10 (C.Fielea, P.Schramm tries).
Mens Div 2
University 36 defeated Taroona 20 (scorers not recorded)
Under 18s
Launceston 34 (Kieran van Brecht 3, Dewann Duplessis, Joel Bissett, Louis Perkett tries; Natava Singh, Jackson Perry conversions) defeated Hutchins School 10 (Samu Lopa try, conversion and penalty).
Under 16s
Devonport 10 (Jamali Kigotho, Tom Curtis tries) defeated Hutchins School 3 (Jack Reid penalty)
Under 14s
Taroona 60 defeated Hutchins School 0
Played earlier in the year