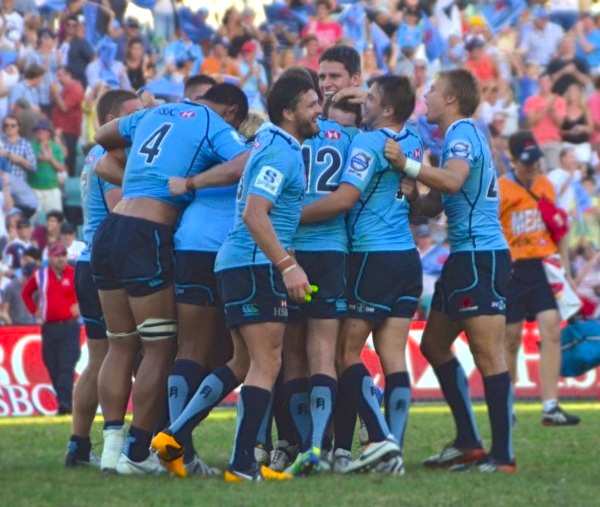 The Waratahs beat the Western Force in a tight yet scrappy Sydney affair. Both sides will have plenty to work on though, with big weaknesses exposed.

The Match
Once again Sydney put on a lovely Sunday afternoon, with mild conditions and dazzling sunshine. The first half was an odd kind of affair, with both sides showing good intent with ball in hand. Sadly this positive intent was thwarted by a combination of good defence, poor handling and indiscipline. Ebersohn and McKibbin took full advantage, kicking 3 and 5 penalty goals respectively. The Tahs were attempting an expansive game, attacking the Force in the wider channels. The Force were playing far more narrow, but good carries from the tight forwards meant that they found metres fairly easy to come by. While the scoreline was 15-9 in favour of the home side at half time, you felt like the game was still very much in the balance.
After their regular half time shellacking, the Tahs came out with a renewed sense of purpose, and it paid off almost immediately, with McKibbin slotting a penalty and then AAC scoring in the corner after good lead up work from Folau and Foley. It looked like it could be a space job, but the Force rallied, and a converted try to Alfie Mafi just eight minutes later kept them within 7.  A penalty a few minutes later to Ebersohn reduced the margin to just 4, and it was game on. The game began to stall, not helped by pedantry from Steve Walsh. The last fifteen minutes was dominated by Waratah breaks and Waratah errors. They put themselves in great positions, but were let down by poor handling and bad support play.
Both teams had chances in the last ten minutes, but ultimately the Force just weren't good enough to get over the line. They had plenty of ball but their attack was predictable and thus they were largely contained by the Tah defence.  It was scrappy, but the Waratahs won the day 23-19.
---
The Talking Point
This was a funny game, and highlighted the shortcomings of both sides. The Force were clinical and made few errors, but were too predictable and had an inability to break the line outside of the second channel. The Waratahs created opportunities left, right and centre but just couldn't hold onto the ball. Blend these two teams into one and they would be unstoppable. Going forward, though, I would say one thing: you can fix execution, but you can't teach X-factor and the ability to break the line.

The G&GR MOTM

I was very impressed with the work of Hugh McMeniman. Abrasive, physical but also very intelligent with a good game awareness. He made big hits but also deft passes and smart turnovers. He takes the chocolates from Benn Robinson, Adam Ashley-Cooper, Israel Folau and Alfie Mafi.

Wallaby watch
MMM and Alfie Mafi should both be considered as real chances for Wallaby spots. Both were outstanding with limited opportunities. Benn Robinson looks to have nailed down the loosehead jersey, and AAC had yet another solid game at outside centre. Folau furthered his claims. Ryan, TPN, Timani and Hooper were all quiet though, and will need to lift.

---
The Details
Crowd: 15,348
Score & Scorers
Waratahs 23
Tries: Ashley-Cooper
Conversions: nil
Penalties: McKibbin 6 Force 19
Tries: Mafi
Conversions: Ebersohn
Penalties: Ebersohn 4
Cards & citings
Salesi Maafu, 23′, high tackle on TPN