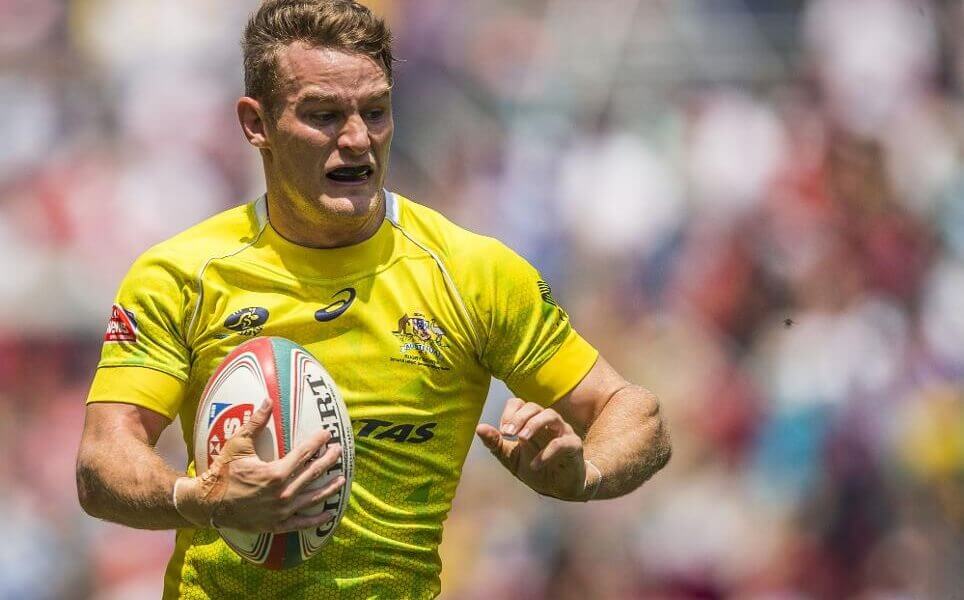 Game One: Australia 24 defeated Portugal 8
Australia have opened their Sydney Sevens campaign with a 24-7 victory over Portugal in Pool A.
Cam Clark, Australian Men's Sevens Player of the Year for 2014 and 2015, clinched the victory with a hat-trick in a man of the match performance.
Clark scored his first mid-way through the first half, crossing on the right wing.
With seconds remaining in the half Clark was in again, pushing Australia's lead to 14-0 with a second successful conversion.
Despite the scoreline Australia had started slowly, lacking the cohesion displayed by other sides thus far in the tournament.
The Thunderbolts kicked up the tempo in the second half, but conceded first to Portugal's Aderito Esteves in the second minute.
With the result hanging in the balance powerhouse winger Allan Fa'alava'au scored on the right to earn a 12-point buffer as time neared expiration.
However, man of the match Clark wasn't done yet – with seconds remaining, another try on the right wing completed the Knox Grammar School product's hat-trick, consolidating a convincing 24-7 victory.
33-year-old playmaker James Stannard converted two of his four attempts.
Australia next Pool A clash pits them against Canada at 5:32pm AEDT.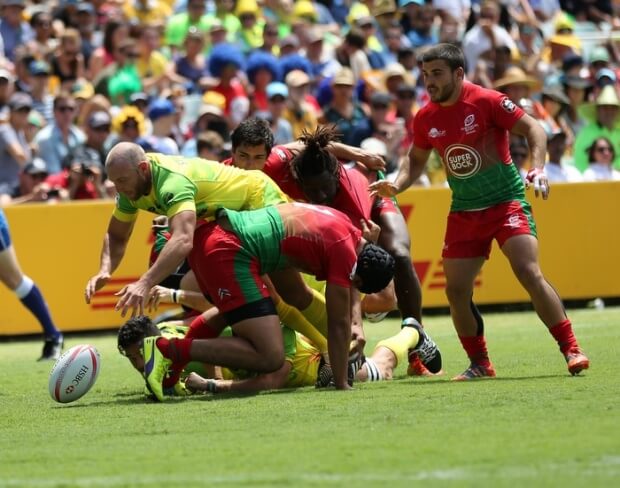 Game Two: Australia 26 defeated Canada 12
Australia have continued their unbeaten run at the inaugural Sydney Sevens with a 26-12 victory over upstarts Canada.
With two wins over the New Zealand Sevens side in the last 12 months, Australia were under no illusions as to the challenge Canada would provide.
Australia's mostly stagnant attacking performance was rescued by the heroic efforts of Lewis Holland and Tom Cusack in attack, equalled by the defensive work of teenage winger Henry Hutchinson.
Holland scored two long range tries before creating another for Sevens rookie Henry Speight, earning the Green and Gold Rugby nomination for Man of the Match.
Holland said: ""We had faced Canada a few times already this year, so we knew that they were a big, physical side, as we saw earlier against New Zealand today. They're no light team.
"We knew we were up for a big challenge, but we built off that last game, got rid of the nerves and were just really precise in what we wanted to do. We went out there and executed our game plan as best as we could.
Holland denied that his hand had played a key role in Australia's second win of the tournament.
"There are no personal accolades in Sevens. We're seven people out there, so if everyone is doing their work and moving off the ball and on to the ball it makes everyone else's job easier.
"Especially in our team, we really need an awareness of what each player can contribute on the field so we can work off them, which opens up gaps and opportunities. That's what Sevens is about," Holland said.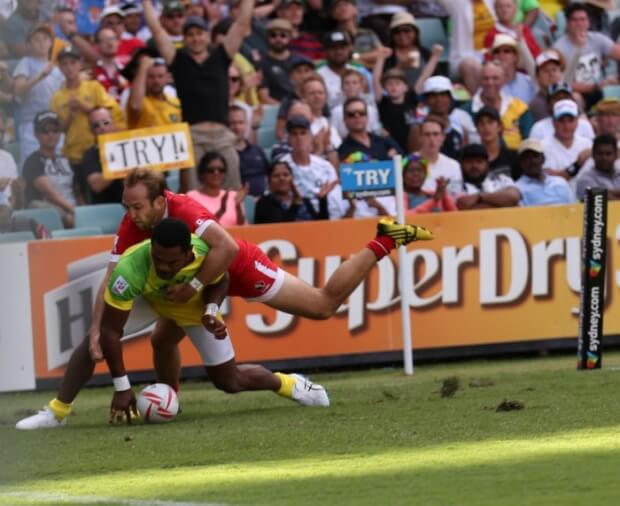 Australia began the match pinned deep inside their half, struggling to make any impression on the firm Canadian line.
Making matters worse, the Thunderbolts were missing the sting in their defence that was previously the trademark of the side under former coach Geraint John.
Am intercepted pass in the the fourth minute proved the catalyst for Australia's first noteworthy attacking raid.
Tom Cusack picked off the errant pass, spreading the ball along the line to find Lewis Holland, streaking through the midfield untouched for Australia's first points of the match.
Lax tackling gifted Canada's Nathan Hirayama the right of reply, crossing on the right for a walkover.
As halftime approached Holland again put the team on his back, ghosting between two defenders for another long range strike.
Australia's 60% tackling accuracy at halftime was cause for concern for coach Scott Bowen.
Teen sensation Henry Hutchinson was one notable exception, making a series of textbook tackles on a rampaging Adam Zaruba.
On the other side of halftime, another long range Holland linebreak drove the Sydney crowd wild.
Running out of gas, Holland looked outside for Henry Speight who found the line with ease.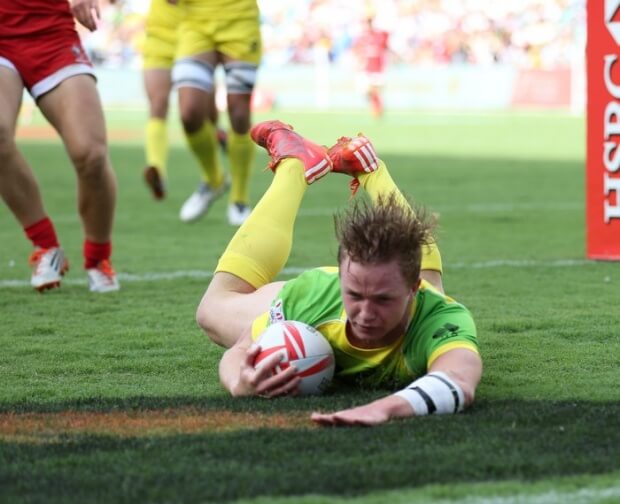 Hutchinson was the next to cross for the Thunderbolts, latching on to a Allan Fa'alava'au offload to carry Australia's lead to 26-7 with little under a minute remaining.
Canada would have the last laugh as veteran John Moonlight gassed Henry Speight on the outside to score in final play.
Looking ahead to New Zealand, Holland said "We've really got to focus on chopping down their big ball runners, slowing down the momentum and then smother the ball-players.
"Sevens is really about offloads. You definitely can't go in there with the mindset that you need to commit more people to the tackle, you just need to clog up their passing channels just like you would against Fiji.
"If they can get their momentum going the ball-players really feed off that energy, game-breakers like Joe Webber and Gillies Kaka really come in to the game. We can't let that happen."
"We definitely can't just worry about one player, because there are seven very dangerous guys out there, just as dangerous if not even more so."
Australia play New Zealand at 9:04pm AEDT.
Game 3: Australia 17 tied New Zealand 17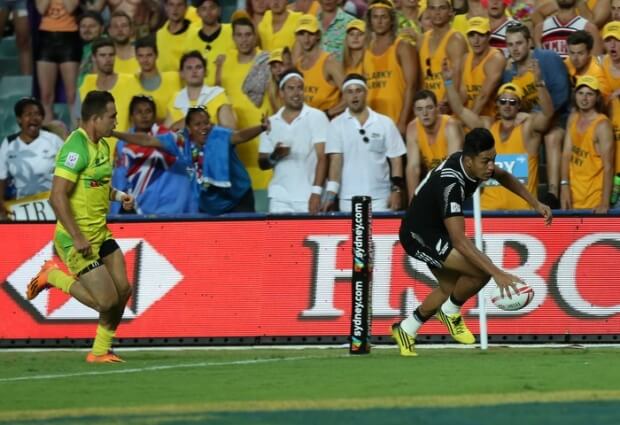 Australia and New Zealand have drawn 17-17 in a riveting conclusion to day one of the Sydney Sevens.
The Thunderbolts conceded immediately, but fought back with three quick tries to hold a commanding 12-point lead at the break.
New Zealand fought back in classic All Blacks style, tying the game in final play with a long range try to secure top spot in Pool A on points differential.
Green and Gold Rugby spoke with Australian forward Tom Cusack about the heartbreaking nature of the draw.
"It's the nature of the game really," Cusack said.
"You know that teams can score from anywhere and New Zealand are one of the teams at the top of the game at the moment.
"In my mind you just have to make your tackles and turn over the ball at every opportunity to lock them out the game. Unfortunately we were a bit slow at that and let them in.
"Ultimately a draw is a draw; it's better than a loss but not as good as a win.
Australia took risks on defence in the first half that enabled New Zealand to tear through the defensive line out wide, Rieko Ioane scoring in the left corner in the game's first phase.
From that point on Australia dominated possession, forcing New Zealand to expend energy chasing the ball laterally across the field.
Lewis Holland broke three tackles just moments later before passing to Greg Jeloudev, in turn drawing and passing to Ed Jenkins for an untouched try in riposte.
Australia continued to build pressure upon the New Zealand line, enabling Tom Cusack to charge between defenders on a halfback scoot, creating a simple pick and drive try for Holland in the fourth minute.
The Thunderbolts were back in New Zealand's red zone seconds later as bullocking forward Sam Myers tore through midfield, exposing a gap for veteran Chucky Stannard to slip through for Australia's third try of the half.
New Zealand struck back quickly after the halftime break, counter-rucking inside the Australian 22 and pick and driving over the line.
Australia's dogged commitment to clogging New Zealand's passing lanes frustrated the All Blacks in to make uncharacteristic errors in front of a hostile crowd.
Trailing by seven-points with 10 seconds remaining, a Sonny Bill Williams offload on the left wing sparked a devastating counter-attack on the right.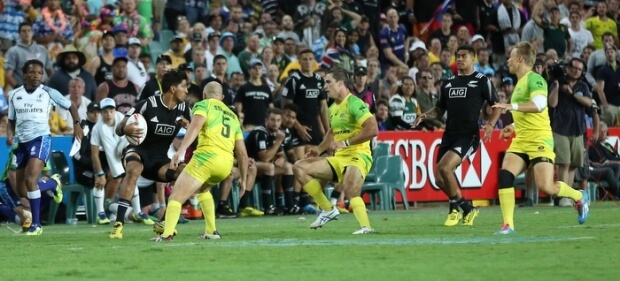 Sevens legend Tim Mikkelson burned Henry Speight with a textbook in-and-away before drawing Stannard and passing inside for Ardie Savea, sealing an incredible comeback to win the Pool.
Australia play England in the Cup Quarter-Final on Sunday morning, but have their sites firmly set on Cup Glory.
"By all means we want to win the Cup Final on our home soil," Cusack said.
"It's a very rare opportunity that we do have the crowd cheering us and not booing us, so the goal is to take out the Cup.
"England tomorrow morning will be another test for the boys, but we can always get up against the 'Poms. I think having a realistic but ambitious goal to take it out really drives us to perform.
"We set the tone or benchmark of where we want to be against those top sides. To come away with a draw isn't the best outcome, but we're going against one of the best sides in the world, so to get to that standard and know that we can still improve puts us in good stead against the other Sevens heavyweights going forward."