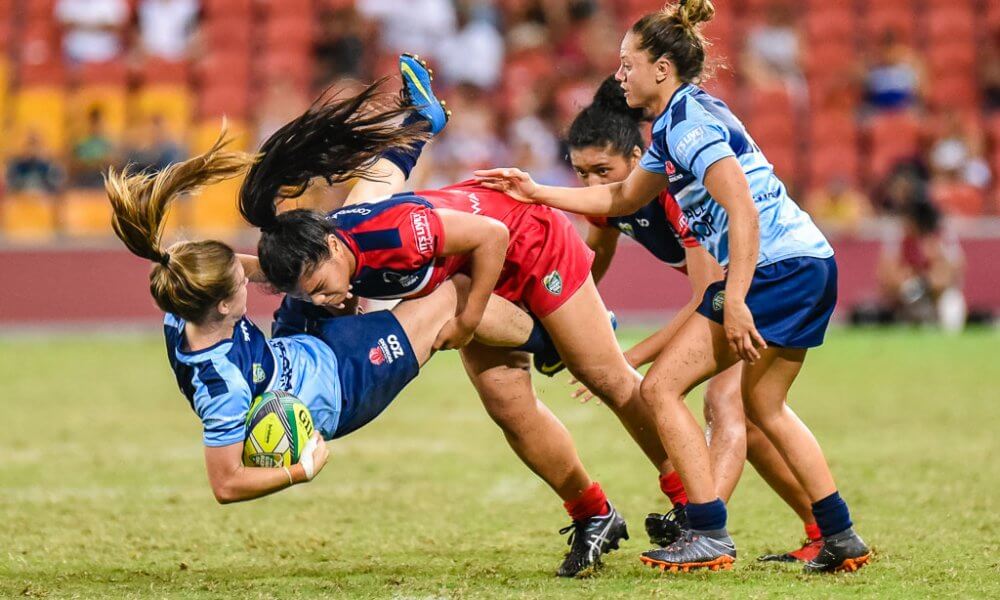 The best time of the year is nearly here, as the days get shorter and Autumn approaches the smell of Rugby is in the air and what a year 2019 is going to be for Women's Rugby.
The Brumbies, Rebels, WA Women, NSW Women and QLD Women are back again to show Australia this exciting brand of Rugby. All thoughts will be on the Rugby World Cup in 2021 with all the girls wanting to prove their worth over this season.
Melbourne Rebels
The Rebels struggled in 2018 to make their mark on the competition and didn't manage to win a game in the inaugural Super W season. The Rebels are coming into 2019 with a lot of optimism, they have recruited some exciting players who are young, enthusiastic with professional attitudes who are ready to step up to the plate. One player to look out is Carmen Landkauf who is giving 100% of herself and has excelled in the trial matches.
NSW Women
Last year's reigning champions remained undefeated in 2018. The NSW Women come into 2019 as undisputed favourites with nine Wallaroo players amongst them, including 2018's Super W player of the year Shanice Parker. After missing out on the 2018 season due to injury, Alex Sulusi, who is vice captain for 2019, is coming into the competition very determined to make her mark. Another player to look out for is Loretta Mailangi, she has worked hard all pre-season to take on the hooking role.
Brumbies
The Brumbies didn't set the world on fire in 2018 and only managed to beat the Melbourne Rebels. In their trial matches they came up very short against NSW but showed skill and tenacity to get the job done at their home ground against the Rebels. The Brumbies have a new coach for 2019, Adam Butt. With Adam's experience the Brumbies will be looking to improve on their performance in 2019 and show everyone what they are made of.
QLD Women
Queensland were a dominant team in 2018 and their 2019 team looks very strong. With a large sprinkling of Wallaroo players, they are certainly a chance this year. The girls gave NSW a real run for their money in the Final in 2018 and that will have instilled great confidence in the squad and they will want to start the season strong to grow on this confidence.
WA Women
The WA women's team have every chance to improve on their 2018 performance and have the potential to be the dark horse of the competition and really make their mark. In 2018, the WA Women beat the Brumbies and the Rebels and only lost by 2 points to Queensland. The WA Women have a bye for Round 1 and face Queensland in Round 2, they will want to go into that match with a lot of power and force. This round 2 match between WA and Queensland will be an exciting one and will tell us a lot about how this competition is going to play out.
The Super W  teams will have undoubtedly have learnt a lot from 2018 and the coaching and player management will have been tweaked in many ways. Round 1 we will see The Rebels take on Queensland and NSW Women take on Brumbies. Time will tell how the season plays out.
All Buildcorp Super W matches will be streamed live on Kayo Sports while Fox Sports Australia will replay every double-header clash. Fans will also be able to stream every Buildcorp Super W match online via RUGBY.com.au and the Rugby Xplorer App.
2019 Buildcorp Super W Draw (all times local)
Round 1:
Brumbies Women v NSW Women*, Saturday 23 February, 5.00pm, GIO Stadium, Canberra
Melbourne Rebels Women v Queensland Women, Sunday 24 February, 3.00pm, Box Hill RFC, Melbourne
Round 2:
Queensland Women v RugbyWA Women*, Saturday 2 March, 4.00pm, Suncorp Stadium, Brisbane
Brumbies Women v Melbourne Rebels Women, Sunday 3 March, 3.00pm, Seiffert Oval, Queanbeyan
Round 3:
Melbourne Rebels Women v RugbyWA Women*, Friday 8 March, 5.00pm, AAMI Park, Melbourne
NSW Women v Queensland Women, Sunday 10 March, 3.00pm, Leichhardt Oval, Sydney
Round 4:
Queensland Women v Brumbies Women, Saturday 16 March, 5.00pm, Ballymore Stadium, Brisbane
RugbyWA Women v NSW Women, Sunday 17 March, 3.30pm, Curtin University, Perth
Round 5:
RugbyWA Women v Brumbies Women, Sunday 24 March, 2.00pm, Wanneroo Rugby Club, WA
NSW Women v Melbourne Rebels Women, Sunday 24 March, 3.00pm, Anne Ashwood Park, Bathurst
*Denotes doubleheader
Playoff on March 30/31
Grand Final on April 6/7