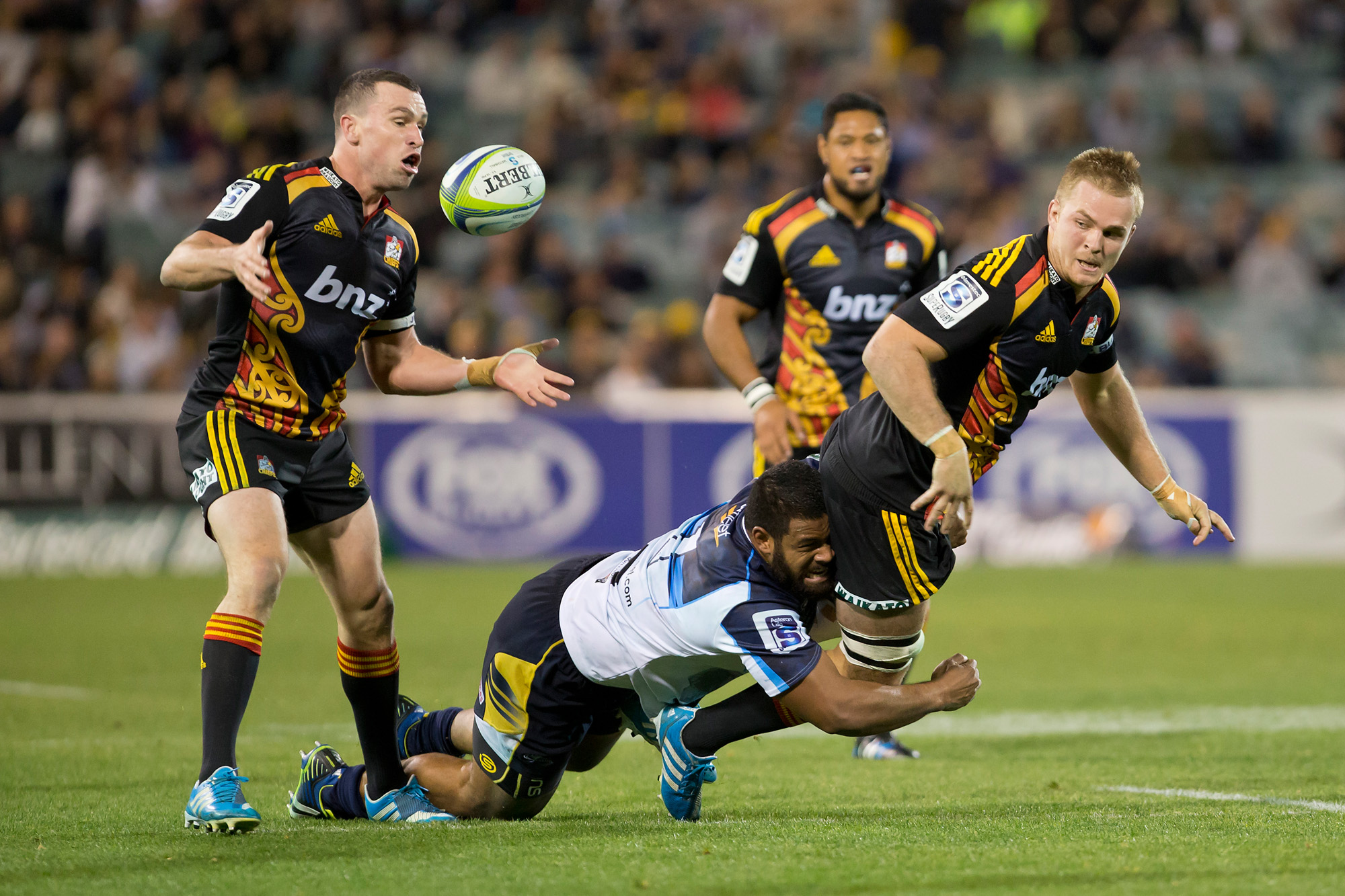 With two rounds of the competition complete, the stronger teams are starting to emerge and a couple of backmarkers are looking more likely. What's clear however is that the bulk of the competition is very even and teams wanting to be there at the pointy end of the season can't afford to fall behind early. There are no easy games this year so we should expect plenty of upsets.
So without further ado, here are Green & Gold Rugby's Power Rankings after round 2.
1. Chiefs (no change) – a last gasp penalty to Aaron Cruden saw the Chiefs emerge victorious against a strong Brumbies side. This match was tough and physical and confirmed that the Chiefs will be hard to beat this year.
2. Hurricanes (up 5 places) – produced a gutsy win against the Bulls to finish their trip to the Republic two from two. If they win this week in Perth they'll have had a dream start to the season and might finally deliver on their promise.
3. Stormers (up 1 place) – the third of the undefeated teams. The Stormers had a fairly comfortable win against a 14 man Blues outfit but they're showing more enterprise and have started the season very well.
4. Brumbies (down 2 places) – went down in a thriller in New Plymouth and will be disappointed not to have returned to Australia with the win. Played a strong, physical game but maybe shut up shop too early. Still one of the teams to beat they'll however need to be careful against the Rebels in round 3. It would be easy for the early hype to turn into only one win from three if they play poorly.
5. Waratahs (up 5 places) – a substantial return to form with a tough fought win over the Rebels in a high scoring contest. The physicality was back and the errors were somewhat reduced. Were able to produce tries when it counted and will be glad to have their season back on track.
6. Crusaders (up 7 places) – had a hard fought win over the Highlanders in an entertaining game in Dunedin. Colin Slade played well but Todd Blackadder will be sweating on the absence of Dan Carter. An away match against the Chiefs isn't going to make life easy for the Crusaders in round 3.
7. Cheetahs (down 1 place) – After a good first up win, they won't have been happy to have the bye in week 2. A good chance to get their second win against a struggling Blues outfit.
8. Sharks (up 4 places) – the return of Bismarck was huge for the Sharks and they produced a bonus point victory over the struggling Lions. Big things are expected of the Sharks in 2015 and they're now back on track.
9. Rebels (down 4 places) – they were oh so close against the Waratahs in a physical and exciting match. With scores level in the final 10 minutes they just couldn't bring it home. They've produced two strong games and will be looking to take it to the Brumbies in round 3 in front of the vocal Rebel Army.
10. Reds (up 5 places) – produced a gritty, backs to the wall win over the Force in wet conditions in Brisbane. A 180 degree turnaround from round 1, Adam Thomson was a huge inclusion and provided leadership and go forward for their pack. Round 3 sees the long awaited debut of James O'Connor and all of a sudden things are looking a bit more rosy for the Reds. A real chance of an upset away from home against the Highlanders.
11. Force (down 8 places) – after a brilliant win against the Waratahs, the Force really didn't turn up in round 2. It almost seemed like they were more affected by the Reds off field problems than the Reds were. They've not lost Alcock and van Wyk and face a confident Hurricanes in their first game in front of their faithful Sea of Blue. Need a strong performance to show that their round 1 win wasn't just a flash in the pan.
12. Highlanders (down 4 places) – Were right in the contest but couldn't get the result in their first game against the Crusaders. Lima Sopoaga is out this weekend and debutant Marty Banks will need to lead the side around well to produce a win against the Reds. Will make life tough for themselves if they go zero from two at home to start the season.
13. Bulls (down 2 places) – despite great recruitment in the off season the highly fancied Bulls are now none from two and struggling. They face a resurgent Sharks in front of their Loftus faithful. They'll need to produce the goods here to get their season on track.
14. Blues (down 5 places) – After Hayden Triggs got himself sent off, it was always going to be tough going for the Blues in week 2. They're a chance against an inconsistent Cheetahs team but they'll need to improve to come away with the points.
15. Lions (down 1 place) – none from two and life is tough in Jo'burg. Warren Whiteley and his boys couldn't cross the try line against the Sharks and it isn't going to get any easier against the undefeated Stormers. Season 2015 is already looking like hard work for the Lions.