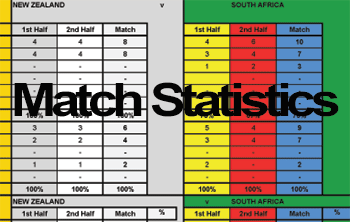 It was obvious to anyone watching the first game of the Tri Nations last weekend that the All Blacks went in with a deliberate policy of keeping the ball in play to minimise the impact of the Springbok lineout and tire the big South African forwards.
Whilst the number of times in possession was fairly even with the All Blacks having 50 possessions and the Springboks 46, the number of times each team took the ball into a breakdown was vastly different – 118 for the All Blacks and only 79 for the Springboks.
Click on the Match Statistics icon to download a copy of our statistics from the game.
The Springboks were also forced to make 213 tackles compared to only 125 for the All Blacks and the Springboks came up with 32 missed tackles compared to only 10 for the All Blacks. With numbers like those it's little wonder that the All Blacks looked full of running and the Springboks looked sluggish.
The All Blacks were also more effective in key areas winning all of their own lineout ball whilst stealing three of the Springboks lineouts.  At the breakdown the All Blacks turned the Springboks ball over six times whilst only conceding two turnovers.
The Springboks seemed to me to be just hanging on and the only thing that saved them from a larger score line was the 14 times the All Blacks lost possession – that's 28% of their possessions wasted.  If they can reduce that error count and continue to play the same up tempo game this weekend the Springboks are in for a tough time.