We've got all the action from round four of the Coopers Premier Grade right here, right now.
With Old Collegians clearly the team to beat, it must be asked whether they will be able to maintain such a blistering run. Unfortunately there may be memories of the last three years, where the team started strong only to fall short at the final hurdle. Meanwhile Burnside and Brighton are looking like strong finals contenders as we start to see some separation appear, with each continuing to improve in form.
Finally it will be interesting to see who pushes for the fourth final spot. Will Souths maintain form, can Onkas improve their consistency, or will Port and Woodville be able to turn it around again, just like they both did last year? Oh and if you're a betting man/woman, I'd put a sneaky fiver on Barossa, I hear they're paying pretty good odds right now.
Round 4 – 17/05/2014
Match of the Week:
Brighton 25 def Woodville 22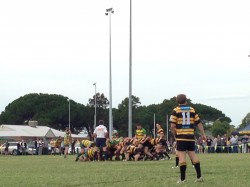 It was a big week gone by for SA Rugby, with a number of tight, competitive matches providing some really fun viewing for the fans. In this weeks top match it was Brighton at home taking on the winless Woodville Wasps as both teams search for some consistent form.
And this was an absolute nail-biter of a match. It started off fairly evenly, as both teams tested out the other, searching and probing for a weakness. Then, out of nowhere from a broken midfield play, Woodville fullback John Finney absolutely blitzed the Brighton line for an impressive individual try to get things kick started. After Finney kicked his own conversion, Brighton responded immediately with a try of their own. From there they continued to apply the pressure, as things began to look bleak for the Wasps.
Brighton was able to build their lead going into halftime through strong running from their big forward pack. The front row in particular were impressive all game long in this one, with Logan Brown and Jack Cook snagging a try each.
After the half, Woodville came out desperate for that first win. With all guns blazing, and led by No10 Joe Smellie, playing on an injured leg, they were able to get in it. A huge game from hooker Jacob Parry, as well as some vintage running and strong lineout play from Matty Connor helped the Wasps to close the gap, and when Irish second-rower John Doran crossed the line from the back of a beautiful driving maul set up from a lineout, there was the sense of an upset in the air.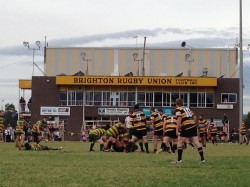 Fortunately for Brighton this was not the case. Through some excellent tactical kicking from No10 Clayton Collier, as well as some terrible mistakes from a besieged Woodville in the last ten minutes, Brighton were able to score from a lineout of their own with less than two minutes remaining. Despite a last ditch attempt by Woodville that was how the game ended, leaving fans of both teams relatively satisfied with an awesome spectacle of rugby.
Well done to try scoring winger Patrick Donovan of Brighton, as well as his Woodville counterpart Malcom Van Wyk who played an outstanding, courageous game. Unfortunately for the Wasps, all of this will be of little compensation as they sink to a 0-4 record. Brighton meanwhile, will be happy to have escaped this one, as they continue to find their feet in this season.
Other Matches
Southern Suburbs 17 def Port Adelaide 14
In this one it was Southern Suburbs narrowly beating a confident Port Adelaide outfit by only 3 points in a somewhat scrappy affair. Southern Suburbs were quite lucky to come out on top here, in a game that could easily have gone either way. Mistakes were abundant from both teams, but it was Souths who were able to capitalise.
Scrumhalf Jayden Watene was outstanding for Souths, scoring 12 points himself, and was well supported by returning No8 Muhammad Shaker. Shaker hasn't had much game time for the club since injuring his knee in the 2007 grand final win, but was impressive in his return. Veteran prop Graeme Newton is showing that form can improve with age, after a barnstorming performance in the front row. Flying Fijian fullback Ratu Bola Niumataiwalu also scored for Souths. You can't knock Port's physicality, but their discipline was again a concern as they had two players yellow carded for shoulder charging. Port Adelaide were lucky to have the return of former Viking junior Dewi Shorrock, who came off the bench to score two tries and kick two conversions before receiving one of the aforementioned yellow cards. Flanker Nathan Dickensen also battled well for Port Adelaide up front.
Burnside 38 def Onkaparinga 12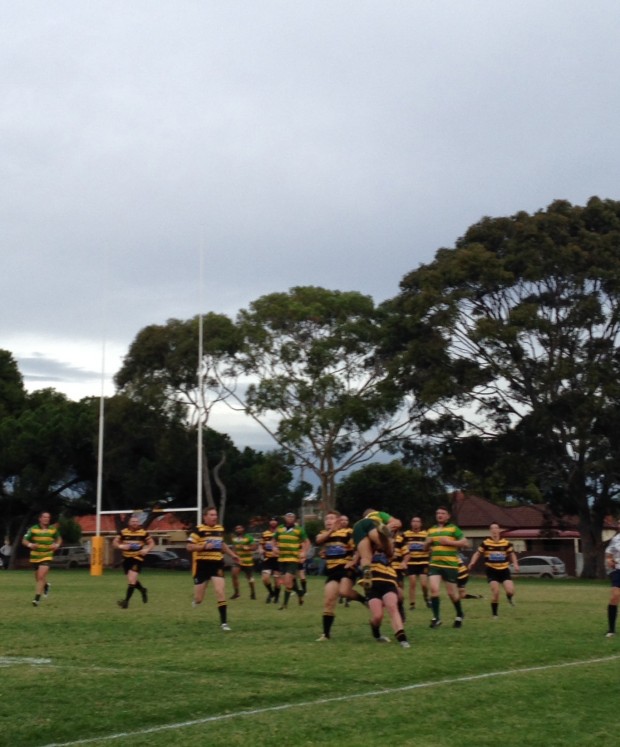 Onkas travelled to Parkinson Oval full of confidence after a strong start to the season to take on a strong Burnside team. Many thought that this would be an evenly contested feature. As it turned out, the Burnside forwards were outstanding again in this one, putting their side on the front foot for the whole game. Tries to hooker Chris Walton, prop Thomas Hankey and a double to Nigel Lam Sam who again lead the way, were outstanding. Inside center Calum Walton had a good day with the boot, kicking two conversions and three penalties.
For Onkas, try-scoring No8 James Buckland had another impressive outing with some strong running, and speed machine Jonathan Wilkin scored through the middle of the park also.  An Onkas forward pack that showed plenty of muscle early was outfought in this one by the boys in blue. Onkas were hurt again by poor discipline, which had them moving backwards most of the game.
Old Collegians 148 def Barossa 6
In this game it was top of the table Old Collegians taking on a struggling Barossa Rams team, and as unfortunate as it is to say, the result was never in doubt. Old Colls refused to take the foot off the pedal for even a minute, as they swarmed all over a hapless Rams outfit, piling on the points in unbelievable fashion. The huge score line says it all for this one. Big point scorers for Old Colls include Mitch Sallis, Delano Lean, Liam McDonough and Chris Bartlett who all scored a hatrick each. Stewie Robertson kicked a whopping 18 conversions for 36 individual points. Meanwhile, the Barossa may take some small solace in getting on the scoreboards, through two penalties kicked by flyhalf Michael Maloney. You have to commend the heart that Barossa are showing, but they can only hope that the end is near as they search to be lowered a grade in order to become a bit more competitive.
Second Grade
Brighton 106 def Woodville 0
Onkaparinga 24 def Burnside 19
Adelaide University 29 def Port Adelaide 0
Old Collegians 34 def Elizabeth 10  
Women's Premier Grade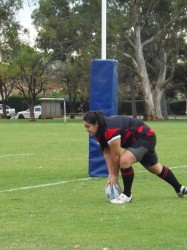 Southern Suburbs 26 def Old Collegians14 
Onkaparinga 63 def Burnside 0
Woodville Bye
Third Grade
Brighton 44 def Adelaide University 5
Southern Suburbs 74 def North Torrens 11
Burnside 17 def Onkaparinga 13
Old Collegians 20 def Barossa 0
Fourth Grade
Brighton 31 def Adelaide University 5
Onkaparinga 12 def Burnside  7
Old Collegians21 def Elizabeth 19
Port Adelaide/ North Torrens Bye
Coopers Premier Grade Ladder

Team

P

W

D

L

F

A

Df

BP 4t

BP <7p

Pts

Old Collegians

4

4

0

0

278

35

243

3

0

19

Burnside

4

3

0

1

212

65

147

4

1

17

Brighton

4

3

0

1

192

80

112

3

0

15

Southern Suburbs

4

3

0

1

157

78

79

2

0

14

Onkaparinga

4

2

0

2

93

121

-28

1

0

9

Port Adelaide

4

1

0

3

85

134

-49

2

1

7

Woodville

4

0

0

4

78

114

-36

1

3

4

Barossa

4

0

0

4

9

477

-468

0

0

0
Next Round:  Round 5 – 24/05/2014
Home Team

v

Away Team
Location
Time
Brighton

v

Port Adelaide
Brighton Oval /
6:00pm
Woodville

v

Old Collegians
Gleneagles Reserve /
3:20pm
Southern Suburbs

v

Burnside
Bailey Reserve / 1
3:20pm
Barossa

v

Onkaparinga
Lyndoch Oval /
3:20pm