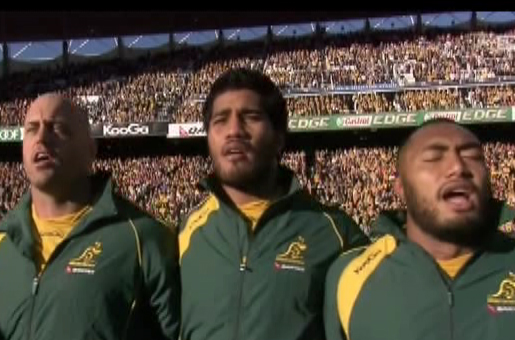 Prior to the third Test against Wales I expressed my surprise at the selection of Sitaleki Timani in the Wallabies starting side. 
My reasoning was that Timani hadn't done enough in Super Rugby for the Waratahs or in the match against Scotland to justify his elevation from outside the 22 the week before to the starting side. I believe he was selected on potential, not performance.  I see him as a work in progress: he has good potential that needs to be developed, probably as a bench player in 2012.
Barbarian put together a video earlier in the week showing clips of 33 of his 42 involvements in the match – click here to see that video. Unfortunately with that many clips to show, you can only include a small grab of each involvement and that doesn't allow you to really analyse performance.
When conducting player reviews with a player you're coaching I think it's important to show positives and areas where improvement could be made. There are plenty of positives to find in the video Barbarian put together — some of his breakdown involvements and tackles were good. His offloading is something that can provide good opportunities for any team he plays in.
So to add to Barbarian's work I decided to take a closer look in the following video at the areas where I believe Timani can improve his game.
[youtube id="RbTnT9-kZXw" width="600″ height="350″]
Having watched his performance closely to put that video together, my initial view on his selection in the starting side stands. I also don't think a player rating of 6/10 was justified; for my money, 4/10 would be more accurate.
For 45 breakdowns of 140 in attack and defence I recorded Timani standing in effect out with the backs – that's 32%.
There will be times when this is unavoidable based on what occurred the play before. For example, from a scrum on the right side of the field you certainly don't want all your forwards rushing to a wide breakdown on the far left side because then you'll leave yourself short if the opposition comes back over. Same when a player is involved in a breakdown on the right side of the field and then the ball is shifted wide to the left. It's also not realistic to expect any player to be able to follow the ball for every breakdown during a game.
You'll also see in the video that often there are other forwards wide with Timani. I don't have a problem with forwards playing wide; in fact, I think it's a necessary part of the modern game. With a much faster game and more structured defences a high percentage of attacking opportunities start from a kick return or turnover and you need to maintain width to take advantage of those wide opportunities and to be able to defend against them.
When forwards come out of a ruck they should reload straight back first, not automatically chase the ball across field, so that the team keeps width across the field in attack or defence. Then as the next phases occur the forwards need to work towards the ball. We're not quite at the point of playing dedicated left and right side players but there is an element of that coming into the game.  he important thing for me is that forwards work towards the ball, not stay wide waiting for the ball to come to them.
It helps to have at least one forward staying wider in attack to bend the defensive line a little wider and help open up spaces for the backs, and in defence to help defend against opposition forwards who are stationed wide. The one forward who I believe should operate wider than the other forwards in both attack and defence is your number 6.  That's a tactic that a lot of teams now use — think how Rocky Elsom and Scott Higginbotham play. I know that puts me at odds with Bob Dwyer, who is critical of Higginbotham playing in this way, but I believe this is the way the game is developing.
However, being wide on 32% of breakdowns during the game is far too high for a lock. I'm sure that when Bob Dwyer has a chance to give us his views on this game he'll be horrified at how wide Timani was playing.
He can also be much more effective with his breakdown work.  Despite the SportsData statistics suggesting he had only three breakdown involvements, I recorded 20 occasions where he went into a breakdown. (Statistics can often leave you wondering what's going on — in the same match SportsData recorded Timani as having played all 80 minutes and Simmons having not got on the field when in fact Simmons came on for Timani in the 72nd minute!) Of the 20 breakdowns I recorded Timani going into, I judged him effective in 11. Being effective at only 55% of breakdowns is well short of where he could be.
With James Horwill out for the season and no apparent chance of a return by Dan Vickerman, the Wallabies are short on locks for The Rugby Championship. It's great that Nathan Sharpe has committed to the Wallabies for at least that tournament and he'll be an automatic starter as long as he stays fit. We need another good lineout operator in the squad in case Sharpe gets injured so I expect Rob Simmons will be in the 22 for each game (even though in the past I've shown you problems in his game that have not been rectified, and I haven't been short of criticism of his performances either).
It seems to me that Timani and Hugh Pyle are the candidates for the third lock spot. If Sharpe does retire after The Rugby Championship, the Wallabies' Northern Tour will give us chances to see the other up and coming locks get some time in green and gold.
So I do think Timani should be the squad's third lock at the moment. And once you've decided the three locks, the question becomes who should start alongside Sharpe. My opinion is that it should be Simmons, but no doubt there are plenty of others who'll have a different view. And isn't that the beauty of Green and Gold Rugby? We all get to have our say, even though it will make no difference whatsoever to what Robbie Deans does with his selections.