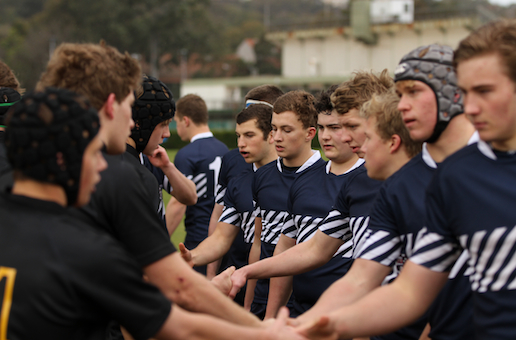 Shore travelled south of the bridge wary of an enthusiastic Grammar in conditions that could have provided an unlikely result. Shore was relishing the chance to get back into the swing of things after the bye and work on their defensive patterns, whilst Grammar was looking to score their first points of the season.
Crowd: 300
Referee: A Hastie
The Scoring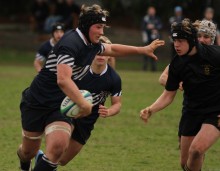 Grammar started the game well storming the break down towards the Shore line. After Shore regathered the ball but knocked it on Grammar had a scrum on the 5 metre line. Grammar's (9) Lee wrapped around (10) Pratley to put (14) Kang through, who crashed over for a converted try after 10 minutes. Shore responded from the kick off and started to dominate the breakdown. (15) Davies did some great individual work, weaving around Grammar's outside backs to cross over the line in the 20th, however in the process of putting the ball down he was tackled from behind, absolutely butchering a try. He was obviously spurred on by this as he didn't make a mistake for the rest of the day. He made up for it crossing over in the 24th minute sliding through the defence on the left, nice try.
A massive hit from (8) Buckling shook the Grammar's (8) Horry who subsequently had to leave the field. This was a shame as he seemed to be their best ball runner. In the 28th, Shore turned Grammar's ball over on their own 22 and spun the ball to (11) Buchanan-Reeks. He scored a fabulous length of the field try running down the sideline, with a chip and chase over the fullback. His best play all season. Just before half time (10) Clancy got the ball in space and fooled the Grammar defence stepping through the line to spin it off to (15) Davies for his 2nd. Shore leading 17-7 at half time.
Grammar kicked out on the full from the kick off and Shore rolled it through the forwards for (5) Fishburn to score a converted try after 5 minutes. After a slow period from Shore, (14) Oldham gathered a brilliant pop pass from (6) Cooke to score in the 60th. Grammar regained the ball from the kick off, but after yet another steal, (10) Clancy got the ball in space and put (15) Davies through on the half way line. Davies then ran circles around Grammar's outside backs to score under the posts to score on full time. Shore victorious 36-7.
Grammar
I was most impressed by Grammar's commitment and intensity. They have a strong willed and cohesive pack that actually matched Shore in the set piece. However at the break down they were unable to secure the ball and could not contain Shore's pick and drive, lacking size, particularly when (8) Gorry left the field. Grammar needs to work on making sure the backline comes up as a line, as Clancy had a field day putting Davies through countless holes. They also kicked out on the full 3 times from the kick off and twice in general play. Even though it was very tough conditions, fundamental errors like this are going to prevent Grammar from challenging the other schools. An improvement from what I saw of Grammar last year, but still need to re-think the way they are building their squads from the early years if they are to be competitive again in this competition. Positive signs though.
Players to watch
(8) Gorry impressed me with his ball running skills. Unfortunately he was monstered by a hit from his opposing number Buckling in the first half. Hope he isn't injured because he was Grammar's shining light.
(15) Gautschi the Captain made some incisive runs and looked elusive.
(1) Penklis made some dominant runs, in particular one such run sending Shore's (1) Streeter flying backwards.
Shore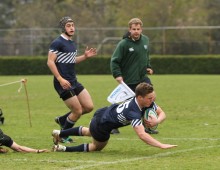 A solid performance from Shore given it was tough to score points in those conditions. They were absolutely dominant at the break down. Although Grammar contained their set piece, Shore was still competent. It was because Grammar had good set pieces not necessarily because Shore was lacking in this area. The return of prop Robertson should help their scrum against Riverview. The backline linked well scoring almost all of the tries. They were also able to comprehensively shut down Grammar's backline in defence. A good win giving them momentum to move them on to next week's massive game at home against Riverview. They also came out of the game with no injuries.
Players to watch
The whole team had a solid performance but in particular:
(2) Fitzpatrick, the captain led the pack, as well as making many steals. A player who has a lot of grit and determination, never gives up.
(7) Woodhill, the year 10 boy continues to provide his consistent performances, following his captain's example stealing countless balls and securing the ball well.
(8) Buckling, Shore's hit man. He inflicted lots of pain on the Grammar boys throughout the day, two boys unable to get up after shuddering hits from the big man.
(9) Pulver, demonstrated his class that got him selected for Australian schoolboys, bossing the game with clever kicks.
(10) Clancy again showed that he has an old head on young shoulders, the 16's player choosing correctly when to pass and when to run the whole match.
(15) Davies, made up for his early blunder scoring three tries showing impressive elusiveness and speed. Man of the match for me.
Conclusion
For Grammar, a solid performance from an improving team. They are a team that should not be taken too lightly by the other schools, as they can score points. They will score more points this season.
Shore completes the job and remains in the title race. Best you boys be ready though for a wounded Riverview, who will be out for your scalps, to shatter your dreams for a first premiership since 2006.keep the dream alive.
Thanks to the Shore School for the photos