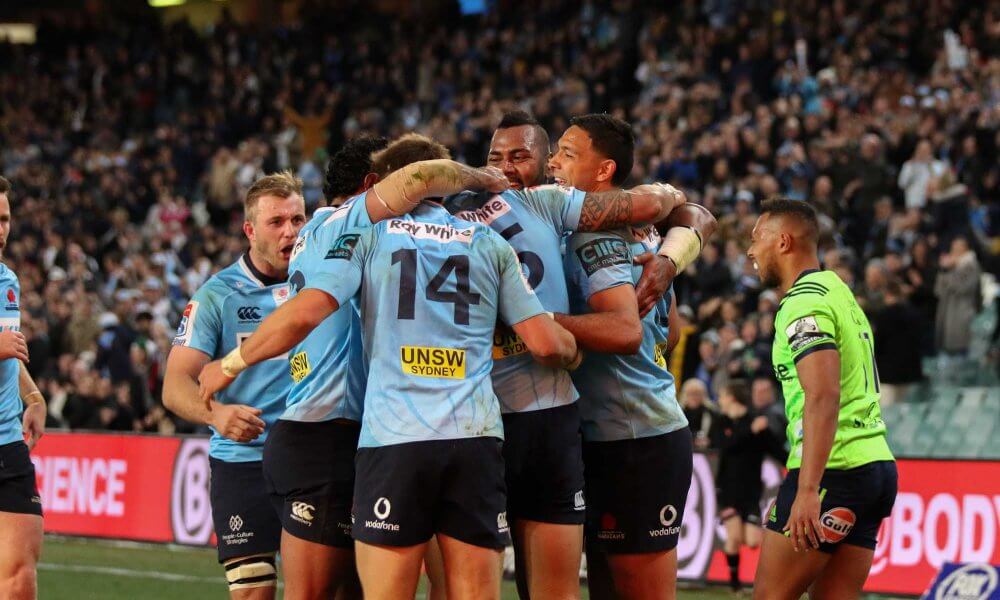 On Saturday night the Waratahs play another game no one but the rusted on die-hard gives them a chance of winning.  They've crossed eight time zones, so their body thinks its evening and time to go to sleep when its really lunchtime. They are taking their pop-gun pack to the high-veldt to face a pack loaded with behemoths and their game plan is just to run faster. They know that had they beaten the Brumbies two weeks ago they would have been at home, a fact that's likely to worm its way into their mind at some unguarded moment. They face a team who has lost the last two finals and wants to win so badly this year. Just when will the Waratahs reach that "bridge too far"?

Why should I bother?
Because this is a semi-final, between two teams who are better attackers than defenders. Its a game where some of the greats of this year will be matching up against wannabe-greats. It will be open, fast and willing, with the set piece work of both teams under serious scrutiny. The referee is Glen Jackson, who likes an open, fast game. This will definitely not be NH trench warfare with a 6-3 scoreline.
Key match ups
Malcolm Marx v Tolu Latu
Picked to stiffen the scrum and the Waratahs work at the breakdown, Tolu Latu will be matched against the best hooker in the world. The outcome of this may well decide the game. It will be a telling contest with the Rugby Championship to come.
Franco Mostert v Rob Simmons
The Lions lineout has been impervious to attack this year while the Waratahs lineout has been great one week and terrible the next. Can Simmons stabilise the Waratahs throws at least and counter the Lions rolling maul?
Kwagga Smith v Will Miller
Kwagger Smith was my MotM in the 29-0 thrashing earlier – he was in everything and at his disruptive best. If Miller can break even with him it will go a long way to neutralising one of the Lions key weapons.
Harold Vorster v Kurtley Beale
Vorster is likely to be on a one man search and destroy mission because the Lions know that if they can disrupt Beale's control then the Waratahs attack is almost toothless.
Coetzee and Combrinck v Folau and Naiyaravoro
Combrinck, big and fast, will be lining up against Naiyaravoro. Its a good match-up. With Coetzee and Folau inside each of them this will be worth the admission price all on its own.
The game plans:
The Lions:
The Lions have scored 17 tries this year from rolling mauls, twice as many as the next nearest team. As the Waratahs are not noted maul defenders, I reckon that might go to 19 by the end of Saturday night.
The teams that have troubled/beaten the Waratahs this year have been the teams that have sought to win the gain-line battle by being hard and direct. The Crusaders stopped kicking to Izzy when they were 29 points down and just trucked it up relentlessly till they won by two points. Sure they had heaps of help from Ben O'Keefe and the TMO, but their method was absolutely effective. The Brumbies used a similar strategy to win and deny the Waratahs a home semi-final. Last time the two teams played in Sydney, the Lions were very direct with their big men and only went to the outside once the Waratahs were back on their heels with their backline drawn into the middle of the park. That game finished 29-0 Lions and I reckon they'll just dig out that gameplan and replay it word for word.
The Waratahs:
They only have one game plan, to run their opposition off their legs. Sometimes it works, sometimes it doesn't but they supposedly didn't have any money left in the tin half way through last year when the Force's power-players were available to purchase, so they can only play with the players they had already secured and that means running other teams off their feet. It makes training easy; their game playbook is probably the thinnest in the comp, Sunwolves aside.
Prediction
For the last two years, the Lions have looked near-unbeatable at home but this year they have been quite flaky. The return of Warren Whiteley will help their stability, but the Lions will have to bring their best game to the day or they will be done and dusted for the year.
All this year the Waratahs have looked to be a team without enough firepower. But they have still managed to get to the semifinals when eleven other teams haven't, and some of those teams have clearly had more; they just didn't know how to use it. So, they are not without hope, and as a rusted-on Waratah supporter I have to cling to that. But I think with the travel and the altitude this will be a bridge too far and I'm predicting:
A win to the Lions by 15.
Match Details
Waratahs
1. Tom Robertson
2. Sitatolu Latu
3. Sekope Kepu
4. Jed Holloway
5. Rob Simmons
6. Ned Hanigan
7. Will Miller
8. Michael Wells
9. Nick Phipps
10. Bernard Foley
11. Taqele Naiyaravoro
12. Kurtley Beale
13. Curtis Rona
14. Alex Newsome
15. Israel Folau
Reserves:
16. Damian Fitzpatrick
17. Harry Johnson-Holmes
18. Paddy Ryan
19. Tom Staniforth
20. Brad Wilkin
21. Jake Gordon
22. Cameron Clark
23. Bryce Hegarty
Lions
1. Jacques van Rooyen
2. Malcolm Marx
3. Ruan Dreyer
4. Franco Mostert
5. Marvin Orie
6. Kwagger Smith
7. Lourens Erasmus
8. Warren Whiteley
9. Ross Cronje
10. Elton Jantjies
11. Aphiwe Dyantye
12. Harold Vorster
13. Lionel Mapoe
14. Ruan Combrinck
15. Andries Coetzee
Reserves:
16. Corne Fourie
17. Dylan Smith
18. Johannes Jonker
19. Hacjivah Dayimani
20. Mauns Schoeman
21. Dillon Smit
22. Courtnal Skosan
23. Howard Mnisi
Match Details
Date: Saturday, 28th July 2018
Venue: Ellis Park, Johannesburg
Kick-off: 2305 AEST
Referee: Glen Jackson
Assistant referees:  Marius van der Westhuizen,  Rasta Rasivenghe
TMO: Marius Jonkers