Gather round ye good rugby folk and feast on this scrum analysis from the land of the White Orc. It tells an age old tale of brains over brawn, of experience over youth, of Pommy and Welsh front rows cheating their pasty arses off.
In the highly pressured world cup match between England and Wales on the weekend, the difference between agony and ecstasy came down to one penalty goal.  In the first half, three scrum penalties resulted in 9 precious points – six for England and three for Wales.
French referee Jerome Garces and his refereeing team's  interpretation of them therefore played an important role in the match. With his countryman Romain Poite officiating the mega fixture between England and Australia this weekend, understanding what actually happened in those scrums is critical.
SCRUM 1 – COLE HAS NONE OF IT
The first scrum happens five minutes into the match. Wales has the feed on the England 22 and even before the ball is close to being fed, IT'S ON.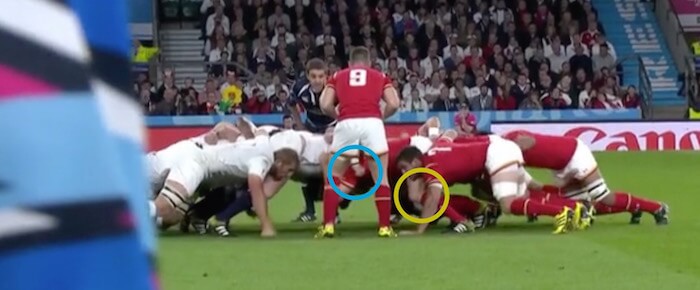 On 'set', you can see Dan Cole the England tight-head is slightly over extended  – his thighs and back not being at 90 degrees – but his bind on Welsh loose-head Gethin Jenkins is about OK, it's on the armpit (blue circle).
Jenkins is in a strong position; low, flat, thighs at 90 degrees to his back and importantly his left leg out and knee cocked, ready to fire (yellow circle).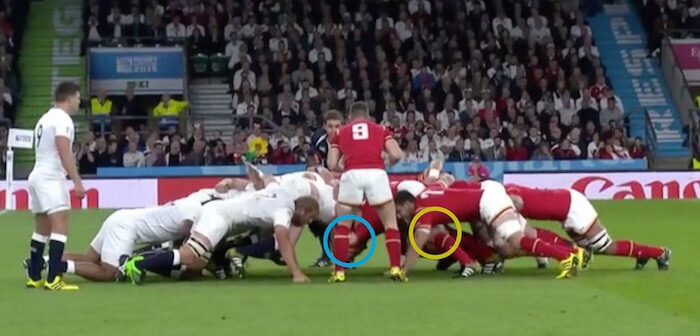 A split second later, Jenkins pulls the trigger driving his left leg straight and in (yellow circle), looking to get across and under the England tight head (we'll see in the scrums to follow why this is so important).
Cole, with 134 caps for Leicester and 54 caps for England is having none of it; rather than letting Jenkins get under him, he rolls down and in, dropping his bind onto the Welsh prop's arm and pulling it down (blue circle).
The scrum goes to ground and it's a penalty to England. What the stills don't show well is the sequencing; Jenkins' leg drive happens before Cole rolls in. If there was an over head shot of this you would see Jenkins suddenly angle in, followed by Cole.
Well done touchy on the call. England get out of their half.
SCRUM 2 – MARLER WELCOMES FRANCIS
The next scrum is 10 minutes into the match, and comes from a crooked Welsh lineout throw just within their half.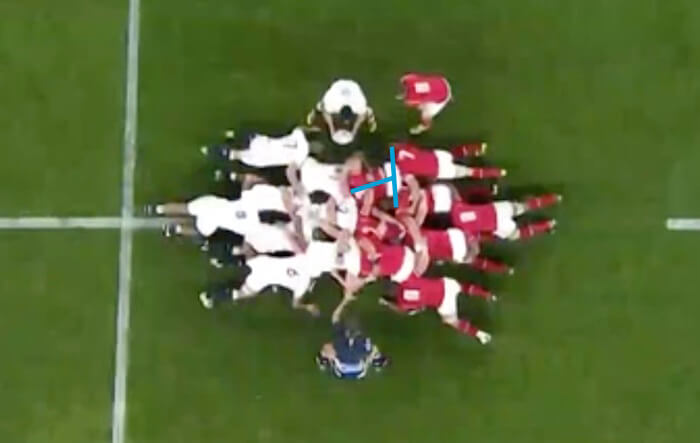 In the image above I've highlighted the back alignment of young Wales tight-head, Tomas Francis, who at 23 is earning just his 5th international cap. Note that while Francis' hips in his white shorts are relatively square to the scrum, his spine is already being angled in by his opposite number, even before the ball is fed to the scrum.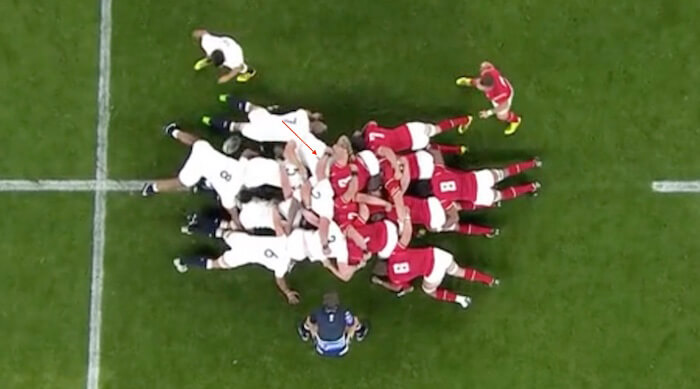 Upon the feed, England loose head Joe Marler – with 121 caps for Harlequins and 35 caps for England – goes to work angling in and under Francis, popping the welshman's shoulder up into the air and rendering him useless as the anchor to the Wales scrum.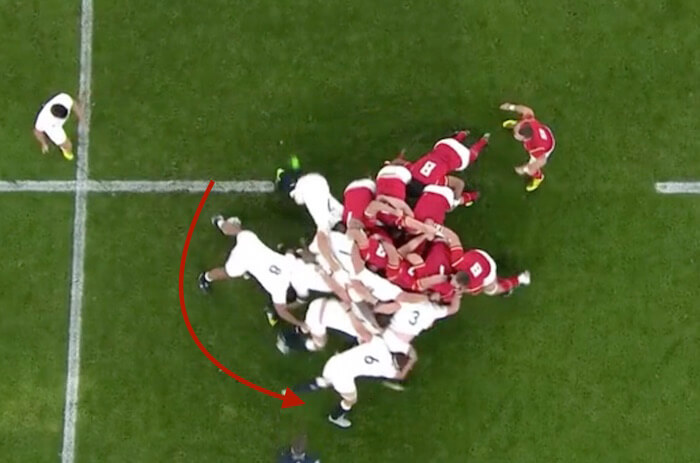 With the Welsh scrum destabilised, England put phase two into play; turning their hips and walking their side of the scrum around and through their tight head Coles. Just look at the direction of the English feet relative to their bodies (sideways) versus the Welsh (straight). The Welsh front row is being sheared across to their left, they have no way of stopping it. Indeed the Welsh back five's drive only makes the situation worse.
Referee Garces blows a penalty for Wales 'pulling back' and Farrell does the rest with his metronomic boot – 3 points.
Note though, that the centre of the scrum hasn't actually moved toward either try line –  the Wales second row has their feet in the same longitude of the field that they were in when the scrum was set.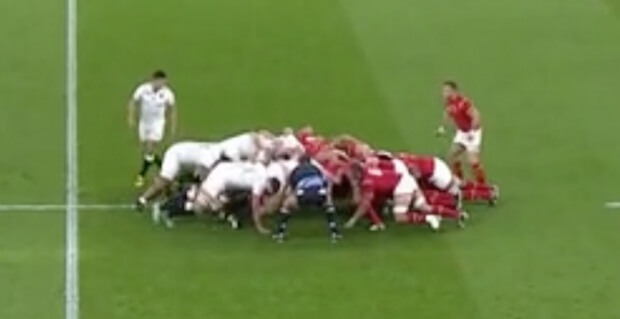 What the England pack has created is the illusion of dominance. French ref Garces clearly isn't looking at packing angles (he's also on the wrong side of the scrum) or direction of their drive. He just sees the England pack in front of him one second…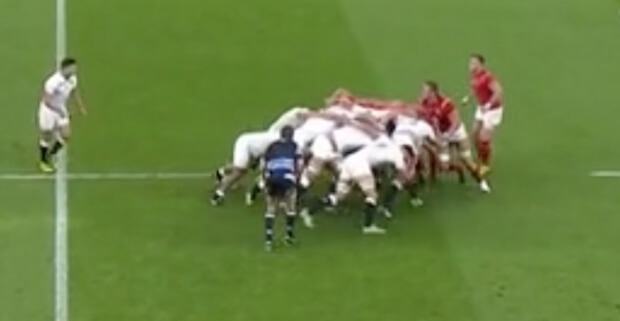 ….and going past him the next. French refs are well known for adjudicating scrums on this basis – it makes everything plus facile!
England scrum doctor Graham Rowntree also has form for this – as scrum coach for the Lions in 2013. G&GR's own video analyst (who worked with the England team at the time) Nick Bishop wrote an excellent article about this tactic here, with video. In it he looks at how the Lions used exactly this stunt to get Ben Alexander yellow carded by  – guess who – next weekend's referee Romain Poite. Worth a read.
SCRUM 3 – RINSE AND REPEAT
If it worked once, why not twice?  In the next scrum at 22 minutes England is midfield on the Wales 22 metre line. Is this the perfect place for a split field set piece backs move?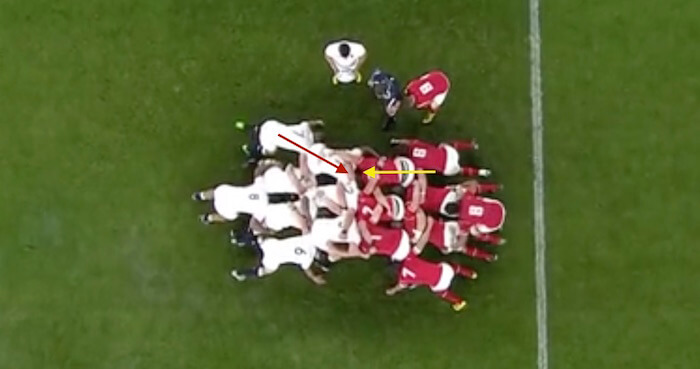 Is it f*ck. Getting even bolder, Marler doesn't even bother setting up straight.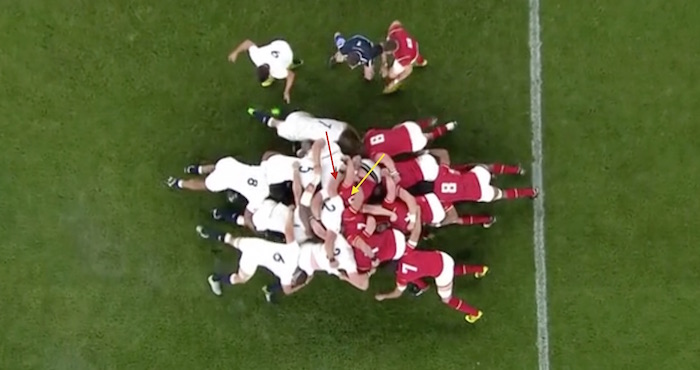 Upon the scrum feed Marler and Robshaw ram Francis into a dark, unhappy place and suddenly the weight of the scrum is all coming Jenkins way.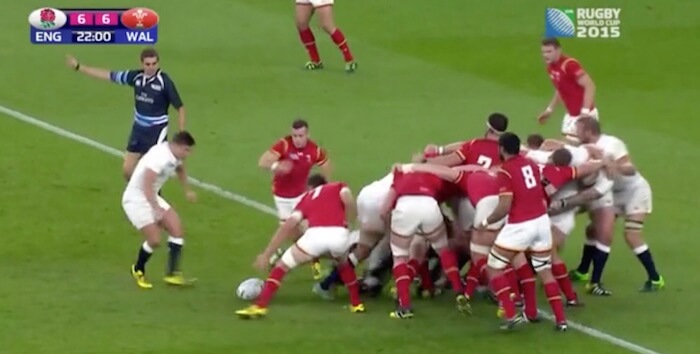 The scrum spins first to England's right and then back through the left. The Welsh back row have no idea where they are and peel off. Garces once again sees a Welsh scrum destruction and penalises accordingly.
Farrell steps up and it's 9-6.
SCRUM 4 – JENKINS HAS HAD ENOUGH
Welsh loose-head Gethin Jenkins decides enough is enough and at the next scrum on the 32nd minute he ends it before the poms do.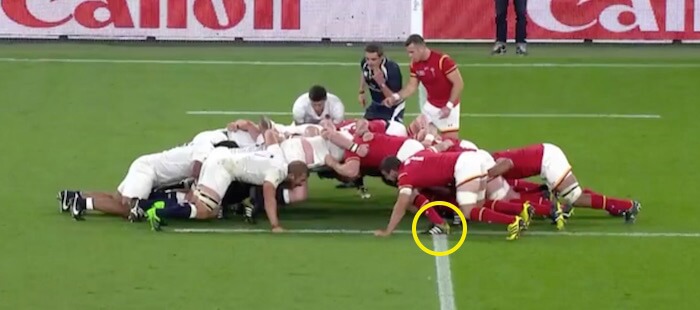 Jenkins has set his left leg out wide. (You can also see Francis' back already starting to bend and twist under Marler's attention on the far side).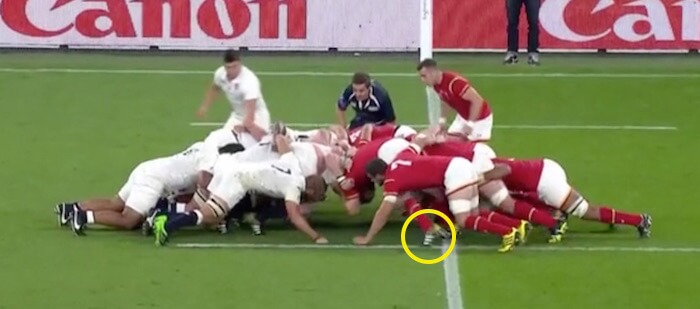 Upon the feed, Jenkins  leverages off his left foot and chucks a right turn at warp speed. Cole has no choice but to also go in and down, not even having time or the need to shift his bind. This time though the refereeing team get it wrong and penalise Cole for dropping the scrum, rather than Jenkins for his unnatural acts.
A great result for Jenkins who was no doubt anticipating another shmozzle over the other side of the scrum; rather than concede a penalty, they've won one.
EPILOGUE
The moral to this dirty dark tale is simple – cheating will get you a penalty in three out of four scrums with French refs! Note also the decision making involved; these teams will trade prime try scoring field positions for the chance of a scrum penalty.
Scrum forecast for this weekend and next: messier than a Double Bay divorce.