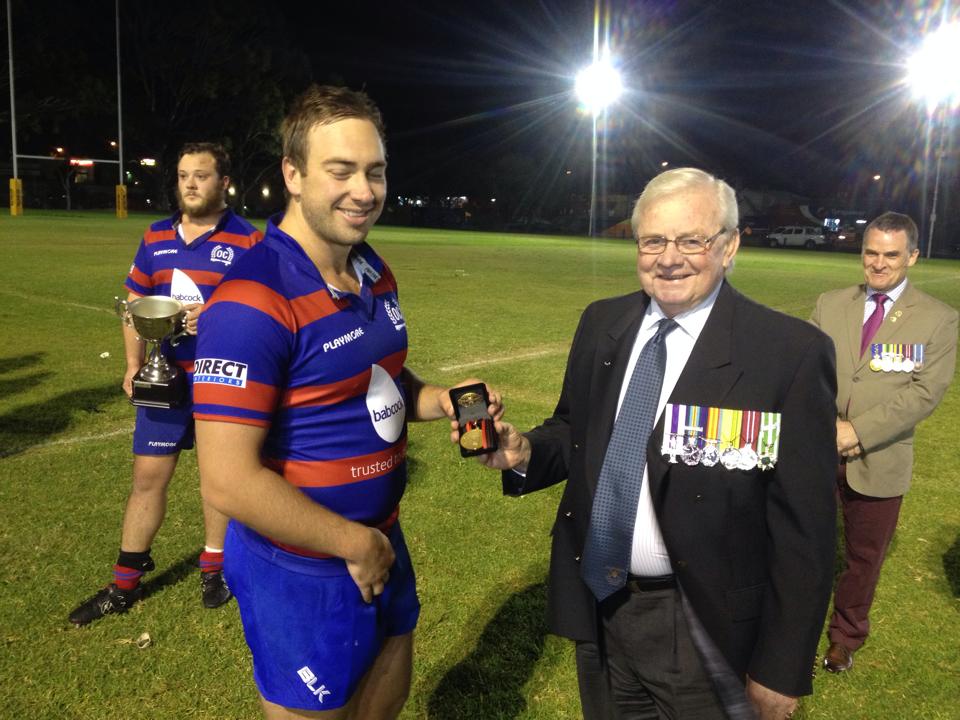 SA Rugby kicked off with a bang this week. There were upsets, there were big wins and there were some spectacular tries scored. Lets take a look.
---
Match of the Week:   Anzac Day Memorial Game, Old Collegians 30 def Brighton 19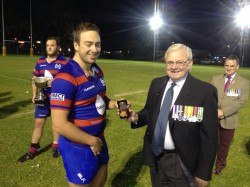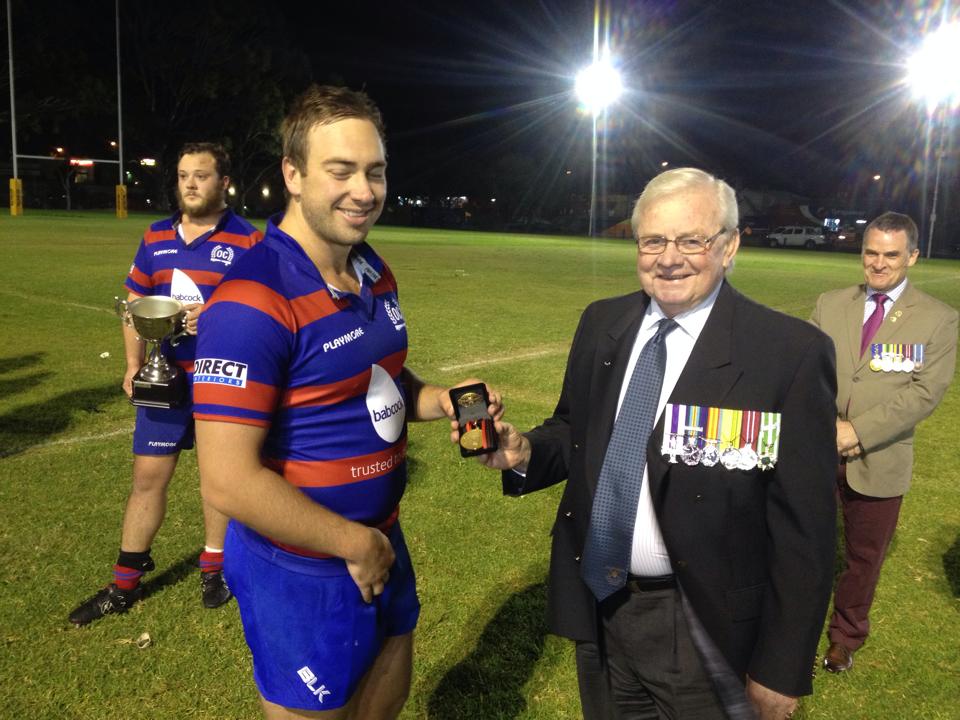 In the annual Coopers Premier Grade Anzac Day Memorial Game, reigning premiers Brighton took on Old Collegians under lights in a rematch of last year's grand final.  Despite Brighton just prevailing in 2013, it has been a different story this year. Old Collegians were the victors in an outstanding game. Led by back rower Gary Mann, who won the Michael von Berg MC – RSL ANZAC Day Medal for best on ground, Old Collegians were a force to be reckoned with.
Old Colls placed the pressure on the reigning champs right from the start of the match, with an early penalty to open the scoring. Brighton responded quickly however, with a well worked try to Nathan Satala who used his strength to break several tackles and score out wide. Considering the attacking capabilities of the Old Colls backline, Brighton managed to plunder a large portion of possession with a number of ineffective territorial kicks. Going into halftime the crowd were impressed by the speed in which the game was played, as both sides refused to give an inch or take a backwards step.
In the second half it was Old Colls who maintained the intensity. They were able to capitalise on Brighton's growing lack of discipline. The backline eventually started to click and was able to finish off some well-structured play to seal the win. Tries out wide to Chris Bartlett (2) and Will Sadler are indicative of the style of play used to exploit Brighton outside.
Standouts for Old Collegians were No8 Bernie Van Altena, flanker Gary Mann, and try scoring backs Chris Bartlett and Will Sadler. Former Brighton Premier grade player Rob Smedley must be pleased with his move to arch rivals Old Collegians after the solid win and a strong personal display of tackling. For Brighton, back rowers Dan Naylor and Henry Bradford fought bravely for their side. You have to think back a very long time to remember when Brighton last lost two games in a row. Is this a changing of the guard or will Brighton once again rise to the occasion over a long and grueling season.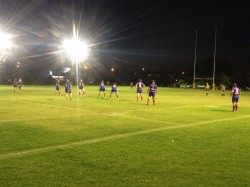 Other Matches
Onkaparinga 48 def Port Adelaide 15
With a large playing group and some quality talent, questions have often been asked about why Onkaparinga fail to consistently play finals rugby. Could season 2014 be the catalyst after an outstanding start to their premier grade campaign against a lacklustre Port Adelaide. Onkas set their stall early with scrumhalf Troy Doughty scoring after only 30 seconds. From there Port Adelaide surprisingly struggled to adjust to the hard-hitting, physical style of play of Onkas, who were led by forwards James Buckland and Tom McColl. Winger Mason Dicks grabbed a hatrick of tries for Onkas, showing a clean set of heels that other clubs will have to watch out for. Despite the valiant efforts of Ani Kane for Port, who scored 2 tries out wide, and the courageous defence of hooker Ryan McConnell, Port were second best for much of the day.
Southern Suburbs 32 def Woodville 10
It was an awesome showing by a fast, strong Southern Suburbs backline this week that a young and inexperienced Woodville side had little to no answer for. Souths used the breeze early to great effect, kicking for possession and chasing with intent. Outstanding play from fullback Ratu Bola Niumataiwalu as well as No10 Tom Ramanumanu and prop Steve Stanojevic helped Souths to secure a 27 – 3 lead going into halftime. From there they gutted it out as Woodville continually attacked the try line, only managing to break through once. No 10 Jet Connor split the line from 15 metres out for Woodville's only score of the half, despite being camped near the 22 for the majority of the second. The only concern for Souths was the continual ill discipline of senior player Fraser Watene and the ineffective lineout.
Burnside 104 def Barossa 0
Burnside travelled to the home of the Barossa Rams for their first game of the season, and they came with intent. Displaying fast paced rugby on offense, with the back row and backline providing the majority of the damage, combined with some bone crushing defence, and it was easy to say Burnside definitely outclassed an inexperienced Barossa outfit. Despite an amazing will to continue to fight, playing attacking and running rugby as much as possible, Barossa was unable to match Burnside's youth and speed. Dan Hartman was good in this one, scoring 5 tries and providing some excellent forward momentum, as was No10 Callum Walton and winger Sam Nery. For Barossa Number 8 Mark Cooper was the standout.
---
Second Grade
Old Collegians 36 def Brighton 0
Onkaparinga 71 def Port Adelaide 17
Adelaide University 44 def Woodville 10
Burnside 64 def Elizabeth 10
Third Grade
Brighton 16 def Old Collegians 15
Onkaparinga 43 def North Torrens 0
Southern Suburbs 31 def Adelaide University 8
Burnside 20 def Barossa 0
Fourth Grade
Old Collegians 21 def Brighton 11
Onkaparinga 31 def Port Adelaide/North Torrens 14
Burnside 34 def Elizabeth 17
Adelaide University – Bye
---
Ladder
Coopers Premier Grade

  Team

P

W

D

L

F

A

Df

BP 4t

BP 7p

Pts

Onkaparinga

1

1

0

0

48

15

33

1

0

5

Burnside

1

1

0

0

104

0

104

1

0

5

Southern Suburbs

1

1

0

0

32

10

22

1

0

5

Old Collegians

1

1

0

0

30

19

11

0

0

4

Brighton

1

0

0

1

19

30

-11

0

0

0

Woodville

1

0

0

1

10

32

-22

0

0

0

Port Adelaide

1

0

0

1

15

48

-33

0

0

0

Barossa

1

0

0

1

0

104

-104

0

0

0
---
Next Round:  Round 2 – 3/05/2014
Home Team

v

Away Team
Location
Time
Barossa

v

Brighton
Lyndoch Oval
3:20pm
Old Collegians

v

Southern Suburbs
Tregenza Oval
3:20pm
Woodville

v

Onkaparinga
Gleneagles Reserve
3:20pm
Port Adelaide

v

Burnside
Riverside Oval
3:20pm