The SA pre-season action culminated in a good day of rugby over the weekend, as two big rivalries squared off in the finals of the Bartercard Cup.
In the Cup final, the big one, it was Burnside and Old Colls going at it, while the plate final consisted of Port vs Woodville. It was a solid day of rugby, with some exciting action leading into the season proper. For those who missed it, we've got all you need right here.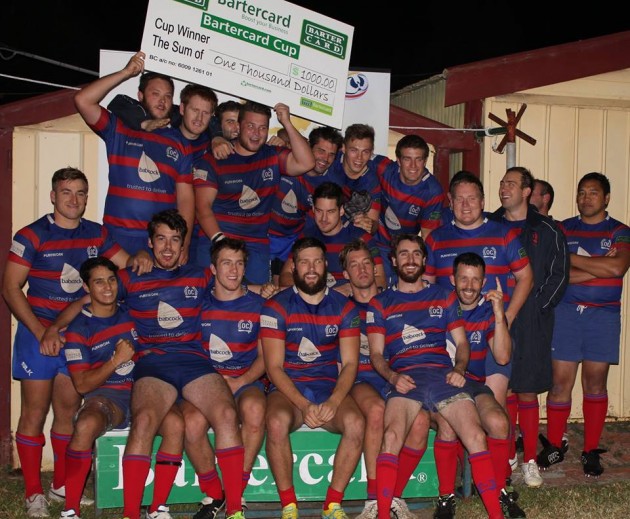 PREMIER GRADE CUP FINAL: OLD COLLEGIANS 36 DEF BURNSIDE 19
In the Cup Final of the pre-season competition, the two undefeated teams left standing looked to battle it out under lights at Gleneagles reserve for both silverware and bragging rights. In the end it was Old Colls that came away with the victory, in a strong effort that saw them out-structure and out-last a competitive Burnside team
The game started off on an even keel, with Burnside the aggressors early. Led by No8 and Captain Ben Fiers, they fought out a gutsy effort, consistently putting Old Colls on the back foot and causing their defense to scramble.
Despite going into half time relatively even, Burnside couldn't keep up the pace as Old Colls fought back with a disciplined, unrelenting game. A strong attack on Burnside's vulnerable 10-12 channel combined with structured running lines unsettled their defense.
The fact that Burnside at one stage had two players in the sin-bin was a testament to the relentless, accurate drive of Old Collegians game. Despite Burnside actually staying competitive during that period, the physical toll it took on the remaining players was telling, as Collegians were able to dominate the ball towards the end of the game.
The difference here was in the forwards, as shown by tries to both flankers, Gary Mann and Fraser Murison, the No8 Bernie Van Altena and the scrumhalf Robbie Harlow of Old Collegians. Playing a large role in the victory were the set pieces, with the lineout of Collegians being completely dominant. The foundations provided by this, in addition to a consistently solid scrum, afforded Old Colls the opportunity to repeatedly attack the Burnside line. The lack of disturbance to their overall structure was a huge benefit to them.
Despite the forward dominance, Old Colls did show some weakness in the back, as Burnside searched to exploit this with some strong running and clever lines. Tries to the center pairing of Callum Walton and Blair Marshall are testament to this.
So with that one in the bag, both teams will now look to focus on the start of the regular season, as the grind and excitement of the competition begin again. Congratulations to Old Collegians on their early performance.
Try Scorers For Old Collegians:
Gary Mann (Flanker)
Fraser Murison (Flanker)
Bernie Van Altena (No8)
Robbie Harlow (Half-back)
Chris Bartlett (Full Back)
Alexander Taylor (Reserve)
Try Scorers For Burnside:
Dan Hartman (Lock)
Callum Walton (Centre) (+2 Conv)
Blair Marshall (Centre)
PREMIER GRADE PLATE FINAL: WOODVILLE 38 DEF PORT ADELAIDE 10
These two clubs squared off in last year's semi-final, in what was a heated exchange. In that game Port was able to pull of an upset. Storming into the finals, after being written off buy most at the halfway mark of the competition, the boys in black and white unsettled the Wasps as they squeezed out a narrow victory.
History was not to repeat itself 6 months later, as Woodville ran roughshod over a lethargic looking Port Adelaide to score some silverware. It started early, with a certain Port Adelaide try being avoided by a desperate, diving tackle from No 10 Joe Smellie out wide resulting in a knock on. From that play Woodville ran the length of the field, with outside center John Finney linking up nicely with his winger, Andrew Jackson, who burnt his opponent as the Wasps scored from their own 22.
From there, despite a fairly even performance in the forwards, the difference between the two sides was clear out wide. It was Woodville's full field play that took the wind out of their opponent's sails, with a number of tries being run in from past halfway demoralising Port's backs. A stunning run from Woodville's young yet massive 2nd rower Brando Pericic, busting through four or five tackles in a length of the field run was the highlight of the match.
Solid play from Woodville's scrum provided the foundation, with the front rowers Tom Price and Josh Karp in particular looking good. And despite Port's ability to consistently break through Woodville's occasionally shoddy midfield defense, a number of desperate tackles ensured the damage was neutralized.
Port did manage to cross twice in the first half, with consistently built pressure working over the Wasps defense. But they couldn't maintain it, as superior size and speed saw Woodville triumph out wide.
Try Scorers for Woodville:
Brando Pericic (Lock)
Daniel Jackson (Flanker)
Joe Smellie (Fly-Half)
John Finnie (Centre) (+4 Conv)
Andrew Jackson (Wing)
Jett Connor (Full-Back)
Try Scorers for Port:
Ani Kane (Wing)
Andrew Amituanai (Reserve Prop)
RESULTS FROM THE REST OF THE DAY
Premier Reserve Cup Final: Old Collegians 37 def Burnside 7
Much like their first grade counterparts, Burnside and Old Colls fought it out in the premier reserve cup final. Again it was Old Colls coming away with the win, with a well-structured game planning leading to gorgeous execution out wide and a bevy of tries. Despite resilient defence from Burnside, led by No10 Rueben Nation, the precise play and strong forward running of Collegians was to much to overcome. For Old Colls, inside centre Jamie Foster and second-rower Jack Campion provided the impetus with excellent play.
Premier Reserve Plate Final: Onkaparinga 17 def Elizabeth 8
In the reserve Plate final it was Onkaparinga taking on the newly promoted Elizabeth in a very competitive game. While Elizabeth came top play, matching up well in the forwards and bring a rough, grinding style to the game, Onkaparinga were explosive in the backs. With No10 Joseph Moana slicing through the defence and providing strong running lines to his centres, the scrappy affair was won out wide by a fast, electric Onkaparinga team.
APRU National Police Championships Final: NSWPOL 8 def AFP 7
Under 18′s Game 4: Southern Suburbs 36 def Brighton 26
Under 18′s Game 5: Onkaparinga 52 def Burnside 0