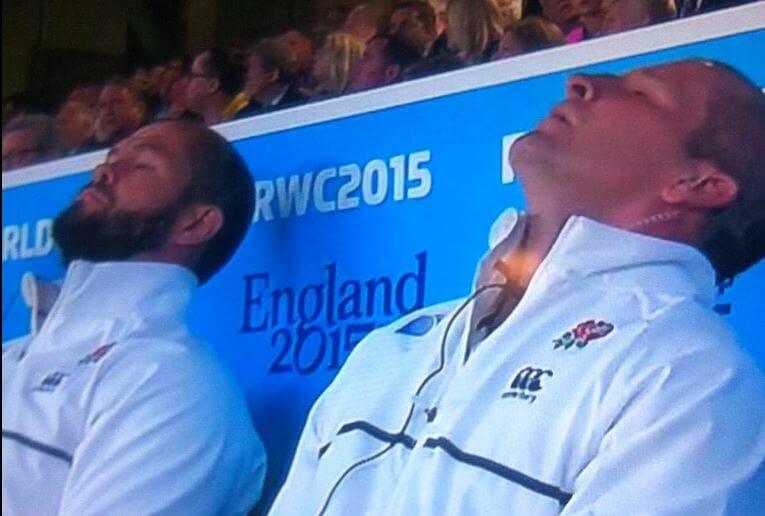 Stepping Up at the Breakdown
Much has been written about the Wallaby victory over England.
If this game sets the tone of the RWC then buckle your seatbelts as were in for some ride over the next 4 weeks.
The stats show that England was ahead in some areas:
They had a better running game – 391 m compared to our 254m. More Clean Breaks, Defenders Beaten and Offload;
They missed fewer tackles – 101/15 versus 116/18; and
Slightly better Lineout – 7/1 (87%) versus 11/2 (85%).
But the Wallabies:
Made more of their Possession (51%) and Territory (53%);
Won more rucks 81 from 84 (96%) versus 77 from 84 (92%);
Conceded fewer Turnovers – 10 versus 17.
Conceded fewer penalties – 5 versus 9 – nil Yellow Cards; and
Turned a scrum, over which there was a question mark on the big stage into one of dominance – even after bench replacements.
Both sides showed good line speed but the Wallabies maintained this pressure throughout the entire game.
The Wallaby effort at the breakdown was maintained over the full 80 minutes, with a significant lift in involvement from the Front Row.  Whereas the Front Row had been contributing 25-28% of Total Ruck involvements, against England this was lifted to 35%.  In addition, the Front Row lifted their tackle count with big contributions from Moore (11/0) and Sio (9/0).
England was scrambling in defence but particularly at the breakdown where their Backs had to contribute 40% of their team's Defensive Ruck involvements and 28% of Total Ruck involvements.  By comparison, the Wallaby Backs could rely on their Forwards to do the hard work making only 16% of Def. Rucks and 22% of Total Ruck involvements.
Ruck Involvements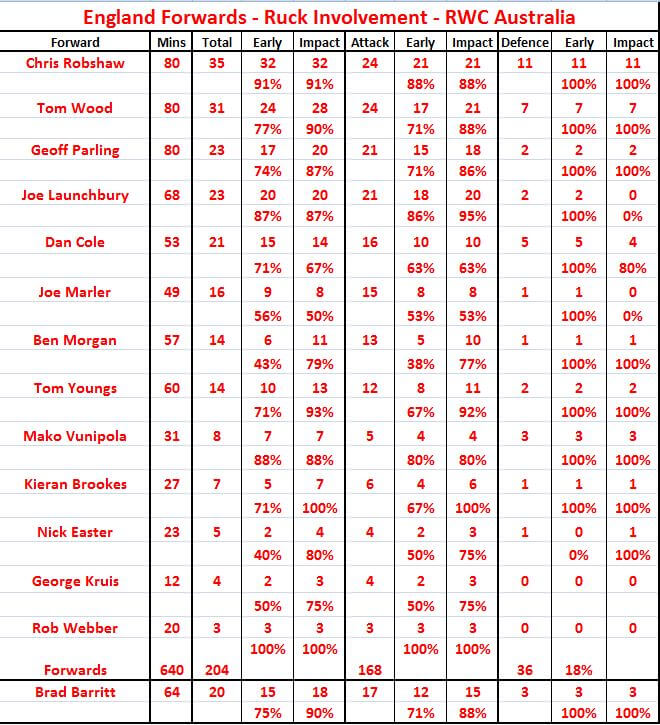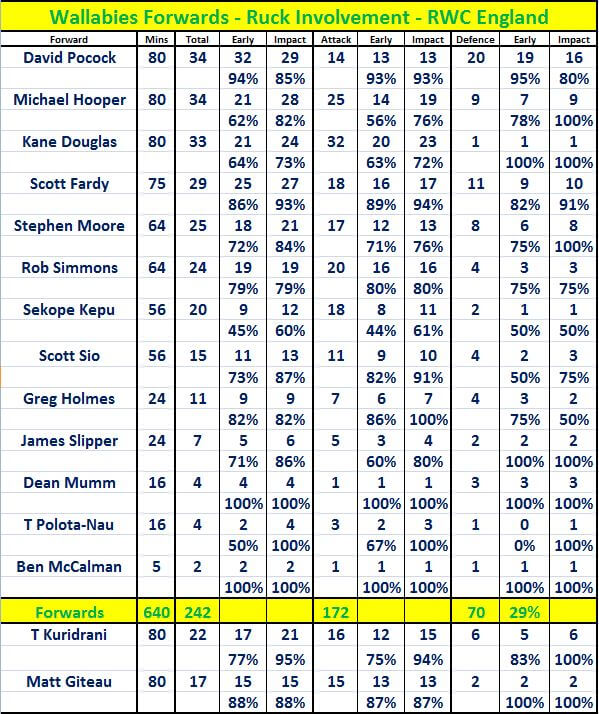 Comments:
England Forwards had 85% of the Total Ruck involvements but only 51% of the Defensive Ruck involvements of the Wallaby Forwards.
England was generally standing off on Defensive Rucks – which made up only 18% of their Total Ruck involvements.
Robshaw, Wood, Cole and Vunipola were most involved in putting pressure on the Australian ball.
Both sets of Locks were strongly supporting their own ball carriers.
Significant ruck contributions from strongly defensive Centre pairings.   Giteau and Barritt very evenly matched.   Joseph made 11 rucks.
The Australian Forwards maintained about the same level of involvement in defensive Rucks as they had shown against Fiji (32%).
Pocock, Hooper, Fardy and Moore were most involved in putting pressure on the England ball.
Pocock's clear priority was to put pressure on the England ball carriers and gained 3 Turnovers from his 20 Defensive Rucks.
Pocock's Total Ruck involvement was 15% below what he averaged in TRC tests and nearly 30% below his game against Fiji.
Hooper's priority was clearly to work with Douglas, Simmons, Kepu and Sio in supporting the Australian ball carriers. Hooper earned 1 Turnover from his 9 Defensive Rucks.
Hooper's Total Ruck involvement (34) was 25% better than he averaged in TRC tests and a 70% improvement over his game against Fiji.
Fardy's Ruck involvement is consistently at or above this level.
Moore's Ruck Involvement returned to his average in TRC tests and a 50% improvement over his game against Fiji.
All Bench Forwards showed strong Ruck Involvement which helped stifle England's efforts in the last 20 minutes.
Comments:
The 10-minute breakdowns help show individual and group contributions at various stages of the match.
The England Forwards lifted their Ruck Involvements by nearly 20% in the 2nd
The Australian Forwards put in big efforts for the 1st 20 minutes, immediately after half-time and in the 60-70 min period after England had worked their way back on the scoreboard. Holmes and Slipper provided great support off the bench.
England bench players did not provide the same lift in Ruck involvements.
Commendable efforts by Robshaw, Wood, Purling and Launch bury during England's fight back.
Turnovers were earned by Wood (2), Launch bury (1) and Morgan (1).
Front Row Contribution
For some time now I have been highlighting that the Wallaby Front row has been contributing much less Ruck Involvement (generally 25-28% of Total ruck involvements) than that in other top-tier teams (generally 35-40% of Total ruck involvements)
In this Test, the England Front Row maintained their involvement at 34% of the reduced Total ruck involvement by the England Forwards.
The Australian Front Row lifted their contribution to 34% of Total ruck involvements by the Forwards in an increased number of Total ruck involvements by the Australian Forwards (242).  By comparison, against Fiji the Front Row contributed only 27% of the Total Ruck involvements by the Australian Forwards (185).
In my view, this level of Front Row Ruck involvement is required for the Wallabies to compete with other top tier nations at the RWC.
Defensive Ruck Involvement
Over the past 12 months there has been a significant variation in the amount of involvement that the Australian Forwards have in Defensive Rucks (shown as a % of Total Rucks).
The data below shows that under McKenzie, the involvement was as high as 50% (against Bokkes and Pumas in 2014) but now varies according to the game plan and opposition.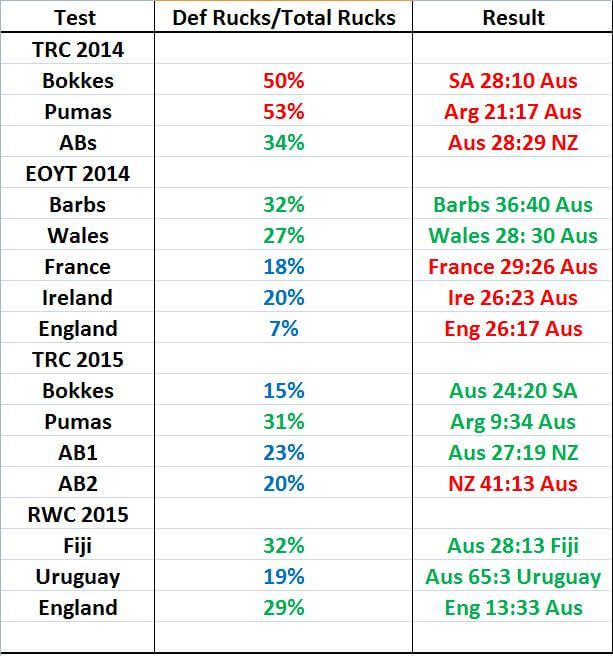 There is clearly no direct correlation between this % and the final result.
However, in our 3 games in the RWC to date the Wallabies have shown that they can put consistent pressure on the stronger team's ball at the breakdown, and earn turnovers without being penalised off the park as has happened in the past.
Of particular note is the very low 7% Defensive Ruck involvement against England last year.  If you remember it was  a difficult game to watch.  But Saturday's win more than makes up for it!!
It is worth noting the effort of David Pocock who in 2 games has earned 8 Turn Overs Won from 40 Defensive Ruck involvements while averaging only 1 Penalty/game.  An impressive 1TOW/5DRI.
I'm very interested to see what the strategy will be against Wales on Saturday.
My tip is for sustained ruck input from the Front Row at this higher level and Defensive Ruck involvements at close to 30% and a WIN to finish top of our pool.