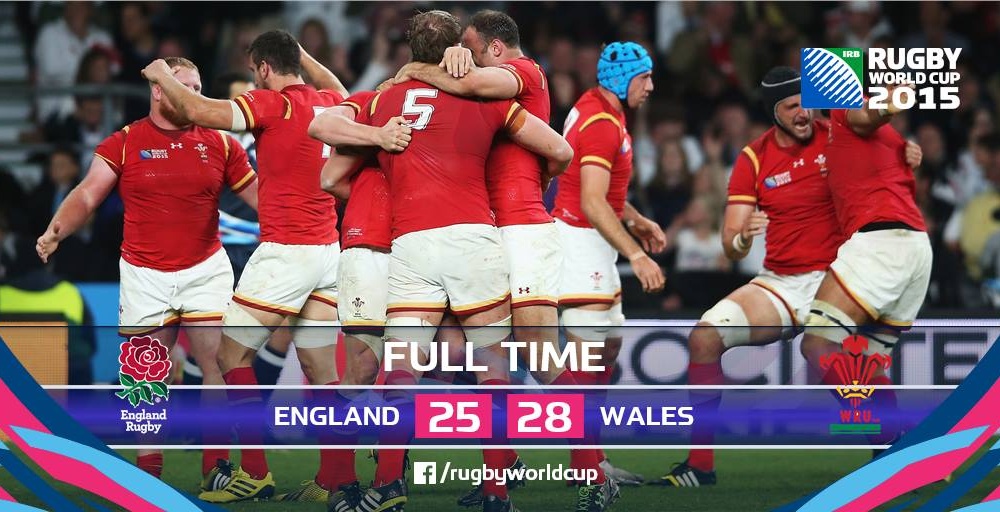 The Vibe
Wales have come away with an improbable and vital win against England at Twickenham in the Rugby World Cup pool of death. Up until the 60th minute the match see-sawed from a breakdown penalty at one end of the field to the other (take note Wallabies – neither side missed one place kick from 14 attempts).
The difference between the sides being a try to Pommy winger Johnny May in the 26th minute that come from a bungled England set piece move in the Welsh 22. Mike Brown and Ben Youngs were crucial to this try and the England attack which looked far more dangerous then the Welsh who struggled to find the advantage line.
Things got funky though from the three quarter mark. The English compressed defence that had stifled Wales all night ran out of puff. At the same time Wales discovered the second wave backline move and suddenly there were big holes in the poms out wide. In the 70th minute the Welsh ran through them. Replacement centre Lloyd Williams centre kicked from the sideline perfectly for half back Gareth Davies to scoop up and score under the posts. Twenty-Five all.
In the 74th minute Mike Brown was pinged for holding on and the metronomic Biggar then put Wales ahead for the first time in the second half with a 49 metre penalty. England found their way deep into the Welsh 22 and earned a penalty on the sideline. It was tears before bedtime though as the Poms couldn't make the driving maul they opted for work. A scrappy scrum and lineout later – it was all over.
For England this was a match they really should have put away after 50 minutes of supremacy. For Wales it was a great example that staying in touch and never giving up can get you the goods.
The Score
25-28
(Half time 19-9)
Incidents of note
The match sealer came in the 77th minute when England opted for a lineout drive on the Wales 5 metre mark. Wales gave England the front of the lineout and then bundled them into touch with superb maul defence.
In the 66th minute England were ahead 22-18 and made a slicing wide foray down into the Welsh 22. In scrambling defence Wales ended up with bodies all over the place and winger Amos had to leave the field with a dislocated shoulder. Wales had already lost their centre Scott Williams with a knee injury that looked serious. This is now a seriously depleted Welsh backline.
The pommy scrum is still up to no good. Early in the match they managed to milk two penalties when they were obviously driving sideways – Marler being the main culprit (thanks to Pfitzy for the image below). Having said that the Welsh scrum was no great shakes and disintegrated in the second half.
Worth watching?
A cracking match for tension and of course relevance to the Wallabies.
MAXIMUM F*CKS GIVEN
Feast your eyes