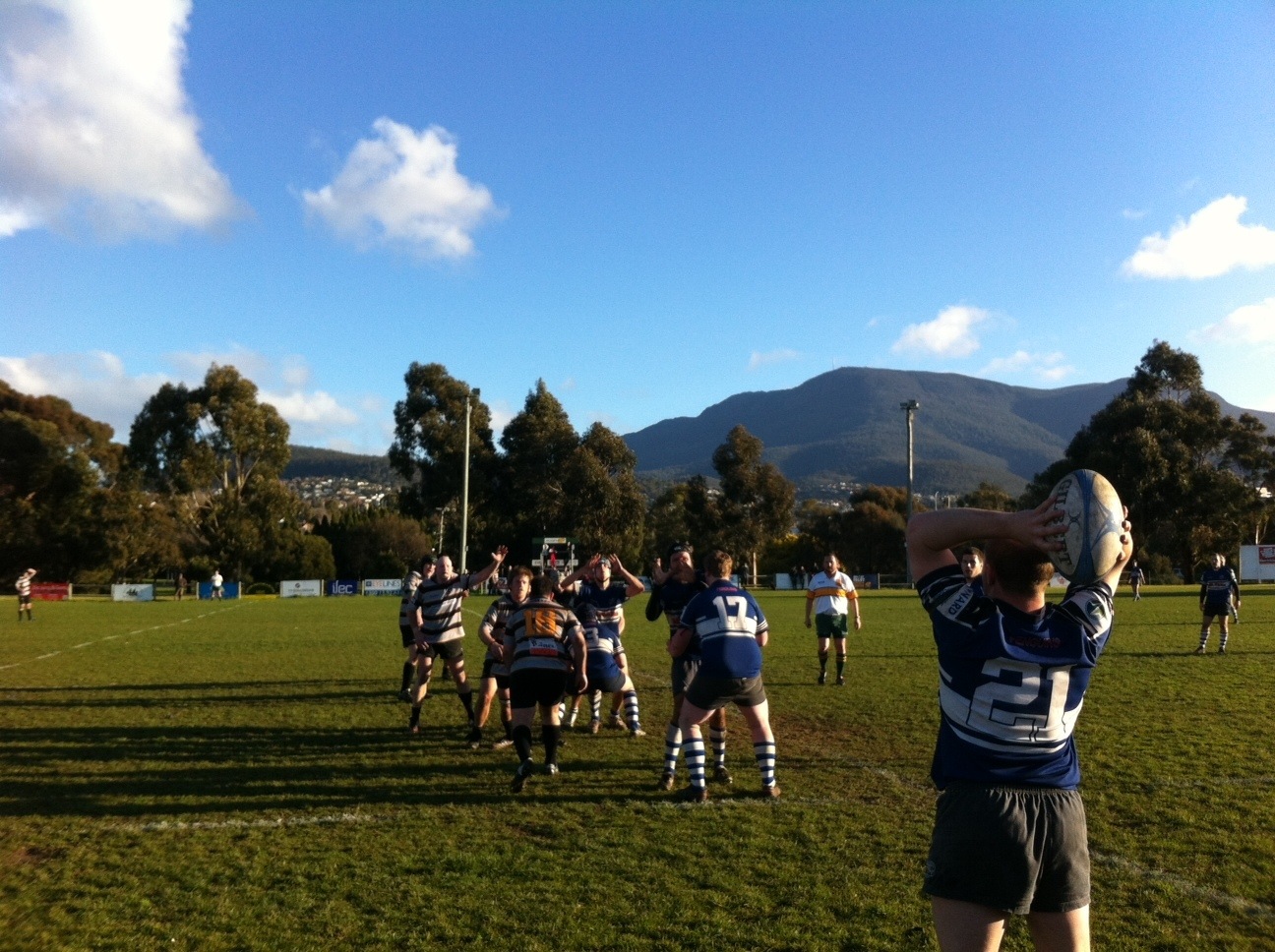 PENGUINS CLAWED BY PERSISTENT LIONS
Hobart Lions reminded Tasmanian Rugby followers they are not making up the numbers by defeating Taroona Penguins 27-24 at Rugby Park on Saturday. Despite withstanding an exciting second-half fight-back from the Penguins, the Lions held the tactical supremacy throughout an absorbing contest.
Hobart led 24-0 at half-time through three tries from their dominant pack who varied repeat phases from turnovers with aggressive defensive chasing of precisely placed kicking fromWilhelm Koch and Todd Grant, who tantalised the Penguins' back three. Scraps of possession run by Taroona forwards Marty Cuddihy and Jay Armstrong foundered on the crushing defence of Adam Johnston, Dave Craig and Derek Clack.
Taroona's recovery was sparked by an outstanding hand-off and dash by left wing Tom Marlow and continued through two fine tries to right wing Charlie Holmes as the Penguins made space out wide. On the scoreboard a 50 metre Lions penalty kicked by Grant proved the difference but the inability of the Penguins to secure quality possession surprised all but the Lions coach Adam Johnston. 'We planned the kick and chase on 50/50 ball', he said, adding that Taroona lacked big runners to bolster their counter-attack.
Taroona coach David Whyte commended the Lions game plan. 'They out-enthused us and we didn't adapt to their subtleties.' Penguins' inside backs Mikey Whyte and Christo Le Grange worked hard to turn the match around.
Harlequins dismissed Eastern Suburbs Roosters challenge 96-0 on Rugby Park 2 to celebrate 100 successive appearances to lock Jeff Altmann. Sunia Ma'afu, Dave Wollemann and Ivan McLean typified a disciplined and mobile effort from Quins. Easts suffered two serious injuries and never got into the game, despite huge efforts from Jonno and Danny McCarthy and Jon Elliott. 'We couldn't cope with their runners', lamented Easts mentor Les Marshall.
Launceston Bees held out the Harlequins challenge to fourth position with a good team effort to overcome home side Glenorchy Stags 31-19. Glenorchy shrugged off two early injuries to level at half-time, but tired as Launceston spread the ball amongst backs Gus Cosgrove, Lochie Yuen and Perry Chancellor. Ben Mackie and Bryan Watt tried hard for the Stags. 'We put our heads down and started playing after letting them in for easy tries', said Launceston's Nic Sotiriou.
University came out firing to lead AMC Vikings early in their 41-24 win at Uni but the score eased to 17-12 at half-time. Uni's tight-head prop Alex Cronin scored a hat-trick and led a goodscrummaging effort but both sides admitted vulnerability in defence. Uni's Chris Burt and Nigel Chigwida showed out, whilst Fabrice Dolchez, Hugh Kanaley and Toetuu Vaka brought AMC back into the match at the end of each half.
Burnie Emus' lack of a fit and balanced squad brought a home forfeit to Devonport Bulls, leaving the Bulls behind Taroona on percentage.
Scores
Hobart Lions 27 def Taroona 24
Harlequins 96 def Eastern Suburbs 0
Launceston 31 def Glenorchy 19
University 41 def AMC Vikings 24
Ladder update
Taroona 68
Devonport 68
Hobart Lions 65
Launceston 46
Harlequins 46
University 34
Burnie 33
Glenorchy 33
Eastern Suburbs 10
AMC Vikings 4