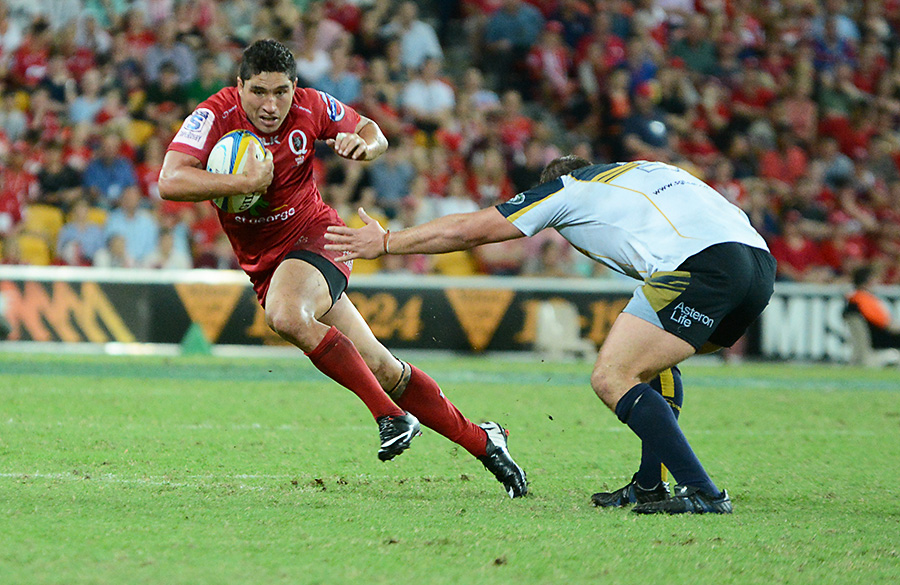 The Brumbies completely dominated the first half territory and possession to take a well deserved 20-10 lead into half time. They scored 2 tries to one and would have felt pretty comfortable running out after oranges.
The Queensland Reds had other ideas however, and turned the game on it's head after oranges. They set up shop in the Brumbies half a barely left it for the forty minutes. In that time they scored another try of their own. It must have been especially pleasing considering they completely destroyed the Brumbies scrum in the process.
But I can't help but wonder what might have been if the open and blatant punch Stephen Moore landed on Ed Quirk had been handled with anything close to resembling competence by referee Steve Walsh. In the end the Brumbies held on to win 23-20 and the reds were left fuming and wondering what could have been.
I can't say that the Brumbies were any more deserving of the win than the Reds because they weren't. The Brumbies dominated the first half while the Reds controlled the second.
I can say I have never seen a player, in the modern game, punch another player and receive nothing from the ref. No red card, no Sin Bin, no penalty, not even called over to be spoken to.
This is the second time this season the Reds have been on the wrong side of a less than perfect refereeing display. In the first instance the referee continued in his role without sanction. I wonder if this display will receive the same treatment. I know I've already started making my justice for Queensland armband.
Here are the Best of my Photos from the game.
Exclusive photos by Shane Sullivan.
Why don't you see any of the spectacular tries in my shots? I catch myself watching instead of shooting. Last night I watched Scott Fardy reach through the tackle and plonk the ball down the ball from the perfect angle. And as I watched, holding thousands of dollars of photographic equipment, I thought to myself 'That would make a great photograph'. I'm doing my best and I'm getting better every week. Stick with me I'll get one eventually.
I'm assuming it's in relation to the Flooding in the Solomon Islands. More details here.
---
The Game Changer
The now infamous Stephen Moore punch and no try ruling.

The G&GR MOTM
Quade Cooper worked hard.  But Nic White was everywhere. He's my Man Of The Match.

Wallaby watch
Joe Tomane looked a handful. Tevita Kuridrani looked out if sorts.

---
The Details
Crowd: 30,004
Score & Scorers
Reds: 20
Tries: Ed Quirk, Beau Robinson
Conversions: Quade Cooper 2
Penalties: Quade Cooper 2
Brumbies: 23
Tries: Scott Fardy, Joe Tomane
Conversions: Nic White 2
Penalties: Nic White 3
Cards & citings
None (it's true! NONE!)