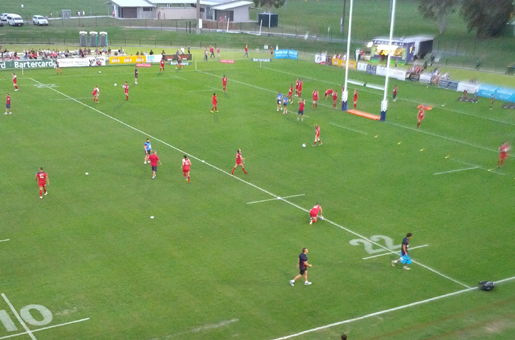 The Reds played their second and final trial against the Chiefs last night at Stockland Stadium on the Sunshine Coast and attracted a crowd just short of 5,000.
Faced with a strong Chiefs side the Reds again tested a few combinations using 28 players during the match. It was an entertaining match although I must admit I wasn't concentrating fully throughout, as I joined most of the press box standing around one laptop to watch the Cooper fight. So I can't give you much information about the rugby during those few minutes.
The Reds had the benefit of a strong wind behind them in the first half and for the second week in a row they looked full of running early and were very good at the set piece with Rob Simmons in control at the lineout and Greg Holmes dominating at scrum time. However, there were again a lot of errors that gave the Chiefs easy possession.
The Reds took the option of a penalty goal from right under the posts to grab an early 3-0 lead but then knocked back a number of opportunities to kick for the posts, obviously looking to work on their attack.
The Reds would have been very satisfied with their defence in the first half as they shut down a number of promising attacks from the Chiefs. Ben Lucas and James Slipper pulled off two really good tackles to thwart the Chiefs as they looked to take advantage of some long periods of possession.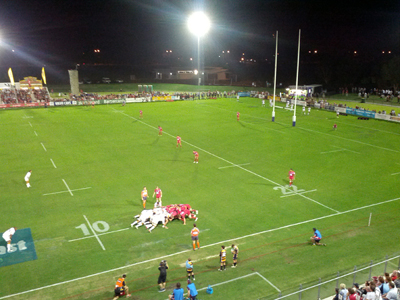 On the back of one of these great defensive efforts Ben Tapaui cleared the ball from within the Reds' 22 and a great chase by Digby Ioane trapped the Chiefs inside their own 22, earning the Reds an attacking scrum. The Reds pressured the Chiefs' line and were awarded a very kickable penalty but opted for the lineout and eventually Liam Gill burrowed over for a try. Mike Harris missed the difficult conversion attempt but the Reds led 8-0 at half time.
The Reds' best in the first half were Lucas, Ioane, Tapaui, Holmes and Slipper with Simmons contributing really well at the lineout.
The Reds started ringing the changes at half time with James Hanson replacing Saia Faingaa, Adam Wallace-Harrison replacing Ed O'Donoghue, Dom Shipperley replacing Rod Davies and Aidan Toua replacing Ben Tapuai. Chris F'Sautia replaced Ioane not long into the second half.
Wallace-Harrison had an immediate impact at the lineout – even though Simmons was still on the field Wallace-Harrison was definitely the Reds' go-to option.
The Reds conceded a try against a lineout maul last week against the Blues and the Chiefs again exposed some issues with this aspect of play scoring a similar try to take the score to 8-7.
The Reds also conceded far too many penalties at the breakdown in the second half. With Aaron Cruden and a strong wind behind the Chiefs that was asking for trouble, and although the Chiefs knocked back a few opportunities to kick for goal they eventually opted for a long range penalty goal that gave them the lead 10-8.
The Reds got a little loose in the second half both with their attack and defence with far too many one-on-one tackles missed. Again that was a repeat performance from the first trial but with 13 of the starting 15 replaced during the second half that could be excused.
Obviously the Chiefs made changes too but they certainly had the better of the second half. One thing that was very noticeable was the physical size of most of the Chiefs players – there were some very big humans running around including those on the wings.
The Reds' sloppy defence cost them another try but they were still competitive and were trailing the Chiefs 15-8 and hard on attack with just a few minutes to go. A dropped ball by the Reds led to a turnover that the Chiefs took advantage of to score at the other end, taking the final score out to 20-8.
There were no poor performances by any Reds player and some of the replacements got only limited time. Jono Lance was really good at five-eighth as he was in the first trial and Shipperley looks primed for a big year again. Nigel Ah-Wong didn't get the opportunity to play on the wing as had been speculated and he was one who had limited opportunities. Curtis Browning again did some good things when he came on to replace Gill. Both Toua and F'Sautia showed flashes of brilliance in attack. Hanson and Albert Anae were again very good when they came on.
The Reds haven't put close to their top team on the park at any time during their two trials so it's hard to judge how well they are travelling, but the first half performances in both games suggest they will be very strong against the Brumbies next week.
I think there are three selection decisions that can be made as a result of trial form: Lucas starting at number 9 over Nick Frisby, Hanson starting over Faingaa, Radike Samo starting at number 8 and Wallace-Harrison starting at lock — although who should be his lock partner will be a tougher decision.
Given James Horwill is recovering from a serious injury and hasn't played a minute of the trials, should the Reds risk him in the starting team or start him on the bench? On balance I think the Reds play so much better with Horwill on the park so I would start him but be ready to replace him at half time. That decision would mean carrying some additional lock coverage on the bench and I'd choose Nigel Ah-Wong who provides back row coverage but has the physical attributes to play lock if necessary.
The even bigger question is the back row selection but I think Samo and Gill are certainties. I've seen other reports that Ed Quirk was outstanding last night but I didn't think either he or Jake Schatz did enough to definitely secure the number 6 spot. Quirk has played in both trials so might have a fitness edge over Schatz but I expect that decision to be really close.
Selection of the backline is easier if Anthony Faingaa is fit to play but if not, none of the options are clear. Mike Harris needs to start for his goal kicking but with Ben Tapuai at number 12 and Faingaa at number 13 you have a good combination in attack and the defensive leader at number 13, so Harris has to play number 15 if you want to fit him in. If Faingaa is out and you want to leave Tapuai at number 12 I'd go for Luke Morahan at number 13. If you think Tapuai is the next best option at number 13 I'd go for Lance at number 12 and leave Harris at the back. I think Harris at number 12 with Lance or Morahan at the back is a less attractive midfield to attack with.
My 22 for Round 1 against the Brumbies (subject to fitness) would therefore be:
Greg Holmes
James Hanson
James Slipper
Adam Wallace-Harrison
James Horwill
Ed Quirk
Liam Gill
Radike Samo
Ben Lucas
Quade Cooper
Digy Ioane
Ben Tapuai
Anthony Faingaa
Dom Shipperley
Mike Harris
Saia Faingaa
Albert Anae
Rob Simmons
Nigel Ah-Wong
Jake Schatz
Nick Frisby
Luke Morahan
I've just seen a comment that Samo is injured. If that's so I'd bring Schatz into number 8 and add Browning to the bench.