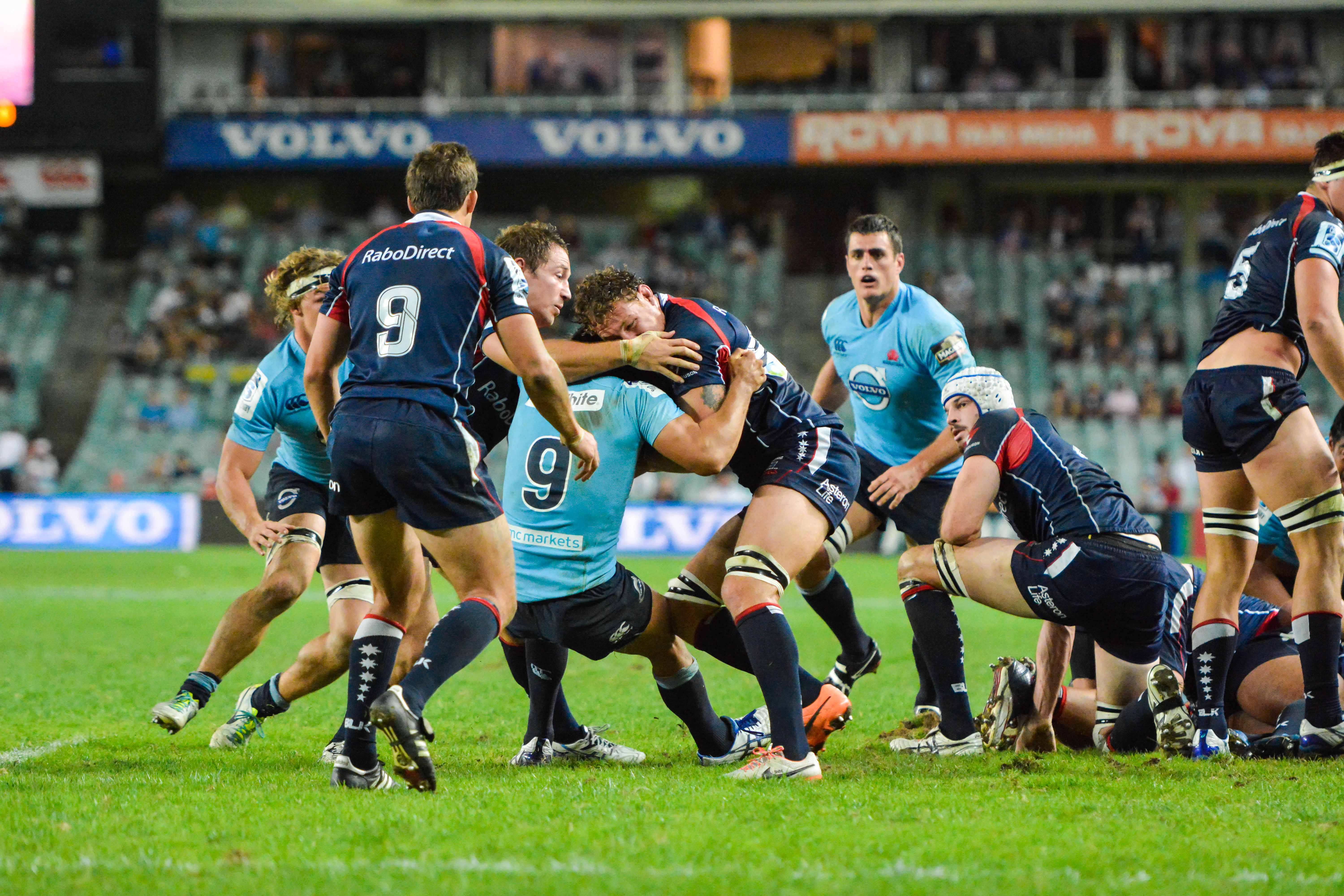 After minutes of anticipation, the greatest sporting rivalry in Australia* is about to be unleashed at AAMI Park in Melbourne this Friday
The NSW Waratahs are going toe-to-toe with arguably Australia's most successful Super Rugby team, the RaboDirect Melbourne Rebels**.
Given the unprecedented levels of hype and commentary around this game, it is fitting that the final words of authority come from two of GAGR's finest, from opposite sides of the border.
So I sat down at a hipster-themed organic vegan café in Brunswick, sipped a mocha-hazelnut soy latte and exchanged single syllable words with the NSW-sired, Toohey's New-guzzling Pfitzy. With the help of Google Translate, we made our case for each team.
* May be factually incorrect.
** Data based on Twitter retweets.
Rebels will win
by "Daz"
So here's the thing; the Rebel faithful are supposed to be all intimidated by the fact that the REIGNING SUPER RUGBY CHAMPIONS are coming to town, to show us what winning rugby is all about and wipe the floor with us while doing so. Yawn.
Having just stunned into submission the 7-time championship-winning Crusaders in their own backyard, we are hardly going to get the yips about the Tahs. It's not just precious competition points on offer here; both teams will be playing for the Weary Dunlop trophy.
Ordinarily, I would concerned that a goodly portion of our line-out throws end up in opposition hands. I would normally be concerned that there seems to be an internal end-of-season club award for "most penalised player" (this award seems to be contested with vigour). I would also normally be a tad worried about the fact that the pre-game drum-line show makes me want to gnaw both my legs off – The only reason I don't is that I would therefore spend most of the game slowly bleeding out.
But I am not worried about any of those things. Why? Because have a look at what Tony McGahan and his gang of assistants have done. It's been a slow build, and many false starts, but the evidence is there that all the bits of the puzzle have finally started clicking into place.
We have recruited well and more than covered for our losses. With Aussie Mike Harris on board, we have exemplary cover at 10 and 15, and a kicking hit ratio that would make a professional sniper weep with envy.
The Tahs will be well aware that giving a penalty away in almost any part of the ground will give Mikey a shot for points.
Nic Stirzaker is taking a well-deserved week off after going toe-to-body with Sir Ruchie last week, but switch hitting between Burgo and Bip Meehan will be the order of the day.
Pfitzy will tell me that AAC, Beale and Folau will not have two quiet games in a row, but the pressure that the Rebels will place on the Tahs piggies and at the breakdown will not give the Tahs backs any chance to get the ball into structured play. Besides, they'll only drop the bloody thing anyway.
For the NSW guys having milestones this week it will be a game to forget, and the Melbourne Rebels will keep marching on.
Rebels by 10+
Waratahs will win
by "Pfitzy"
FIRE IN THE HOLE!!
My old man had a saying: you can always tell a Victorian, but you can't tell him much.
See, the big problem about Melbourne is they like to wank and drone and blare on about the "culture" they're supposedly drowning in, yet they're represented almost entirely by bogans. I present as evidence, Eddie McGuire.
We're talking the muddy Yarra versus eye-shaggingly awesome Sydney Harbour. No contest.
Remember for a moment they're the Melbourne Rebels, not the "Victorian" Rebels, and they're barely representative of Melbourne! This is a city in the filthy clutches of the AFL, going up against the mighty State of NEW SOUTH WALES in its entirety.
This lot couldn't win the NRC with a Super Rugby squad, so what hope have they got on Friday?
So, with those bricks hurled at the Rebels Ethical Coffee Hipsterdrome, with its trademark (ironic) glassless glasses for windows, let's talk about the Tahs.
Daz has already made a point about the Tahs being unlikely to have two bad games in a row, proving that Victorians a) don't have anything original to say; and b) will steal anything.
This is particularly true since Cheik went to see 50 Shades Of Grey this week. Let me tell you, most of the players are quietly browning the trou at the stuff he's been hinting at. Well except some of the backs who are giggling like schoolgirls.
That aside, there has been a bunch of honesty thrown around at training this week, in the form of standout forward Will Skelton. The young man showed the way against the Force, and now the other blokes have no excuse. We're not glossing anything over. We're too good for that.
The rust due to a lack of trials for some players was evident last week. It will all be knocked off now, and the Rebels will feel the full brunt across the park.
My advice to Rebels fans is not to sit too close to the fence, due to the shock wave caused by Waratahs pulping the home side to pieces. Body parts, teeth, projectile vomiting from blue-and-white hoops, the lot.  It won't be for the squeamish.
Champions by 25. Eat that.

.