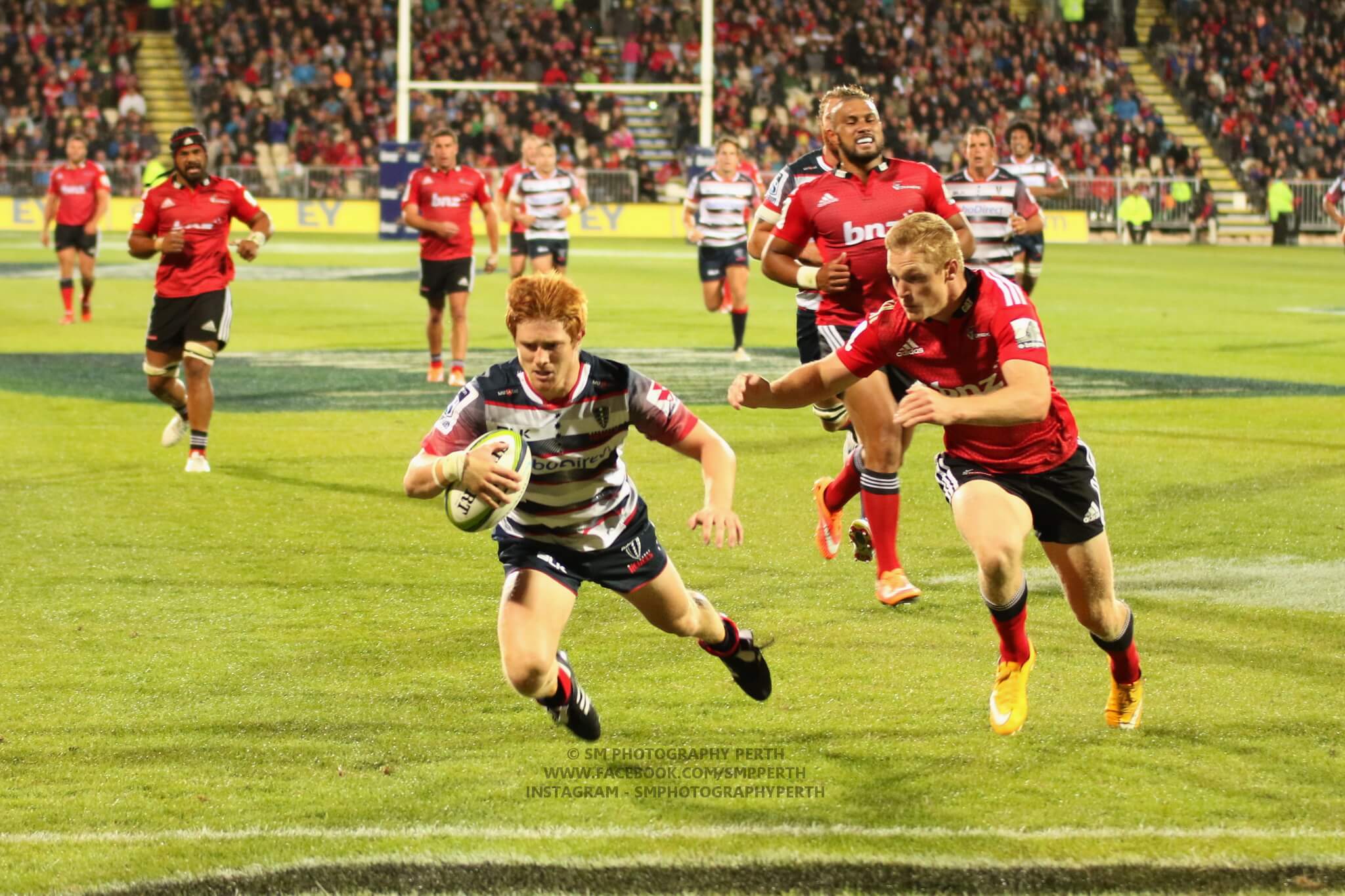 Zacker is back
The speedy scrumhalf has fully recovered from the shoulder reconstruction and will take the field in the starting XV on Sunday in Sydney for the first time in the season
In his own words Stirzacker said: "I am delighted to be back and am looking forward to the weekend".  The Sydney-born player will also be happy to celebrate his return in the city where he still has family and a lot friends.
As for his sitting out the first games he referred to it  as: "…really frustrating", however he added that he was happy to see the team going forward and his replacement "…was playing very well—it shows the depth we've built and it is good that we have competition for each role."
Stirzaker holding off Osborne in the dying moments of last week's game
Coach McGahan had some good words about the full-time return of his scrumhalf of choice:
You always want to have your best players in and he has been voted our captain, so we are definitely happy in having him back: he allows the other players into the game and he adds to our attack.
But he was also keen to praise Ben Meehan for the work done in the previous games:
We were really happy with him: his kicking, his passing and his ability to read the game were excellent, he will continue to add to our depth.
Other good news for the Rebels is the return of Sefanaia "SuperSefa" Naivalu in the 23, after a long recovery of his broken leg:
He has being training very well behind the scenes, it is a fantastic news [having him back], "he is a very popular member of our team, he is an x-factor and it is very important in rugby having an x-factor. attack.
Discussing the opponent's struggle in the scrum last week, McGahan has been complimentary of his defensive assistant coach Zane Hilton:
He has done a fantastic job over the years;  we will look into this area to have an edge, but we recognise that they have a lot of internationals in the forwards.
The changes in the backs will also provide an area of possible weakness of the Waratahs, but he said that they had good players, were experienced and had options; just as the Rebels did with their injuries during the season.
Tony McGahan is determined as usual
Questioned about the face off with incumbent Wallaby and former Rebel Nick Phipps, Stirzaker  told the press that: "every time you play against a test player is always an opportunity; but I'm focused on the team effort and we are focused on bouncing back from last week."
Finally McGahan touched upon the U20 final on Sunday against the Reds:
It is a huge lift for the whole club to have them, going up against the programs of Queensland, New South Wales and the ACT, and being in a final
It is fantastic it gives great validation of the work done in the past four to five years.  It is a great spotlight for the young players of Australia.