A strong finish for Uni resulted in a 38-31 come-from-behind win against Sunnybank in what was a thrilling encounter at the Heavies' home ground.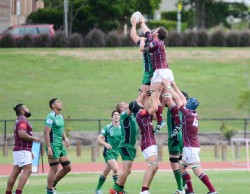 Brothers headed down the coast to take on Bond Uni and they defeated the home side 48-19. The sun decided to come out for a bit this weekend in Brisbane for another exciting week of Queensland Premier Rugby.
Round 2 further set the stage for what looks to be an exciting year of tightly-contested games and upsets.
Easts went into their contest again Souths after coming off last week's Australian Club Championship loss to Sydney Uni and went down to the Magpies 24-21.
Although they didn't get the win in what was Matt Brandon's 100th cap for the club, Easts will be looking to redeem themselves against Wests next week.
Wests recovered from last week's 57-20 loss to Uni, defeating Norths 51-10.
Wests provided some upset wins last season and their solid performance yesterday makes them the ones to watch in 2014.
At this early stage of the competition, the Top Four is as follows: Uni, Brothers, Souths and GPS.
Easts v Souths
Souths claimed their first scalp of the season holding premiers and local rivals Easts to a 3 point loss in a match that came down to the final play.
Souths clearly did not read the script in Easts talismanic fly-half, Matt Brandon's 100th premier grade match crossing the white line through prop David Feao after a lineout in Easts 22.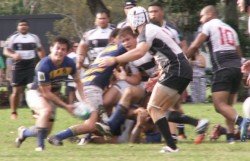 Both teams traded penalties in the first half but none were able to add another try with the match becoming an arm-wrestle and was blighted by penalties caused by the wet conditions underfoot, Souths leading 10-6 into the break.
Souths strong scrum put Easts under pressure at the set piece and they almost opened the almost the scoring when hooker Anthony Ongolea made a break and offloaded to flanker Simana Halaifonua but he was tackled into touch metres out from the tryline.
But it was Easts who breathed some life into the encounter when EJ Fa'aofa put centre companion Toby White into a gap which ended with fullback Manny Bell being pulled down five metres from the tryline.
Easts then shifted to ball wide against a scattered Souths defence, ending with hooker Andrew Ready diving over in the opposite corner.
Souths were able to hit back just minutes later when fullback Andy Muirhead wriggled out of a tackle to get close to the line and Feao barreled over for his second.

Some productive runs from the back of the scrum by captian James Turner and educated kicking and counter attacking from erudite fullback Muirhead saw Souths get back into Easts 22.
From close range replacement centre Matt Gordon stepped inside his defender and barged through two tacklers to score.
Sensing the game being put out of reach Easts stepped up a level and were nearly in when lock Blake Enver broke the line but a forward pass to his supporting player denied them, but they were able to pull another back when Brandon put winger Joel Faulkner through a hole.
Brandon played provider again putting Bell through a hole in the dying seconds but Muirhead covered his opposite number and was able to get to his feet to secure the ball ending Easts hopes for a win in the captain 100th game.
Souths 24 (tries: D Feao 2, M Gordon, cons: M Kefu, Evalu 2, pens: M Kefu) Easts 21 (tries: A Ready J Faulkner, cons: M Brandon, pens: M Brandon 3)
By Jordan Ayton
Uni v Sunnybank
A determined Uni defeated Sunnybank 38 -31.
Sunnybank had the best of the early play and it was only late in the match that Uni managed to sneak ahead on the scoreboard.
Sunnybank started the game at a tremendous pace using their big forwards to punch holes around the edge of the ruck, making the hard yards up the middle but allow their backs lots of room to create carnage.
To their credit Uni never lost their composure, remained calm and stuck to their patterns.
By the middle of the second half they were starting to peg back the lead Sunnybank had opened up with strong work in the scrums, rucks and mauls.
I believe both coaches would be happy with the way their teams went and I know one who is especially pleased with Uni's push over try.
There was lots of dropped ball and pushed passes from both teams so there seems to be plenty of improvement in both teams.
University of Queensland 38 (tries: H Parker 2, J De Guingand W Thompson L Fidow T Banks, cons: T Pincus 4 ) Sunnybank 31
All Photos by Shane Sullivan
Wests v Norths
It was a balmy afternoon down at Hugh Courtney Oval as the Wests Bulldogs managed a resounding win over the Norths.
The game started as the torrid affair that most can imagine in a match involving the early favourites for this years wooden spoon.
Wests were first to draw blood when hooker Mick Lee managed to burrow through to finish off what was some excellent forward play by the dogs.
Things continued in a similar vein as the dogs turned the game into a dockyard brawl in the tight; using their ball runners up front to muscle through the defence.
However the young Norths team showed some excellent grit and where ready match their western counterparts, and even managed to string together some excellent phases themselves.
Both teams exchanged blows with Wests seeming to get the upper hand when they managed to crash over with the second of the contest.
However the minor victory came at a cost as flyhalf Sam Caslick hobbled off after being injured in the build up.
Wests seemed to be shell shocked by the loss of their 10 and shipped a try before getting one back before the break.
Although still well in control on scoreboard going into the second half the dogs could not afford to be complacent against an eagles outfit who showed last week against Souths that they will plunder napping defences.
The first 15 of the second half were gritty with both teams scoring a try.
With Norths' effort coming off the back of piece of individual magic from talismanic winger Varesa Matailini who weaved 60 metres before putting Gray over in the corner.
Norths fought valiantly and will be a real danger come later in the season as this young team gels.
However credit to the dogs for putting the foot down in the final 15minutes, showing a level of clinical ruthlessness I have not seen coming out of Sylvan Road in a long time, as they ran away with the game to post 51 – 10 win.
Wests 51 (tries: N Lee J Lynch S Caslick T Turaga A Alapati G Morseau D Mattrus, cons: T Smith 5 , pens: 2) Norths 10 (tries: S Manahan, J Grey )
By Bulldog Bob
 Other Results
Brothers 48 (tries: C Knox, G Beveridge 2, B Mauii, H Sims, B Hartley, K Sitaui, C Knox, cons: E Mose 2, N Gendle) d Bond University 19 (tries: J Payton, C McDonald, L Evans, cons: L Evans)