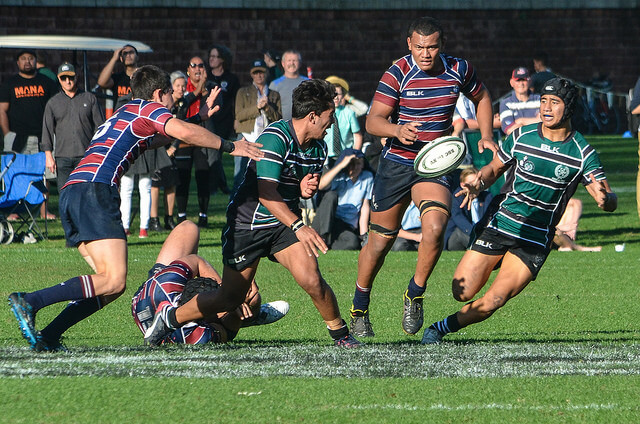 Welcome to Green and Gold Rugby's preview of round three of the Queensland GPS First XV Rugby season.
Round two was the closest Green and Gold Rugby's coverage had seen, but round three looks like it could be even closer.
If you've missed coverage of round one or two, or simply want a recap to guide your thinking when looking to tip:
Click here for round one's match reports and video highlights
Click here for round two's match reports and video highlights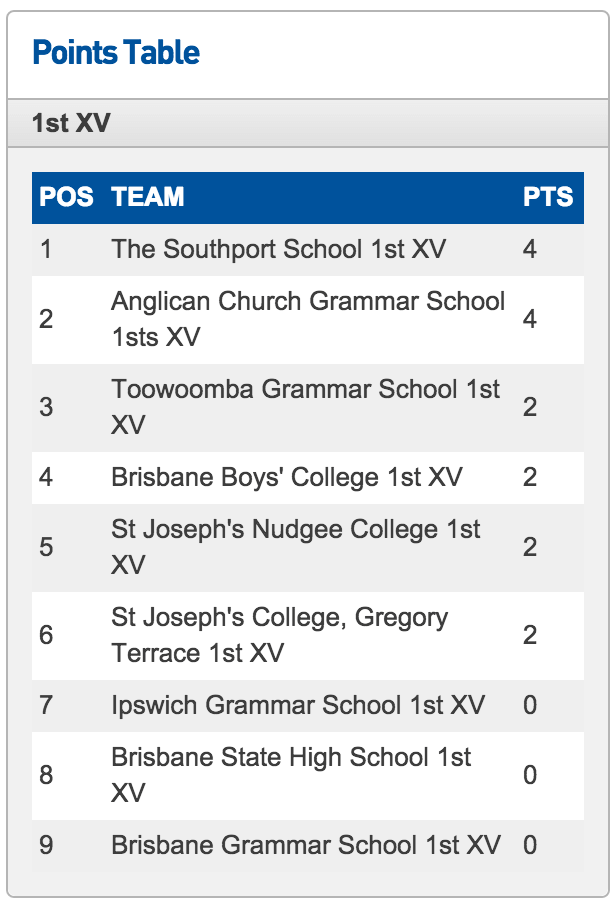 GAGR Writers
WarrenWobble's faith in BBC so nearly paid off in round two – he tipped a one-point win over The Southport School, and had BBC kicked a long range penalty on fulltime that would have proven a masterstroke. Alas, it was not to be.
With a high-risk tip for Ipswich to knock off Churchie at Brassall also coming undone, WarrenWobble only picked up two games in round two.
TheKing tipped his second perfect week in Round Two, but appears to have also backed BBC *despite tipping TSS by ten in last week's column*. Controversial, but we'll dock him a game for it.
Joining our tipping panel this week is Terrace insider Getwithme and Southport-based photographer HJ Nelson.
Getwithme tipped BBC, leaving him on 3/4 for the week.
HJ also tipped Ipswich to topple Churchie, coming away with 3/4 also.
1. TheKing (7/8, 87%)*
 = WarrenWobble (7/8, 87%)
 = HJ Nelson (7/8, 87%)
= Getwithme (7/8, 87%)
From the Crowd
HighCutBoots and Red Black are the only official* undefeated members in Green and Gold Rugby's official tipping competition, with consecutive perfect weeks.
Join the official GPS Rugby First XV tipping competition here:  Official Green & Gold Rugby GPS tipping competition
To join, enter the competition number 10448, and password: greenandgoldrugby
---
Game of the Round: Brisbane Boys' College at Toowoomba Grammar
WarrenWobble:  The Westside Lexus Car Club go for a burl up the range to see if the disappointment from last week has worn off. After a couple of dodgy decisions last week the green and black lads are feeling harder-done-by than Robert Allenby's caddy.
BBC get a couple back, but are resting a couple as well.
T-ba are down a couple too, but as always will be rolling out the welcome mat.
And whilst they might be smiling as they hand you the best burger in the GPS, you better hope that you have eaten it before they trip you into a cow pat near Old Boys Oval.
This is going to be close, but the brilliance of the remaining BBC outside backs might be enough to get them off the hill with a win under their belt.
BBC by 7
TheKing: On paper, BBC should win this game.
On paper, BBC should win every game. But there's something holding the school back, and I'm not the sports psychologist to work out what. If you've got any ideas please contact Miskin St before Saturday's game, because this is their last chance to lay claim to a premiership in 2015.
Toowoomba at home are probably the second most difficult challenge in the GPS – just ahead of the Shark Tank, but not as tough a fortress as Ross Oval.
BBC will enter the match without the services of Australian Schoolboy outside back Len Ikitau, which might prove disastrous given Toowoomba's biggest weakness in my mind at the moment is their midfielder's defence.
We saw Nudgee gore Toowoomba through the middle in round one, so there's no doubt Australian Schoolboys coach Stephen Phillpots will aim to throw some traffic through the 12/13 channel.
Watch BBC's fullback Jayden Ngamanu attack that space on Saturday – he's probably the most exciting player to watch in 2015, and will play a major role in deciding this game.
BBC would be $1.80 favourites to win, but it would be money well invested because they'll win by eleven.
HJ Nelson: Apparently more injuries for BBC, with Ikatau the biggest loss..
TGS have their own injury problems though, with prop Hoopert out. Darling Downs beef is world renowned though, and a adequate replacement is sure to be found. Toowoomba to continue their unbeaten run at home.
Getwithme: A strong pack of cattle will make this big BBC pack work.
Game of the round IMO and I see TGS sending BBC back down the range with no trip to Gatton Macca's. TGS by 6
---
The Southport School at Gregory Terrace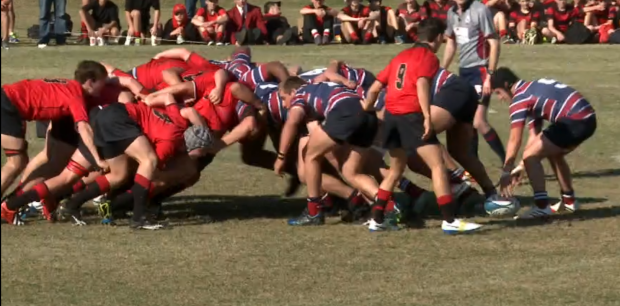 WarrenWobble: It's the Micks vs the Milfs at Tennyson Stadium this week. The Terrace Old Boys are trying to recoup their investment in the grandstand, so they have sold the F&B rights to Spotless Catering and this Saturday a hot dog will cost $53 and a bottled water $7. How cool just like Suncorp Stadium!
TSS will have the ref from last week's game vs BBC with them. He's been on the coast all week on an all expenses paid bender with Greg Bird, Karmichael Hunt and most of The Suns.
So with a 30 to 1 penalty count in their favor, TSS will grind the Terrace boys into the ground and send them packing to the bottom echelons of the table.
TSS by 16
TheKing: Terrace's strengths are big ball-carriers in tighthead Josh Nasser, lock Pat Carrigan and No.8 Jack Lutvey, plus a finisher who creates his own chances in Will Eadie on the right wing.
If none of Reuben Wall, Isaac Lucas or Quillian Pritchard-Malaki return, it won't be pretty for GT – worse, they'll have it to relive the highlights of it on their fancy scoreboard .
TSS have the second best backrow in the comp, and they'll neutralise Terrace's one out runners with ease.
I've watched Terrace twice in two weeks and their centre combination hasn't been doing anything for me. With that in mind, Southport's smash and dash centre combination of Jai Whitbread and Dylan Riley will make mincemeat of the midfield.
With Nudgee's playmaker gone for the season, TSS are in the hot seat for a solo premiership – they'll prove it be handing Terrace a 17-point loss at Tennyson on saturday.
HJ Nelson: Gregory Terrace's best chances against Southport will be out wide, with Eadie and Pritchard-Malaki looking to get on the outside of their opposites. TSS, however, will look to their strengths in the back-row (Allen & Pere) and centres (Whitbread & Riley) running off the halves to break the line. GT were hampered by injuries last week, but even if they are at full-strength, TSS should be too strong for the young Terrace team in a close game.
Getwithme: With Terrace's first home game this year comes a growing expectation of a win at Suncorp Tennyson. With the score board up and running the boys from down the coast shouldn't have too much trouble running a muck unless there is a 23 car pile up on the highway. Game to be tight until last 10. TSS by 16
---
Anglican Church Grammar at Brisbane State High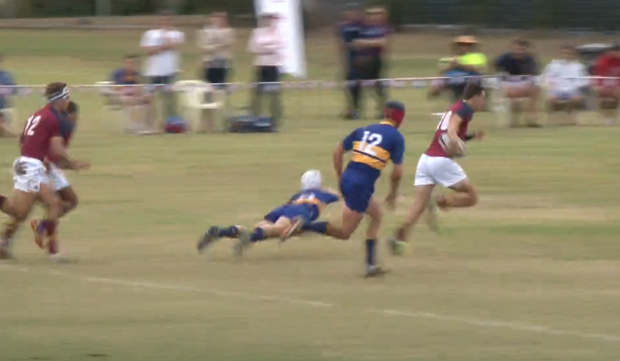 WarrenWobble: After a trip to Brassall last week, backed up by a visit to "Stade De-Mountable" this week, the Churchie parents will look like Prince Philip on a tour of the Commonwealth African nations. "One has to go to the outer extremities, but one doesn't have to look like they enjoy it!"
Notwithstanding that, the Churchie team has played some decent footy so far and they find themselves on top of the table with TSS. That's courtesy of a solid win over Ippy and a last gasp effort against Terrace.
State High did enough last week up on the range to suggest that they might trouble the blue and grey.
This will be a good game I feel. A couple of Churchie branded deck chairs and a Porsche Cayenne will go missing throughout the afternoon, but Churchie should get away with a narrow win. Churchie by 3
TheKing: Churchie will go undefeated one more week. There's not really a lot to say here.
Churchie must fight any premiership hangover symptoms and avoid complacency against a team they toppled 69-10 last year.
BSHS failed to execute against Toowoomba Grammar at home, which isn't an uncommon theme amongst visitors up the range.
Because no one really knows any better I'm tipping Churchie by 15.
HJ Nelson: I'll leave the Range Rover jokes to Warren Wobble. A homeground advantage won't be enough for BSHS to get up. Churchie's backs, particularly Su'a, Croft and Mason, will be hard to stop and will remain unbeaten. Churchie by 14
Getwithme: A fresh BSHS will play on that mud patch aka home ground aka Fursden Road Playing fields.
The blonde backrow of ACGS to monster over their younger opposites.
Against a handy State high backline
I anticipate Churhcie by 8
---
Nudgee College at Brisbane Grammar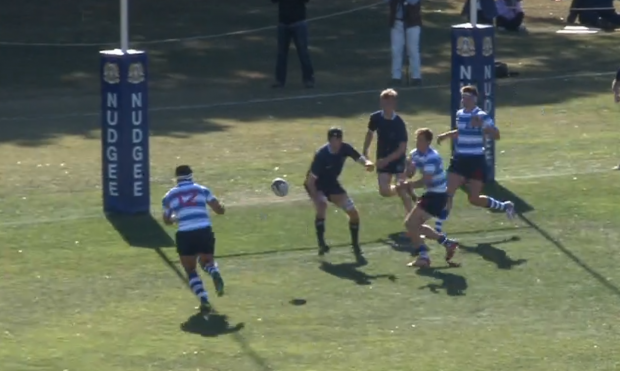 WarrenWobble: Nudgee will feel right at home on the reclaimed mud flats of Northgate. It is after all only a 15 minute BMX from the Boarding House Buffet.
Grammar were humbled by the red and black across all the age groups last week, but their firsts have been almost a surprise packet this year.
They've put up a fight in their first two games and have shown they could be more than some sand in your bikini bottoms this year.
That said Nudgee will be fresh after the week off and after a close first half will have too much firepower in the second 35 minutes. NC by 22
TheKing: Nudgee have only won twice at Northgate since May 23, 2009. In saying that, Nudgee haven't been defeated at Northgate since it's opening in the '90s.
The last match was in 2013, played in driving rain and torrid conditions. Queensland Reds winger Campbell Magnay turned the game on it's head in the 70th minute when he intercepted a pass that would sealed a 6-point win for BGS, returning it for a try to win instead 26-18. Queensland Reds newly signed hooker Alex Mafi also scored in that game.
I don't believe this Nudgee team is as strong by half as their 2013 predecessors, but they're certainly stronger than BGS in 2015.
As I mentioned last week, the direction of the wind in the second will determine the size of Nudgee's win – I'm picking a 17-point Nudgee win, with BGS within 10 of Nudgee at halftime.
HJ Nelson: Even if the news that fly-half Liam Moseley is out for the season are confirmed (Editors note: Confirmed. Moseley tore his Anterior Cruciate Ligament in Round One – 9-12 months on the sidelines), Nudgee will have too much firepower for Grammar.
There is bound to be a very competent No. 10 lurking in the lower grades.
Kalala Meni (6) from Nudgee was a stand-out at the National Championships, and will form a formidable back-row with Reece Hewat at No. 8.
Won't be as one-sided as Churchie v BGS last year, but will be BGS's toughest game of the year. Nudgee to win
Getwithme: A ever resilient grammar side will make nudgee work. An error riddled game with grammar to be close at half time. Expect the backrow to have a field day in the second half. Nudgee by 28
---
To join the GPS 2014 tipping comp, please follow this link to http://mysportstips.net/. It's not too late!
Comp Number – 10403
Comp Password – rugby
Skip ahead for our Match Reports of last weekends fixtures. Enjoy!