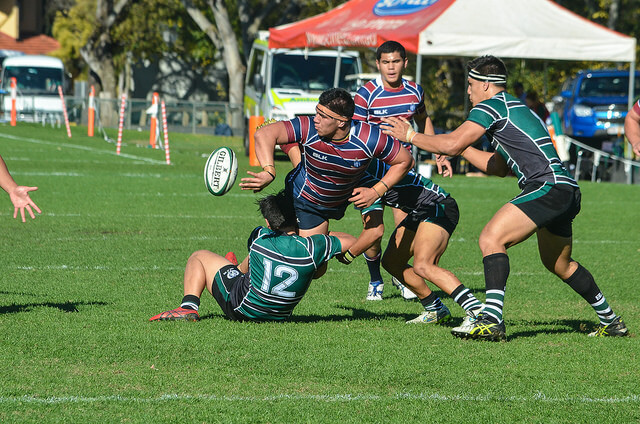 The season opener of 2014 pitted BBC against TSS, Terrace against BGS, Brisbane State High against Toowoomba, and Churchie against Ipswich.
This year's return fixtures were the perfect rematch that we'd all been hoping for, especially after last year's average margin of victory crept to a disappointingly high 24.5-points per game.
That tune was changed this weekend as sides played out the closest round of fixtures since Green & Gold Rugby began covering GPS Rugby in 2012.
With a competition-wide victory margin of five-points, three from four matches finished up one possession games.
Toowoomba Grammar exacted sweet revenge for last year's heartbreaking 29-34 loss to Brisbane State with the round's biggest victory: 38-30. Winger Bill Vary scored a hat-trick for the Mountain Men, while a shoulder injury to Australian Schoolboy prop Harry Hoopert will rule him out for at least several weeks. Brisbane State High were represented by the younger siblings of Queensland Reds backline combination Chris Feauai-Sautia and Jamie-Jerry Taulagi.
Gregory Terrace added their third consecutive Spring Hill derby win over Brisbane Grammar, but were forced to come from behind to win it 18-25. TheKing covered the match in great detail on page three.
Churchie were caught out by an Ipswich side with a chip on it's shoulder, surviving their scare to win 27-31 after a 46-16 win in 2014.
The Green & Gold Rugby Game of the Round was a two point affair between BBC and TSS. Southport came away with a vital win, 15-17. HJ Nelson photographed the match in stunning high definition, and attached his match report on page two.
Green & Gold Rugby will be your home for GPS Rugby previews, news and reviews in 2015.
To hear it first, head to 'GPS Rugby News' on facebook for all the latest and greatest in GPS Rugby.
We again encourage you to join the official tipping competition here:  Official Green & Gold Rugby GPS tipping competition
To join, enter the competition number 10448, and password: greenandgoldrugby