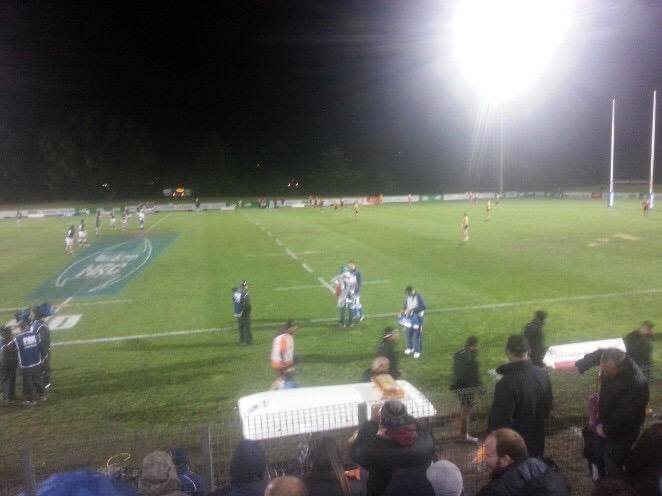 Queensland Country have defeated the New South Wales Country Eagles 16-24 in wet and rainy conditions in Newcastle.
First Half
The match started as an arm wrestle but the opening score came after 10 minutes when a fortunate cross field kick saw Maclean Jones go over.  Dion Taumata handled the wind with his conversion to put Queensland Country ahead by 8 points.
A break in the midfield by Mitch Short saw the Eagles go hot on attack.  Queensland Country held them out but couldn't stop Dave Faeo from 1 metre.  Jono Lance converted to tie the score up at 8-8.
A few half breaks from the Eagles saw another show-and-go from Mitch Short around the edge of the ruck to go under the post.  Lance was successful to bring the score to 16-8.
The Eagles were finding plenty of holes in the Queensland Country defence but were unable to get over the white line again before the break.  16-8 to the New South Wales Country Eagles at halftime.
Thanks to the fans in the Hunter for showing support at a soaking Newcastle Showground. Awesome turnout, stands full. pic.twitter.com/KRoV0KfdNh

— Buildcorp NRC (@BuildcorpNRC) September 24, 2015
Second Half
Queensland Country then got their chance to run with the wind behind them in the second half.  A strong scrum from 5 metres out saw Queensland Country awarded a penalty try to tie up the scores once again, 16-16.
The match remained at a stalemate for much of the second half until Dane Maraki was sin binned for a scrum infringement.  Some strong Queensland Country scrums, before they became uncontested, saw them gain momentum and Taniela 'Tongan Thor' Tupou broke the deadlock to put Queensland Country in the lead, 24-16.
Queensland Country held on to win the match by 8 points.
Full time: 24-16.
The Game Changer
The sin binning of Dane Maraki and the strong Queensland Country proved to be a point of difference between the two sides.
The G&GR MOTM
No real stand-outs for either side but Taniela Tupou scored a decisive try and was strong in the front row.
Oz Baabaa Watch
New South Wales Country Eagles locks Sam Lousi and Tom Staniforth were both hard to put down and performed well in a losing side. 
---
The Details
Score & Scorers
NSW Country Eagles 
Tries: Faeo, Short
Conversions: Lance 2

Queensland Country 
Tries: Jones, (penalty try), Tupou
Conversions: Taumata 3
Crowd:
Feature Image credit: Buildcorp NRC Twitter
Yellow card: Dane Maraki