Ballymore is sure to be rocking this Sunday afternoon as two of the largest clubs in Australia meet in the Grand Final of the BLK Queensland Premier Rugby competition. Minor Premiers, the Easts Tigers, will come up against the surprise packets, the Souths Magpies in what should be an absolute ball tearer of a match.
It is exactly twenty years since these two clubs played off in their first Premier Grade Grand Final in a match that saw incumbent Reds Coaches Richard Graham and Nick Stiles face off on the pitch.  Souths would win that one, but Easts claimed their revenge just two years later to claim their first ever premiership.
Souths set the bar in the mid-80s appearing in 13 out of 15 Grand Finals from 1986, winning eight of them. They have not enjoyed success in the big show since their 2000 win over the Wests Bulldogs. For Easts, they won the title two years ago in a memorable day against GPS bringing their total title tally to four.
The Lead Up
Despite their recent high achievements, not many pundits would have anticipated Easts finishing the season on top of the log. However they've managed to lead the competition for the majority of the season and continue their form with a nail biting 11-10 victory over reigning Premiers, University of Queensland, in the Major Semi Final.
For coach Tim Sampson, he has endeavoured to approach the big game in a 'business as usual' approach.
"We've been through pretty much the same routine we have done all year," Sampson said.

"There is a bit of buzz beginning to build around the squad and to be able to take a week off has definitely been beneficial for us.

"We eased into preparations last week following the major semi-final. We took the foot off the pedal a bit but as the week went on we ramped up the intensity, and had a good solid hit-out at the club on Sunday afternoon so we have had pretty good preparation for the match."
Souths have also surprised this year with a top four position seen as out of their reach due to uncertainty over a new coaching regime and the usual player turn over. However coach Brett Picone has marshalled his troops extraordinarily well and been able to build a unit capable of producing breathtaking backline movements as well as grinding forward plays.
As it is for Sampson, it seems to be 'just another game' for Picone as well.
"It's been 15 years since Souths' last premiership so there's a good feeling at the club," said Picone.

"We're really happy with the way that our season has gone. Everyone involved with the club is excited about us being in the final but we've haven't got any pressure or expectations on us.

"I don't think anyone expected us to progress through to the grand final so for us it's just another game and we'll be trying to knock off a really good team in Easts."
Whilst going down to Easts in the two match ups this season, the Magpies would have gained tremendous confidence from their last round win against Brothers to secure a finals spot before backing it up again the following week to knock the Brethren out of the finals. A gutsy-as-hell last minute win against University of Queensland last week showed that this team has heart and will be no easy-beats against the experienced Tigers.
Key Match Ups
Sooooo many and so difficult to just pick a few of them.
Ed Quirk v James Turner
Ed Quirk is one of a handful of Queensland Reds contracted players to feature in the Grand Final and is one of the most passionate clubmen going around. Injury ruled him out of the Reds Super Rugby season, and he had to serve as water boy when the Tigers won their last Grand Final, so expect Quirk to be full of fire come Sunday afternoon.
With seven National Rugby Championship (NRC) Caps to his name, Souths No 8 James Turne. is one of Souths most experienced campaigners, having spent time in the Australian Sevens program and also playing overseas in Italy. The Cairns born Turner 27-year-old brings a lot of experience and class to the Magpies forwards.
Jack Mullins v Scott Malolua
Easts captain Jack Mullins has led his team through a stellar season and is one of the most highly regarded leaders in the QPR competition. Mullins has once again been one of his team's most important players in his ability to direct his pack and backline across the park.  Mullins featured in the 2014 National Rugby Championship (NRC) and will be looking to continue his consistent form in the BLK Premier Rugby Grand Final, in hope of raising the Hospitals Cup once again and then securing a spot in the Brisbane City team for 2015.
In-form Scott Malolua has been on fire with the boot all season most critically in the final seconds of their Minor Semi Final match when he slotted the winning conversion for the Magpies. Malolua has wrapped up 155 individual points for the 2015 season so far. His impressive foot work and agility allows him to continuously find gaps and break the opposition's defensive line, which was evident in the match up last weekend. Consistent kicking was the point of difference in the finals against Brothers and Uni and will most likely be the same for the Grand Final against Easts.
Chris Feauai-Sautia v Toby White
St.George Queensland Reds live-wire Chris Feauai-Sautia has been a recent inclusion into the Souths starting line following the end of the Super Rugby season. The 21 year-old has injected confidence into the Magpies outfit, helping them secure important end of season wins. Since his return, Feauai-Sautia has created many attacking opportunities for the Magpies and his wealth of experience will be influential to the team's composure leading into the Grand Final.
Toby White has been one of the most consistent performers in the QPR for some reasons, leaving many to question when he would get his chance at the higher level. He is exactly the type of player that the NRC is made for and enjoyed some solid playing time for Brisbane City in last year's competition. The rugby outside centre will be key factor in both defence and attack come Sunday and expect some bone-crunching battles with his opposite number.
Tip
First of all, I tip this game to be an absolute cracker. With the biggest margin this final series being just two points, this match is sure to be just as close. Whereas the Easts final was a low scoring affair, I expect this match to be more along the lines of the Souths' games.
Easts to win by 2 in a match with plenty of points.
I will be commentating the live stream of the Grand Final for RedsTV with the legendary Peter Meares. So just go to the youtube player on www.redsrugby.com.au come game time to enjoy the experience.
Line Ups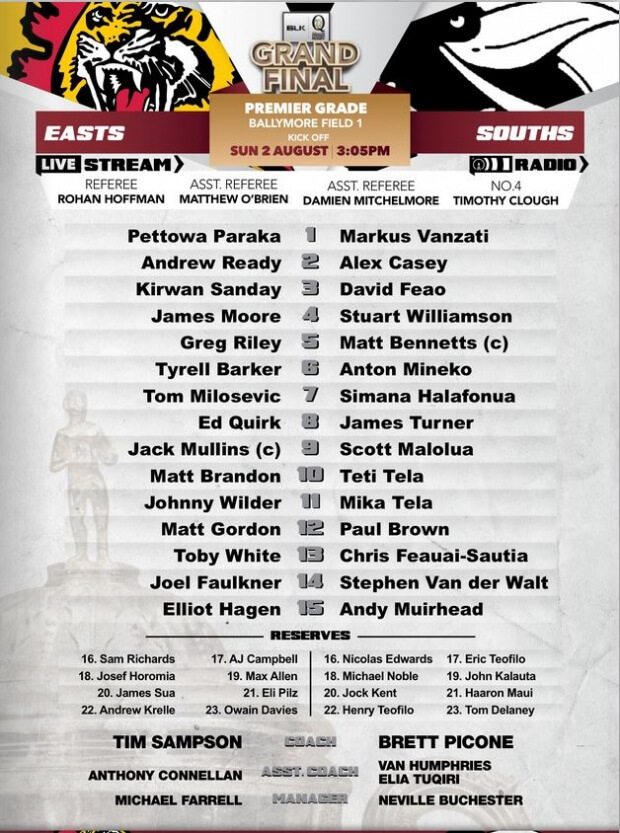 Other matches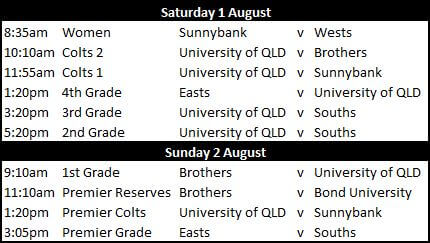 The QRU have created an on-line program for the weekend of Club Rugby finals which can be found here.