For the second weekend in a row, a number of matches were fought out between teams at the top of the ladder. Unlike last weekend however, the weekend's scores were almost universally tight. Barring the anomalous 18 point victory by Ipswich Grammar over BBC, the average margin was a little over 2 points. Fighting tooth and nail for every point and every metre gained was the order of the day. 
Toowoomba Grammar School v. Nudgee College
At home, Toowoomba have proven to be quite the formidable foe this year, with a string of strong performances over fancied sides. Challengers Nudgee would have been well aware of the calibre of men laying in wait up the range. Conversely though, Nudgee have themselves dominated many opponents so far this year.
Missing one of their most crucial players in Australian Schoolboys fullback Jonah Placid, Toowoomba were potentially vulnerable to Nudgee with a good dose of inexperience in the back three. Their young winger, Australian track and field superstar-in-waiting Joshua Robinson, has scored a chip-and-chase try nearly every week for the 16A team, but to step up against any Nudgee 1st XV in your first fixture at that level must be daunting. To do it against one of their stronger 1st XV sides of recent years is the definition of a baptism by fire.
With the match underway, Nudgee immediately played their hand, exhibiting a great willingness to use the ball and putting the Toowoomba defence on its heels early. Inside the Toowoomba 22 in less than 90 seconds, Nudgee were looking strong until a crunching hit out of the line by Toowoomba 13. Drew Jordan affected the turnover and brought things undone.
Some grafting play over the next few minutes settled things a little, until Toowoomba were able to get over the line. Going blind from the ruck base, 4. Phil Potgieter drew the man well and put 6. Tom Loane in to space, though still with some work to do. Showing good skills, the try was scored from 20 metres out. 5-0.
With a little further play, Nudgee's intent was confirmed. They adeptly changed the pace of the game at will, and had decoy runners charging in at all angles. That said, Toowoomba Grammar were doing well to get off the line and shut off Nudgee's space, making the hard tackles when needed.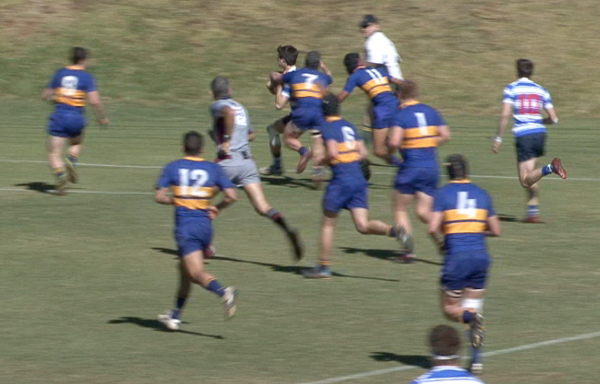 A breakthrough came in the 15th minute, with 11. Robinson caught flat footed by a fast 4-on-2 attack. Toowoomba defenders rushed to cover, but Nudgee 14. Jamie Deshon did well in minimal space. 5-5.
Five minutes later, Nudgee were able to score again. Again making good metres downfield through their probing backs (led superbly by 10. Paddy James), they worked their way into a good position, earning a bread and butter forwards try for their efforts. 12-5 and half time.
Nudgee had had the better of the opening half, but you got the feeling they would soon tire – they'd been playing at fast-forward for much of the half. They were a well-oiled machine, each man knowing his role.
That being the case, Toowoomba Grammar nonetheless were resisting very well, stifling Nudgee's play often. Backs were quick to get to their feet at the tackle to contest the ball and their forwards were working hard. 7. Stuart Bougoure was being an absolute pest with a handful of key turnovers.
When they had the ball, the Toowoomba backs seemed to have no space to work in. Nonetheless, they frequently made metres through the contact zone with good leg drive, allowing time for support to arrive and some fast recycling. It was good to watch.
The second half opened with an early try to Nudgee, again through their forwards. 19-5 to Nudgee. Immediately afterwards, Toowoomba worked their way deep into Nudgee territory. Twice shunning penalty shots from good positions, Toowoomba sought a try. After minutes of sustained pressure, a set play saw 13. Jordan come flying in on an unders line to crash over, but be held up.
Struggling to weather the strong Nudgee scrum, Toowoomba were able to clear the ball. Finally, a few phases later the ball was pushed through a heap of bodies by 5. Alec Stevens to be grounded on the line. 19-12, and the comeback was on.
The following ten minutes were the most evenly fought of the match. Nudgee were no longer being anywhere near as ambitious with ball in hand, and Toowoomba were creating some opportunities of their own.
After a penalty and some good work off a lineout, one of these opportunities garnered a try. With some sloppy bind side defence from Nudgee, 13. Jordan made the most of a 3-on-1 overlap to dive over in the corner. With 9. Adam Deck's conversion holding true from the sideline despite high winds, the game was tied up at 19 apiece with fifteen minutes to play.
The intensity and evenness of competition continued. Eight minutes from time, 13. Jordan got his fingertips to a loose Nudgee pass but was unable to hold on for the almost inevitable try.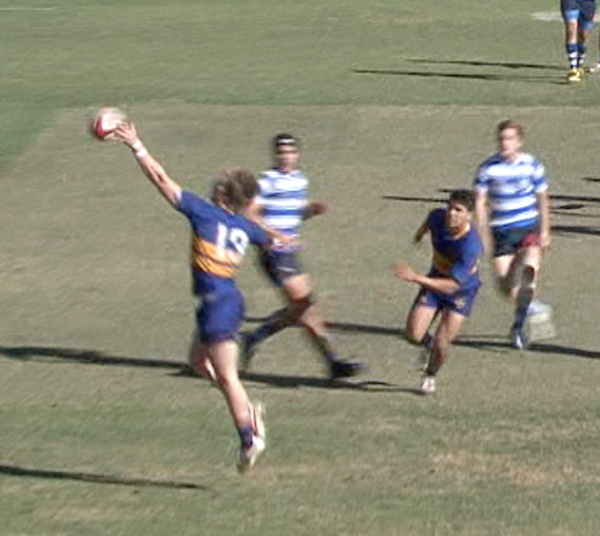 With six to go, a promising Nudgee raid was bundled into touch. From the subsequent lineout, the Nudgee backs swamped Toowoomba's inside men, pinning them 15 metres behind the advantage line – what was to be a crucial territorial claim. With the pressure on, both teams started to make uncharacteristic errors, with knock-ons and charge downs aplenty.
Finally, at 3 minutes to go and deep in the Toowoomba half, Nudgee were awarded a penalty nearly in front of the sticks for offside. Duly slotted, Nudgee were up 22-19.
The match not over, Nudgee 7. Henry Fitzgerald quickly snared the ball from the restart and, brushing off numerous would-be tacklers in a strong run, found his way almost to the line. Toowoomba scrambled their defence well, and despite some last-minute Toowoomba possession, Nudgee were able to shut the game down. Full time, 22-19.
Toowoomba showed their mettle in a great fixture, but Nudgee were all class. 10. Paddy James was exceptional, and it was hard to pick out individuals in the Nudgee pack – they worked hard as a unit all day. Their likely premiership-deciding fixture against Brisbane Grammar at Ross Oval in two weeks' time will be one for the ages.
Ipswich Grammar School v. Brisbane Boys' College
Desperate to return to their early season form, BBC set to take it to the talented Ipswich Grammar outfit despite a bulging casualty ward of many of their best players.
Meanwhile Ipswich Grammar, the flavour of the month two weeks back, sought to remind the competition of their skills and potential in their last home round of the season.
BBC got off to a nightmare start, making a mess of the kickoff receipt to gift Ipswich possession deep in their 22. A few phases later and barely warmed up, the scoreboard read 3-0 to Ippy.
Strong and well-drilled in attack, the BBC pack went to butter during defensive breakdowns – whenever IGS held the ball for an extended period, it seemed they could do whatever they liked with it. They needed to make little effort to retain possession. Nonetheless, and despite a raft of penalties, the BBC defence held solid up until the 14th minute, when 11. Thomas McKitrick was able to employ a simple winger's finish in the corner. 10-0.
Referee Steve Leszczynski – a Super Rugby TMO – had taken an early stance on BBC's play, with both 4. Luke Peterson and 8. Bronson Tauakipulu on the end of stern rebukes in the opening minutes. 9. Mikey Dyring was told to have words with his men – the penalties had already not been helpful, a sin-binning could be seriously damaging.
The visitors weren't doing much to ingratiate themselves to the locals either – one of 15. Josh Bowyer's touchfinders resulted in a pearler of a falcon for an unsuspecting 10 yo ball kid.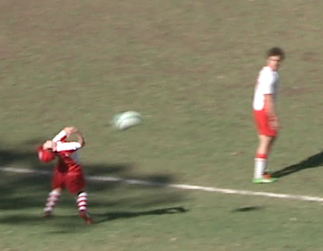 In possession soon after Ipswich's try, BBC struggled to offer much in attack and never really troubled the defence. Passes were telegraphed early and tackles listlessly accepted – defenders were not drawn and nor was there much in the way of leg drive in contact – or desperation of any kind, for that matter.
Finally, after minutes of easy defence, Ipswich took advantage of a knock-on turnover with 12. Mikaele Tela splitting the two BBC props in the defensive line and running sixty metres to put compatriot 13. Landon Hayes over under the posts. 17-0.
BBC 12. Nathan Russell then found himself with an enforced rest for his team's repeated infringements.
Recovering well, BBC soon had an attacking lineout on the Ipswich 5m line on the back of an Ipswich knock-on and a subsequent penalty. Seeking to replicate past weeks' successes, they brought the ball down at the front and the forwards rumbled, though struggled to make any real inroads against the strong Ipswich pack.
Out of nowhere and picking the ball at the ruckbase, BBC 8. Tauakipulu bounced through four defenders at close range and clawed one back for his side. With a penalty soon after, BBC got to within a converted try – 17-10.
In the shadows of halftime (the hooter had sounded), Ipswich then drew away again with a strong crashball from the mammoth 3. Latham Takau under the posts. 24-10 at half time.
Despite the four tries scored, the match had been a turgid affair frequently punctuated by errors and Leszczynski's whistle. Neither team had found any sort of rhythm. Ipswich were exhitbiting better skills in their red zone and coming away with points, but neither team was able to establish any consistency over a number of phases.
If there were detailed match stats, I'd waiver that play had reached 5+ phases only once or twice. The Ipswich old boys being hosted by their former school that day weren't being treated to a show.
Read more including Gregory Terrace v Churchie on Page 2 (after the video)