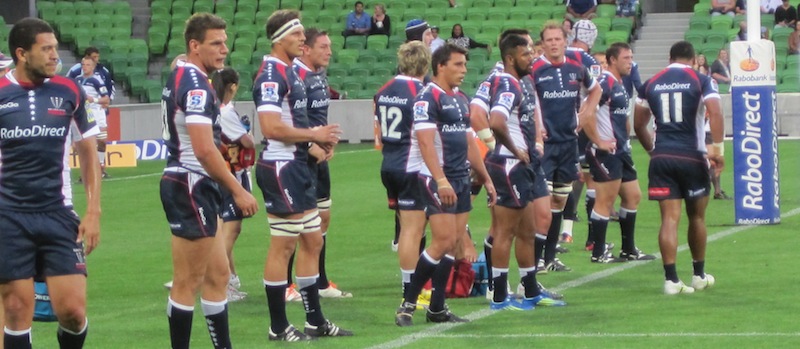 For your consideration, Super Rugby presents a battle solely for pride, between a team whose promising middle of the season dismantled as quick as it appeared, and a team whose entire existence in the competition is being questioned as we speak.
Umm… set your alarms?
I'm an excitable guy, and very easy to impress. For example, the other day I bought a ticket to see Rick Astley live in concert. It arrived this afternoon, and I found out that Rick's supporting acts are to be Wa Wa Nee and The Chantoozies. I was stoked, and, as of this moment, I have no idea why. I know of Wa Wa Nee only from a solitary reference on Tony Martin's sorely-missed radio show 'Get This', and I have absolutely no idea who the other band is, but, there you go, stoked. It's that easy, people.
As hard as I try, however, I just can't get excited for this Rebels match. Despite a solid final stanza in their game against the Reds, they were, for the most part, schooled by a far better team, prompting questions about just how far they have progressed in the second year of Super Rugby. To date they stand on four wins, just one to the good from their 2011 tally of three, and despite some classic performances at the Stockade, they have claimed just two away wins in two years, both in Perth. A win here will not only guarantee they end the year without retaining the wooden spoon, it will also maintain an important buffer between them and the Western Force — both teams seeking to avoid bottoming out the conference.
For the Lions, who knows what these poor boys will provide? With an SARU decision on how they will handle their disastrous call to allow the Southern Kings into Super Rugby delayed again this week, the Jozi franchise, with a target on their backs, enter this game with the real possibility of it being their last at home. They have claimed a win just twice in 2012, but their latest, a brilliant 38-28 victory against the Sharks at home, showed that they are not to be taken lying down — at least, not 1/7th of the time.
Greg Growden has dubbed this match 'the pussycats versus the five-point byes'. I do not know Greg Growden, but I am fairly sure I do not like him.
TEAMS
LIONS
15. James Kamana, 14. Lionel Mapoe, 13. Waylon Murray, 12. Butch James, 11. Anthonie Volminck, 10. Elton Jantjies, 9. Michael Bondesio, 8. Joshua Strauss (c), 7. Grant Hattingh, 6. Derick Minnie, 5. Franco van der Merwe, 4. Hendrik Roodt, 3. Jacobie Adriaanse, 2. Callie Visagie, 1. JC Janse van Rensburg.
Reserves: 16. Martin Bezuidenhout, 17. Ruan Dreyer, 18. Etienne Oosthuizen, 19. Jaco Kriel, 20. Ross Cronje, 21. JR Esterhuizen, 22. Ruan Combrinck.
Michael Bondesio replaces Tian Meyer at scrumhalf, while James Kamana comes in for Andries Coetzee at fullback. Lionel Mapoe moves to the right wing with Waylon Murray taking his spot at 13.
MELBOURNE REBELS
15. Julian Huxley, 14. Mark Gerrard, 13. Mitch Inman, 12. Stirling Mortlock (c), 11. Cooper Vuna, 10. James Hilgendorf, 9. Nick Phipps, 8. Gareth Delve, 7. Hugh Perrett, 6. Tim Davidson, 5. Al Campbell, 4. Cadeyrn Neville, 3. Jono Owen, 2. Ged Robinson, 1. Nic Henderson.
Reserves: 16. Adam Freier, 17. Paul Alo-Emile, 18. Hugh Pyle, 19. Luke Jones, 20. Richard Kingi, 21. Lachlan Mitchell, 22. Lloyd Johannson.
James Hilgendorf will replace a hamstrung James O'Connor at 10, with Julian Huxley subbing in at fullback for Kurtley Beale. Ged Robinson starts at hooker for Adam Freier, Al Campbell comes on for Hugh Pyle in the second row, and Tim Davidson takes Tom Chamberlain's place at blindside.
Paul Alo-Emile, Luke Jones, Richard Kingi and Lloyd Johannson make appearances on the bench.
DETAILS
The game takes place at Coca Cola Park, Johannesburg, on Saturday 7 July at 5:05pm local (Sunday 8 July, 1.05am AEST).
It will be broadcast on FOX SPORTS 1 and 1HD.
These two teams have never met before.
It will be a slightly momentous day in Johannesburg on Saturday, with Argentinian referee Francisco Pastrana becoming the first non-SANZAR referee (it's not Rugby Championship time yet) to officiate a Super Rugby match. Jaco Peyper and Stefan Breytenbach from South Africa will run touch, and Johan Meuweson from South Africa will watch the TV.
GAME BREAKER
Any member of the fairer sex who knows me, knows I trade heavily in the art of ruthless persistence. At least, I refer to it as ruthless persistence — others might call it desperation. Either way, the act of punching on, even though there's nothing realistic to gain, is a rare trait. These teams have both had poor seasons nearing their end, and both are decimated by injuries to key players. The Rebels, the better team by results alone, have come off a disappointing performance and a 16-hour flight, and the Lions are seemingly not long for this world.
The team that wins this match will be the team that is most desperate to. If either can pile the pressure on early, keep the ball secure, and defend with intent, the other team will wilt quite easily — if only because that's how both of these teams usually get beaten.
FEARLESS PREDICTION
I really don't know. I want the Rebels to win this game so badly — finishing the year on five wins, just one away from their goal of six, means they'll likely earn a pass mark from even their fiercest of critics. Also, unless they get drawn against the Kings in Port Elizabeth next year, it is their best chance of getting the overseas win monkey off their back.
While the Lions impressed in their victory against the Sharks, they have been extremely poor this year, and are a shell of a franchise in what are likely their final days as a standalone team. However, if this is to be their home town farewell, facing a weakened overseas outfit, they are every chance of securing their third win of the year.
Lions by 5.
What do you think will happen in the Republic capital this week? Do you care, and if so, why?